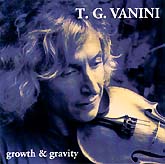 T.G. Vanini
by Philip H. Farber

Artist: T. G. Vanini
Album: Growth and Gravity
Label: Rose Hill Records
Rating: **** (out of 5)

If the picture on the cover of T.G. Vanini's new CD release, Growth & Gravity looks a bit familiar, it's because, under one name or another, Mr. Vanini has been performing in this area for at least seven or eight years, in solo performances and with a few bands. Vanini's solo work has developed in sophistication over the years, but still sticks to a core sound that pairs a classically-influenced rock idiom with a Celtic-inspired folk tradition. The result is a form of musical poetry that is somewhat apart from the mainstream of popular tastes.

The core of Vanini's band, The Princes of Serendip, consists of Don Yacullo on piano, Allen Murphy on bass, Julie Parisi on backing vocals. They are joined for this recording by a diverse collection of notable area musicians. Vanini himself sparkles on violin, vocals, synthesizers and piano, not to mention lyrics and composition of these varied and interesting works. His violin work, in particular, is deeply emotional and forceful. While many of the songs rely on sophisticatedaced synthesizer backdrops, there remains an organic, human quality to all of it that may be the most intriguing aspect of this music.

The lyrics are pure poetry, ofen ambiguous and suggestive in unusual ways. They are imagistic and borderline surreal. While elements of this kind of music are reminiscent of progressive rock of the late 1970s, the classically-derived sound combined with the interesting lyrics gives Vanini's work a timeless quality that may not bring it to sales charts anytime soon, but will likely develop a strong following in the long run.
---
Philip H. Farber is a freelance writer who lives in the Hudson Valley. He writes for a variety of area publications, including the Kingston Daily Freeman and the Woodstock Times, as well as national magazines, books, web sites and anyplace else that will offer him money or gratification.
He can be reached at PStuart@aol.com

Posted on March 1, 1998