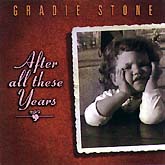 Gradie Stone
by Philip H. Farber

Artist: Gradie Stone
Album: After All These Years
Label: Niki Records
Rating: ***1/2 (out of 5)

Retro jazz has become increasingly popular in the last few years, but it's a tough genre. It takes quite a bit of effort, talent and attention to detail to pull it off in style. And even if you do manage to make a great recording, or put together a hot touring band, there are limits to how far you can really take it.

Once in a while, a performer rises to the surface who may be capable of breaking the barriers and taking some old, swinging tunes to the top. A fine candidate for this status is Gradie Stone, a singer who is growing increasingly familiar to Hudson Valley music fans. Recently signed to the Kingston-based Niki Records label, Stone has released a pleasing new album of old songs, aptly titled After All These Years.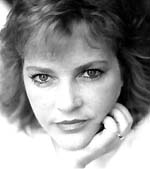 Gradie Stone is the daughter of Kirby Stone, a jazz musician who led the Kirby Stone Four in the '50s and '60s. The Kirby Stone Four may be best remembered for their Grammy- winning rendition of Baubles, Bangles, and Beads. Growing up with this music seems to have prepared Gradie for a career reviving the classic sounds. She spent years performing in rock bands, R&B groups, country bands, Vegas lounges, and television commercials -- you've probably heard her voice in the "I Love New York" commercials, and in commercials for Trump Plaza. Now she has come full circle, back to the sounds that she grew up with.
Stone's voice soars and smokes it way through a thoughtful collection of jazz vocal classics, including Baubles..., Old Devil Moon, Someone to Light Up My Life, and some more recently penned songs such as Al Jarreau's After All, and Isaac Hayes' Deja Vu. Her band is impeccably solid, featuring Joe Cucuzzo on drums, Michael DiLorenzo on piano, George Young on sax, Brian Glassman on bass, and Tony Scally on guitar.
This is great stuff for a romantic evening, or just to kick back and set a mood. And if you are a vocal jazz fan, you'll be right in tune with Gradie Stone.
---
Philip H. Farber is a freelance writer who lives in the Hudson Valley. He writes for a variety of area publications, including the Kingston Daily Freeman and the Woodstock Times, as well as national magazines, books, web sites and anyplace else that will offer him money or gratification.
He can be reached at PStuart@aol.com

Posted on January 3, 1997