Older Than Dirt
by Philip H. Farber

Artist: Older Than Dirt
Album: "Older Than Dirt"
Label: Suma Records


The members of Older Than Dirt have been around the Hudson Valley since before the mountains were formed and the first creatures climbed up from the primordial ooze. Well, okay... they're not quite that old... but they are perhaps in the same age group as Mick Jagger, and that's almost older than dirt.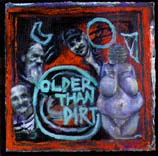 The three members, Marc Black, Peter Blum, and Michael Esposito have all been in a variety of bands and occupations in the area over the years. Black, the lead singer and guitarist, has released his own solo recordings on RCA, Jubilee and Suma record labels; Blum, probably better known as a hypnotherapist, has done his time as lead guitarist, sitarist and throat singer; bass player Esposito, the original lead guitarist for the Blues Magoos, is also a cartoonist, painter and the proprietor of the Old Spokes Home bicycle shop in Woodstock.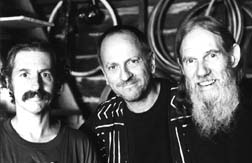 How do you describe Older Than Dirt's first album? The first word that comes to mind is "friendly." This is a very laid-back album, with a variety of different musical styles, and relaxed, humorous lyrics. Some of it leans towards folkier sounds, some towards the blues, some towards indescribable, world-music-influenced experiments. I think the latter is some of the more interesting stuff on the album, represented by cuts like "You Running Through Noon Shadow But," and "Take a Shaman Shower Yep," but that probably reflects my musical tastes in general. Others might enjoy the mellow blues of "Trouble" or the silly take of "Write Myself a Letter Eat Myself a Pizza." It's especially fun when the styles segue without warning, for instance when "Write Myself a Letter..." suddenly collides with the enigmatic "Bunny Bumpa Rumpa." It's all good... superb musicianship throughout, no pretenses, and a pleasant attitude.
This could be a lot of fun to catch live... watch for local gigs.
---
Philip H. Farber is a freelance writer who lives in the Hudson Valley. He writes for a variety of area publications, including the Kingston Daily Freeman and the Woodstock Times, as well as national magazines, books, web sites and anyplace else that will offer him money or gratification.
He can be reached at PStuart@aol.com

Posted on November 1, 1997