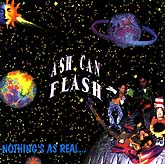 Ash Can Flash
by Philip H. Farber

Artist: Ash Can Flash
Album: Nothing's As Real
Label: Niki Records
Rating: ***3/4 (out of 5)

To enjoy Ash Can Flash's debut album on Niki Records, place your hand on the volume control, and turn that sucker up a few notches. It's hard to pin down a genre for these guys, other than to say that it's just damn good rock'n'roll. They have an organic sound that would not sound out of place with, say, Dave Matthews or Blues Traveler, but they also have a strong, hard-rock underpinning that is reminiscent in some ways of Stone Temple Pilots or Soundgarden.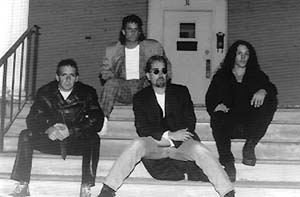 Again, it sounds great with some volume. Turn it up so that you can feel Ron Curran's crunching bass lines and Chris Trombetta's drums through your body, Chris Hallgren's rough- edged guitar washing over you, and listen to James Kelly's strong, uncompromising vocals with your brain and heart. Songcraft on this recording is high, with great lyrics, catchy hooks, and a from-the-gut approach that only relaxes for a few melodic moments, such as the acoustic ballad, S-Pinage.
Some recommended cuts off this new album are the hard-punching Painter, the wailing, bluesy Nothing's As Real, the mid-tempo October Moon, and the haunting Johnny, among others. I wouldn't be surprised to hear some wider radio play for some of these cuts. Ash Can Flash is a band to watch.
---
Philip H. Farber is a freelance writer who lives in the Hudson Valley. He writes for a variety of area publications, including the Kingston Daily Freeman and the Woodstock Times, as well as national magazines, books, web sites and anyplace else that will offer him money or gratification.
He can be reached at PStuart@aol.com

Posted on January 5, 1998