Hudson Valley music news and musical happenings.
Recent Entries

«Return to Main Blog Page
---
Woodstock Invitational Luthiers Showcase 2015
June 27, 2015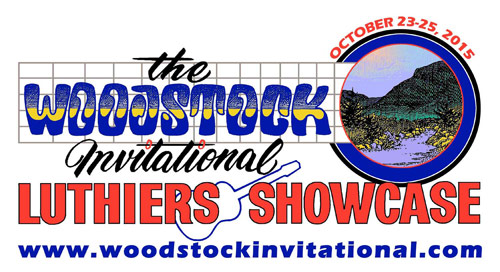 The Seventh Annual Woodstock Invitational Luthiers Showcase (and Tonewood Festival) will be held October 23, 24 & 25, 2015, at the Bearsville Theater and Utopia Soundstage, 291 & 293 Tinker Street, Woodstock, NY 12498. The Woodstock Invitational is an alternative guitar show, featuring fine, contemporary, handmade acoustic guitars and stringed musical instruments, exhibited by their makers.


The Woodstock Invitational Luthiers Showcase is an intimate gathering for the community of acoustic stringed-instrument builders, players, collectors and aficionados, and has become one of the premier events of its kind in North America. Fine, handmade acoustic instruments such as these are not usually available in music stores or other retail environments. This is a rare opportunity for the public to see, hear, play, buy or commission custom-made instruments - the finest examples of the luthiers' art - gathered together in one place. Nylon-string classical and flamenco guitars, steel-string guitars - flattops, archtops, manouche, resonators, hybrids - plus mandolins, lutes, ouds, ukuleles, banjos, and stringed oddities will be on display in the Bearsville Theater. Other vendors include tonewood dealers, parts and tool suppliers, string and accessories manufacturers, publications and instructional materials, our Sponsors, plus Special Exhibits of rare and significant historic, vintage and contemporary instruments loaned by collectors and institutions, all right next door to the Bearsville Theater in the Utopia Soundstage Vendors Annex. In the "Tonewood Tent" in front of Utopia Soundstage, in conjunction with Northwind Timber, is Tonewood Festival, a pre-Showcase shopping opportunity featuring a number of fine tonewood dealers, open to the public with free admission on Thursday October 22, and continuing Friday, Saturday and Sunday October 23, 24 & 25.

There is continuous live music, including luthier mini-concerts, demos and special appearances during show hours, 11:00 AM to 6:00 PM Friday, Saturday and Sunday, by some of the nation's finest musicians, in the Bearsville Theater Lounge, included in the price of admission. There is a series of Instructional Clinics and Workshops for players, plus seminars and colloquia for builders, by separate admission. Plus our annual String Sampler Concert of acoustic music featuring internationally known artists, by separate admission, Friday, October 24 at the Woodstock Playhouse.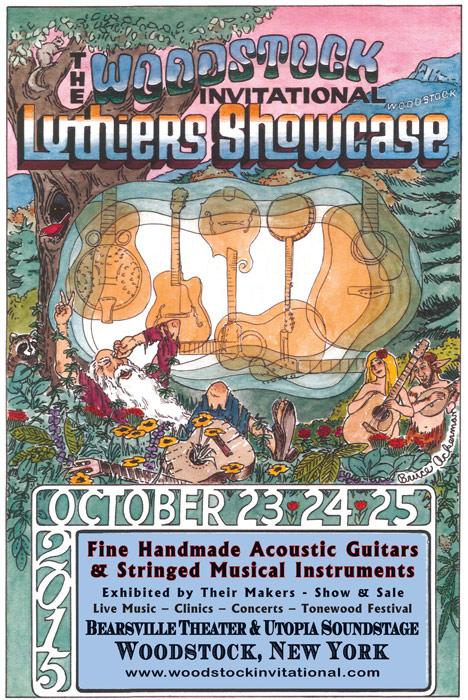 Woodstock, New York is an internationally known art and music community with a deep pool of notable local talent. Only a two-hour drive from New York City, convenient to Upstate New York and the New England region, there will be peak autumn foliage in the heart of the Catskill Mountains. The Bearsville Theater is an historic venue built by music-impresario Albert Grossman as a part of his Bearsville Sound complex. The Utopia Soundstage was built for musician/producer Todd Rundgren.

CONTACT:
Baker Rorick
Woodstock Invitational LLC
P.O. Box 486
Bearsville, NY 12409
845-389-9247
info@woodstockinvitational.com
bakerrorick@gmail.com
Website: www.woodstockinvitational.com
Facebook: http://www.facebook.com/WoodstockInvitational
comments powered by