Pretend This
by Haven James


Event: Chrissie Hynde and the Pretenders at Bearsville Theatre

Hear live(!) broadcast of the B-52's, The Pretenders and Royal Crown Revue LIVE in RealAudio on LiveConcerts.com August 5th [1998] from The Universal Ampitheater in Los Angeles, CA.
Sunday night's Bearsville invitational featured a special concert performance by Chrissie Hynde and her legendary band, The Pretenders. "It's like they haven't missed a beat," said one concertgoer, echoing the sentiment of the crowd. And true enough, there was no "thin line" between action and words at this show; it was all go from the start.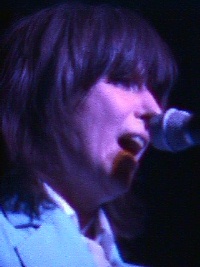 In town to do some finish work on an upcoming Warner release, The Pretenders played a cavalcade of their hits in preparation for their summer road trip with the B-52s. The "Bangs and Beehives Tour" is due to commence this month and will be at SPAC on the 21st; if Sunday night was any indication, their set will be anything but "middle of the road."
"Gosh!" said Chrissie, responding warmly to her reception by the hometown crowd. Chatting comfortably from the stage, she set the overall tenor of the evening as very much a family affair, though a hot one. Everyone including the band seemed delighted to be at the theater for a classic night of rock 'n' roll that surely would have made Albert smile. Hynde acknowledged her gratitude, thanking Peter Cantine and his Bear Cafe crew as well as our hostess, Sally Grossman, and all the folks who rowed out through the floods for the show. Fact is, the hamlet looked like a ghost town outside of Bearsville; this was the happening event.
The core of the current incarnation of The Pretenders has been together for quite a few years now. Andy Seymour plays a variety of electric guitars, having joined Chrissie in '91. Andy Hobson holds a very solid Fender bass and has been a Pretender since '93. Newest on the roster for this tour is keyboard player, Zeb Jameson, and the veteran of the crew is drummer maximus, Martin Chambers. With 20-some years on "The Chain Gang," Martin's spirit and infectious enthusiasm penetrates the music. He, too, was appreciative of the country atmosphere of Bearsville, as he hails from the lands north of London. Martin placed a little time capsule up in the rafters of the theater marking the event of their appearance and spoke of intentions to return later in the year for a full-blown Pretenders show to promote the new album, due in the fall. Encased in sound shields that resemble a glass aquarium, Chambers drives the beat of the breakdowns that sync with the chordal riffs that are the key to Hynde's style.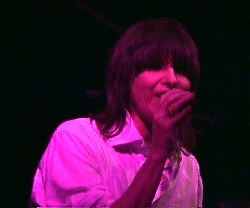 There's a timeless aspect to Chrissie's music revolving around the rhythm of both the lyric and the tune. Hynde scatters words across verses in a way that might seem illogical when charted, but executes with haunting perfection. The spoken eight count down the middle of the road had the audience counting time in unison. The band only did two new songs this night. They opened with "Legalize Me" and later did a new one sung completely in Spanish. Chrissie noted her recent union with her Spanish-speaking Latin husband with a shrug, "Now that I'm married, that's the way its going to be, so ...." A liner note from Night In My Veins offers Hynde's advice and counsel on being a "Chick Rocker" and expresses her frank point of view on feminism and playing music. The whole text will be linked to the Werewolves web page at HVmusic.com, but here are a few samples:
| | |
| --- | --- |
| 1. | Don't moan about being a chick, refer to feminism or complain about sexist discrimination. We've all been thrown down the stairs and f---ed about, but no one wants to hear a whining female. Write a loosely disguised song about it instead and clean up ($$$). |
| 9. | Shave your legs, for Chrissakes! |
| 10. | Don't take advice from people like me. Do your own thing always. |
Way to go Ohio.

With her pearlescent abalone Telecaster in tune, Chrissie Hynde and The Pretenders are ready for the road. "We're in the best shape we could possibly be," said Chambers. We wish them well and look forward to their return.

Links to more Pretender's site:
---
There's more on the bill at Bearsville in the near future. An evening of improvisational theater titled Woodstalkers And Bearsvillains is scheduled for Saturday, July 11 [1998]. Directed by Garret Graham, Bearsville Theater's new resident company will present a show based on the theater games devised by Paul Sills, creator of Second City and Story Theater, and Viola Spolin, Paul's mom. Members of these groups plus more from Sills & Co. and other adventurous thespian cells are planning what looks to be a wildly creative and interactive improv affair. Stay tuned for details in the near future.

Catch Werewolves on the web at http://www.HVmusic.com for more info on The Pretenders show, plus color pics and links to historic Pretenders stuff.
---
Haven James has been a consistent contributor to the Music & Arts scene around the Hudson Valley and beyond for almost a decade through his column, Werewolves of Woodstock, published weekly in the Woodstock Times
A writer, musician, philanthropist, and Mac addict; he lives reclusively, high atop Overlook Mountain with his son and a menagerie of animals, both wild and domesticated. Though currently unmarried, rumors abound as to his intimate relationships with Madonna, Sandra Bernhardt, and Eli Bach; though he insists these notions to be pure hearsay. His identity has remained a mystery to all but the closest of friends as he often travels in disguise and appears unannounced and undercover at concerts and venues in a dedicated effort to get the real story.
Go to the Werewolves of Woodstock page for more articles by Haven James.
Haven James can be contacted at werewolves@netstep.net
Posted on June 17, 1998