Of Grass and the AntiGrammys
by Haven James


| | |
| --- | --- |
| Artists: | Grass |
| Where: | Tinker Street Cafe |
| Date: | Friday, December 18, at 10 p.m. |
Addicted to grass and getting a little flaky now that the rolling hills have turned fallow from the winter's wind? No need to be goin' down the road feelin' bad, 'cause Panama Red's comin' back to town and he's wailin' like a fox on the run.
Aficionados of the fine art of American acoustic roots music have no doubt deduced by now that we're talkin' bluegrass here, because coming up this Friday night, December 18 [1998], the Ulster County based new, true, old-timey and blue band called Grass will be at Tinker Street Cafe, to play a selection of all the above variations.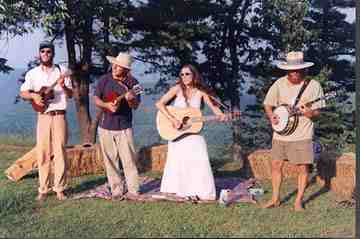 Photo and graphic courtesy of Transcendantal Recordings
Grass will be celebrating the anniversary of its budding into a band two years back at Vassar College. Since then, the band has continued to grow into the rural Ulster life, while also delving into assorted social justice and environmental causes. Winners of first prize in the band contest at the Dover Bluegrass Festival sponsored by Hudson Valley Bluegrass Association, Grass is currently involved in recording its debut album at NRS Studios. Aligned with Transcendantal Recordings they are described as a "hybrid" bluegrass band; they've broken new ground with their reinterpretations of many of the standards by way of their intense vocal attack.
All four band members sing and their instrumentation spans the spectrum of fretted strings. Will Solomon plays mandolin and lead guitar on a Martin; Jesse Selman plays the ever popular baritone ukelele, and the Polys, Kat and Nick, play Martin guitar and banjo, respectively. Grass members also won individual picking prizes at Dover, but it was their delivery together that sparked the judges to acknowledge their "harmonies, tightness, and stage presence" and award them the top prize overall, with The Limbo Mountain Boys placing second and The Dover Family coming in third.
Transcendent Recordings, which distributes the band's current library of boot tapes and will promote the new record, does have an agenda. Briefly, their website reveals their conception of themselves to be the model of diversified artistic expression for the new spiritual freedom, sustainability, decriminalized marijuana, and humanism." Grass qualifies additionally to support this movement by having been awarded an AntiGrammy AntiGrammy for Best Acoustic Performance at the 1998 AntiGrammy Awards held in the East Village the day after the traditional Grammys took place last February at Radio City Music Hall.
You may remember the "Soybomber" guy who ran on stage during Bob Dylan's performance at the Grammy ceremony? It appears he's a member of the Music Militia, the group that awards the AntiGrammys and whose mission it is to protest what they call the mediocre quality of contemporary music. Whatever the case, the Soybomber made a surprise appearance at a gig Grass played at the Soleil Lune Cafe in New Paltz following those awards last March but this time to praise rather than befuddle.
So who knows what may happen at the Tinker this Friday night at 10 p.m. The band will play traditional bluegrass, newgrass, old-timey, folk/rock, original, and generally foot-stompin' music. Call 679-2487 for more info or check out any number of websites, all of which will be linked from Werewolves on the web at Tuned-In to Hudson Valley Music.
---
Haven James has been a consistent contributor to the Music & Arts scene around the Hudson Valley and beyond for almost a decade through his column, Werewolves of Woodstock, published weekly in the
Woodstock Times
A writer, musician, philanthropist, and Mac addict; he lives reclusively, high atop Overlook Mountain with his son and a menagerie of animals, both wild and domesticated. Though currently unmarried, rumors abound as to his intimate relationships with Madonna, Sandra Bernhardt, and Eli Bach; though he insists these notions to be pure hearsay. His identity has remained a mystery to all but the closest of friends as he often travels in disguise and appears unannounced and undercover at concerts and venues in a dedicated effort to get the real story.
Go to the Werewolves of Woodstock page for more articles by Haven James.
Haven James can be contacted at werewolves@netstep.net
Posted on December 16th, 1998