How to Live the Festival Life
by Haven James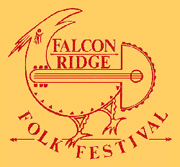 Event: Falcon Ridge Folk Festival

Looks like everybody took last week's column to heart, as Woodstock was well represented at both the Winterhawk Bluegrass Festival--which drew a record crowd and actually sold out camping tickets by Friday--and the Peaceful Valley Bluegrass Festival, which was packed, too. There are many more big gatherings on the bill for the summer, so this week we'll preview the folk extravaganza coming up this weekend at Falcon Ridge in Hillsdale, plus offer some tips on surviving a festival marathon out in the heat and away from the amenities of home--no simple task, but definitely a worthy one.
Beginning this Friday, July 24 and running through Sunday, July 26, is the Falcon Ridge Folk Festival, the biggest of its kind in the region.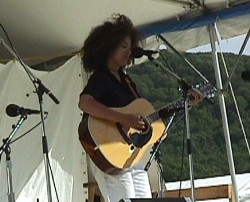 New Artist Showcase: Pamela Means called back for encore. (Fri, July 24, 1998)

The lineup at this festival is huge. It would take pages to list the entire schedule (see addendum below), so count on this being three fulldays of activity. There are four stages with dances, workshops, and all sorts of entertainment aside from the main performance stage, and that's going to mean making some hard choices about where to go when. More than a simple chart of who's playing and at what time, the program lists thematic happenings in the various performance areas which often include a bevy of players or bands of similar ilk, ready to explore the avenues of a particular interest or form. Here's a representative sampling of offerings: "The Care and Feeding of Hired Guns: Working With and as Sidepersons," "Staying Healthy on the Road," "Basic Bare Bones Swing," "Hot Sizzling Summer Salsa Party," "Gender-Free Contra Dance," "Boomers and Xers in a Round of Their Best," "A Toast To Those Who Are Gone: Songs of John Denver," and "Evening Song Swaps."

Of course, there are also individual artist and group sets booked for the concert area. In no particular order or eminence, some of them are Lori McKenna, Andrew Calhoun, the Freight Hoppers, Dave Crossland, Sisterseed, Paul Rosenberg with Beverwyck, Mindy Jostyn, Tom Payne, Kathryn Wedderburn with the Clayfoot Strutters, The Westerleys, Michael Jerling, Liz Queler, Tom Kimmel, Bill Parsons, Terri Allard, Wild Asparagus, Bruce Pratt, The Nudes, John Gorka, Sloan Wainwright, Bill Morrissey, Alex Torres y Los Reyes Latinos, Vance Gilbert, The Laura Love Band, Greg Brown, The Nields, Dar Williams Band, The Basin Brothers, The Bobs, Patty Larkin, Richard Shindell, and Woodstock's Bar Scott. And this is only a partial list.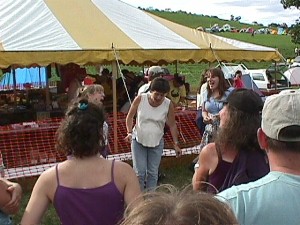 Festival-goers enjoy one of many spontaneous performances. (Fri, July 24, 1998)

If your budget permits, take along the plastic or extra cash, as shopping is another festival feature. Hats, clothes, jewelry, crafts, instruments, all sorts of ethnic foods; it's amazing the cool stuff that turns up on concession row at the better venues, and lately we've observed the prices to be surprisingly approachable. The Falcon Ridge Festival takes place on a dairy farm along State Route 23 just this side of Hillsdale, Columbia County. Fastest from Woodstock is up the Thruway to the Catskill exit, over the Rip Van Winkle Bridge, and out Route 23 toward Hillsdale till you're there (it's on the left, about an hour). For specifics and tickets call 1-860-350-7472 or 1-860-364-0366, or check out the festival's website, which will be linked from this column at Werewolves on the Web at http://www.HVmusic.com.

To guarantee a happy festival experience, whether you're going for a day or a weekend, you'll need to make some important preparations. It may seem obvious that there will be weather, and that you're going to get hungry and thirsty, and then you'll need to .... Trivial notions now, but not so trivial after the first 24 hours outdoors at over 90 DEGREES, not to mention that passing thundershower with 40-mph winds and a panoramic light show that would make Joshua jealous. Happy campers come prepared.

Sun is fun, but dangerous: sunscreen is mandatory, but only the beginning of what you need to bring along. Hats, a kerchief for your neck, and multiple pairs of shoes (walking on parched grass and hay is slippery; there might be mud, and that won't cut it on the dance floor) are advised. Black may be cool to wear style-wise, but white clothing, including something lightweight with long sleeves, will keep you cooler. A simple misting spray bottle makes a great air-conditioner, especially if there is even the slightest breeze (tip: spray over relaxed closed eyelids and face the wind; the cool goes right to the brain).

If you're camping, definitely figure on rigging some kind of tarp/awning from your tent, van or car, and don't forget lots of lightweight rope, extra tent stakes, and gaffer's (duct) tape, spring clamps and clothespins are handy, too. There is never enough shade and getting out of the rays periodically is essential. Do make sure you can drop the tarp fast, though, so it covers your stuff in case there are surprises. Basically, count on a passing storm; if it does happen, expect the rain to be hard and cold. A simple plastic poncho is the best defense; they squish up small and are lightweight. Most festivals proceed rain or shine and they can still be fun if you're ready for the situation.

Then there's the night. Last year, at one festival, the temperature fell over 45 degrees. And, it gets dark; take a flashlight and extra batteries and maybe a lantern of some sort to light your site. Make sure the kids have their own flashlights, too. A knife is a handy multi-tool, and eating utensils, paper towels and plates, toilet paper, and water, water, and more water are suggested. If you plan to cook, most festivals allow contained barbecue grills or camp stoves but not open fires; be careful and inquire as to restrictions. Eating at the concessions is usually excellent but does add to the budget; sandwich stuff and fruit in a cooler is the easiest way to go.

Most festivals have shower facilities, but solar bag showers are enough to keep you refreshed and acceptable to be with. Depending on your exhibitionist tendencies or lack thereof, you may want an extra tarp to wrap around the tailgate for a shower stall or simply bring a bathing suit.

Make a list of the stuff you use daily and take what you can including toothbrush and paste, medicines, and the like. Forgetting something as simple as a hairbrush can lead to misery. Folding chairs and/or blankets to sit on at your camp and in the performance areas are good to bring. (Tip #2: Do not buy the el cheapo folding chairs on Red-Dot Special at you-know-where--ours broke right off. Another reason to bring along that gaffer's tape.)

All that said, embarking on a festival adventure is well worth the effort. The camaraderie that develops over the days of shared community experience is a vital soul food and the core of what is globally called the Woodstock experience. While all the urban dodos are invading our little town in search of the Woodstock that didn't happen here, get out of Dodge and go to where the spirit of Woodstock lives, the summer music festivals flowering the countryside.
---
Haven James has been a consistent contributor to the Music & Arts scene around the Hudson Valley and beyond for almost a decade through his column, Werewolves of Woodstock, published weekly in the
Woodstock Times
A writer, musician, philanthropist, and Mac addict; he lives reclusively, high atop Overlook Mountain with his son and a menagerie of animals, both wild and domesticated. Though currently unmarried, rumors abound as to his intimate relationships with Madonna, Sandra Bernhardt, and Eli Bach; though he insists these notions to be pure hearsay. His identity has remained a mystery to all but the closest of friends as he often travels in disguise and appears unannounced and undercover at concerts and venues in a dedicated effort to get the real story.
Go to the Werewolves of Woodstock page for more articles by Haven James.
Haven James can be contacted at werewolves@netstep.net
Posted on July 22, 1998
---
Press Release-- May 29, 1998
Falcon Ridge Folk Festival
El Nino notwithstanding, summer is definitely here and the time is right to start thinking about the Tenth Anniversary Falcon Ridge Folk Festival this July 24, 25 and 26 at the beautiful Long Hill Farm in Hillsdale, New York. From its humble beginnings as a small New England folk festival nestled at the foot of the Berkshires, this event has become a premier 4 stage gala hosting approximately 8000 attendees last year. But Falcon Ridge is first and foremost a Three Day Community sharing the tradition and re-invention of folk music and dance. The festival features mainstage concerts, dancing galore on 8500 square feet of all wood floor, on-site camping, all manner of interesting, musical workshops, a family stage, an Activities 4 Kids area, a wondrous array of crafts and vendors, an international food court and much more.

For the dyed in the wool folk fan as well as the new to folk there is plenty to enjoy. Over 40 acts on 4 stages! And the 98 lineup is one of the most eclectic in the festival's ten year history. Many faves from the fest's first years; Bill Morrissey, The Bobs and Patty Larkin return. The Laura Love Band who shook the hill to rave reviews in 1995 returns. The Friday Night Summer's Eve Song Swap where 4 of the brightest and best in folkdom share stage and song features Gen X folkster/folkstar Dar Williams along with 3 of today's most celebrated singer/songwriters, Greg Brown, John Gorka and Richard Shindell. New England folk rockers, The Nields return by popular demand for their fifth FRFF appearance. Speaking of popular demand, Contra Dance virtuosos George Marshall with Wild Asparagus, the Clayfoot Strutters and Nightingale plus swingmeisters Peter Ecklund with Strings Attached will commandeer many hours of continuous dance on Falcon Ridge's REALLY BIG all wood floor. It's under a tent, yippee, and has plenty of space for spectators. Saturday's Midnight Cajun Dance with Louisiana's Basin Brothers is not to be missed. Afro-Cuban Rhythm complete with Salsa and Merengue courtesy of Alex Torres y Los Reyos Latinos makes its FRFF debut. As does Old Time, Appalachian String Band music delivered in a mix of high paced fiddle tunes, traditional songs and mountain clogging from North Carolina's Freight Hoppers. Spoken word artist Tim Mason, New Orleansy roots/bluester Bob Malone, Native American performers Ulali and high spirited Celtic rockers from Newfoundland, Great Big Sea will all be there just to name a few.

The antics of Hoopoe the Clowne, musical hilarity with Nancy Tucker, The Ivy Vine Players Puppet Theatre, The Storycrafters and others make the Family Stage a very happening place. Workshops including Rolling in the Aisles, Guitar Gods and Goddesses, The Songwriting Process, The Blues is Still the News and A Toast to Those Who are Gone honoring the music of John Denver take place throughout the weekend. The festival kicks off Friday July 24 at Noon with its much lauded Artist Showcase featuring 26 performers picked by a panel of judges from among 412 entries.

For more information and tickets call 860 350-7472 or Email FalcRidge@Aol.Com or visit Falcon Ridge on the web at www.FalconRidgeFolk.com.
Tenth Anniversary Falcon Ridge Folk Fest 98
July 24, 25, 26 1998

Long Hill Farm
Route 23, Hillsdale, New York
Tri-State Corner of MA, NY & CT

A Three Day Community of Folk Music & Dance at the Foot of the Berkshires

Mainstage Concerts, All Day & into-the-Night Dancing, Camping, Song Swaps, Crafts, Workshop Stage, Family Stage, Spoken Word, Ethnic Foods, Activities 4 Kids, Recycling, Comedy, New Artist Showcase, over 40 acts on 4 Stages, Roots Music, Musics of the 90's & beyond... 24 hour First Aid and Security, Water, Showers, Ice & Variety of Foods on-site, Sound by Klondike.

Emcees Meg Griffin from WFUV, Jim Olsen from WRSI and Andrew DiGiovanni from WKZE.

Accessible & Sign-Language Interpreted
---
Dance Stage 98
Beautiful all-wood floor * Enlarged Dance Tent * All day and into-the-night DANCES and DANCE workshops, Cajun, Contras & Squares, Swing, World-Beat, Family and Gender-Free Dancing.
| | |
| --- | --- |
| Alex Torres y Los Reyes Latinos | Sat/Sun |
| Basin Brothers | Sat/Sun |
| Beverwyck Fri/ | Sat/Sun |
| Beth Molaro | Fri/Sat |
| The Clayfoot Strutters | Sat/Sun |
| George Marshall with Wild Asparagus | Fri/Sat |
| Cynthia Butcher | Sat/Sun |
| The Freight Hoppers | Fri/Sat/Sun |
| Kathryn Wedderburn | Fri/Sat/Sun |
| Nightingale | Fri/Sat |
| Pat Melita | Sat/Sun |
| Paul Rosenberg | Sat/Sun |
| Peter Ecklund with Strings Attached | Sat |
| Ralph Sweet with Wild Asparagus | Sat |
---
Other Featured Artists
| | |
| --- | --- |
| Bill Morrissey | Sat/Sun |
| Bob Malone | Sat/Sun |
| The Bobs | Sat/Sun |
| Brooks Williams | F/S/S |
| Bruce Pratt | Sat/Sun |
| Dar Williams | F/S/S |
| The Falcon Ridge House Band | F/S/S |
| Great Big Sea | Fri/Sat |
| Greg Brown | F/S/S |
| Hoopoe the Clowne | Sat/Sun |
| The Ivy Vine Players | Sat/Sun |
| John Gorka | F/S/S |
| June Rich | F/S/S |
| Karen Savoca | F/S/S |
| The Laura Love Band | Sat |
| Laurie's Stories | Sat/Sun |
| Lisa McCormick | Sat/Sun |
| Mustard's Retreat | Sat/Sun |
| Nancy Tucker | Sat/Sun |
| The Nields | Sat/Sun |
| The Nudes | Sat/Sun |
| Patty Larkin | Sat/Sun |
| Richard Shindell | F/S/S |
| Sloan Wainwright | Fri/Sat |
| The Storycrafters | Sat/Sun |
| Tim Mason | F/S/S |
| Tom Prasada-Rao | Sat/Sun |
| Ulali | Sun |
| Vance Gilbert | Sat/Sun |
---
The Friday Night Summer's Eve Song Swap with Dar Williams, Greg Brown, John Gorka & Richard Shindell
New Artist Showcase starts Noon on Friday Email for an application or download directly from our website www.FalconRidgeFolk.com Deadline for submissions May 1
For Information and Advance Tickets

Falcon Ridge Folk Festival
74 Modley Road, Sharon CT  06069
860 350-7472 / 860 364-0366  24 hour tickets/info
FalcRidge@Aol.Com
www.FalconRidgeFolk.Com

Tickets go on sale April 15
On-site camping available with a 3-day camping ticket ONLY. 3 day with camping, 3 day and one day tickets available in advance and at Gate
Children Under 12 - FREE
Age 12-16 - $15 for any admission
Senior/College Student with ID - $5 discount on Day Tickets purchased at Gate
Dogs--$25 with proof of rabies vaccination at Gate.
All dogs must remain at campsites and will not be allowed in any other festval areas
See order form below checks, money orders, Visa, MC accepted. No Payments by check after July 10, please Tickets ordered after July 15 will be held at Gate
RAIN OR SHINE...NO REFUNDS

3 Day Ticket with on-site Camping
$60 - until June 1
$65 - until July 15
$75 - after July 15

3 Day Ticket
$50 - until June 1
$55 - until July 15
$65 - after July 15

One Day Tickets
Friday - $23 until July 15  $25 after July 15
Saturday - $28 until July 15,  $30 after July 15
Sunday - $23 until July 15  $25 after July 15

Times
Thursday Early Entry into Campgrounds for 3 day camping ticket holders ONLY.

For all others Gates, open Friday 10AM

Music starts Friday at NOON

Mainstage Concerts:     Friday 6:30PM til Midnight
                        Saturday 10:30AM til Midnight
                        Sunday 10:30AM til 7:30PM

Dance Stage:            Friday 2PM til 2AM
                        Saturday 10AM til 2AM
                        Sunday 10AM til 6PM

Workshop Stage:         Friday 1PM til 6:30PM
                        Saturday 10AM til 6:30PM
                        Sunday 10AM til 5PM

Family Stage:           Saturday and Sunday 11:30AM til 5:30PM

Activities 4 Kids Area  Fun stuff for the whole family Friday thru Sunday

Festival ends Sunday Evening at 7:30PM

---
New in 98
It's Falcon Ridge's Tenth Anniversary Celebration with many performers from our early years plus many performers brand new to these stages. Two very special guests are on board for the occasion, the Camp Hoboken Revue and Singer/Songwriter Jack Hardy. We bring you our second year of Friday Music Biz workshops covering artist management and representation issues, publicity, using the internet, forming musical collectives, putting on your own house concert series and more. The Falcon Ridge House Band, Jenny Hersch, Mark Dann and David Hamburger return. The Workshop Stage features some brand new and some familiar faves including The Blues is Still the News, Guitar Gods and Goddesses, The Songwriting Process, Rolling in the Aisles, Playing in the Band and A Toast to Those Who Are Gone honoring the music of John Denver. Don't forget the FRFF Nite Owl activities; Terry Kitchen, Joe Giacoio and Tony Kearney into the midnight and beyond hosting the Nite Owl Swap by the barn and the Nite Owl Hoot under the Tent. Plus many other folks host their own jams, song circles and swaps. Our expanded international Food Court is sure to please every palate. Don't miss our greatest assortment ever of crafts, vendors and publications. Presenting the FRFF TENTH ANNIVERSARY GRANATA GUITAR RAFFLE. Win a custom crafted guitar made by renowned luthier Peter Granata.
---
Miscellaneous
**Early bird camping opens Thursday afternoon by 5PM for ticketholders with prepaid 3 day camping tickets ONLY. To enter the campgrounds AT ANY TIME you must have a 3 day camping wrist band. NO TICKET SALES at the Gate until Friday at 10AM.**

Please remember a few necessary rules.... ABSOLUTELY NO OPEN FIRES ON THE GROUND NO GLASS on Festival Grounds YOUR DOG must remain in designated Campgrounds area Festival wristbands must be worn at all times, dog bands attached to collar and visible Falcon Ridge has a *NO OPEN CONTAINER POLICY* regarding alcoholic beverages

Interested in Volunteering at the Festival - Free admission and meals provided Contact our Volunteer Coordinator, Michael Schwartz at 518 966-4865 or VOLUNTEER@FalconRidgeFolk.Com

Long Hill Farm is 1 hour from Albany 3 hours from New York City and Boston

On-site Camping available with 3 day camping ticket ONLY. Nearby campground/motel list available on request. See Ticket order form. Rough camping in large, well-maintained field with shower trailer, water, ice & food all available on-site. Trailers/campers ok but NO HOOKUPS. Plenty of space. Camping on first-come basis; no reservations. Quiet Camping areas available, our campgrounds crew will be happy to assist.

PLEASE NOTE: Summer in the Berkshires is lovely but can be sunny & warm during the day yet quite chilly after sunset. Be sure to pack appropriate clothing & gear whether camping or not.