High Pressure
by Haven James


Preview: Chesapeake plays the Towne Crier in Pawling

They're back, and just when you thought you'd never hear another intelligent, beautifully voiced, perfectly executed melodic phrase of music again. Chesapeake returns to the Towne Crier in Pawling under Full Sail on a Rising Tide and under serious Pier Pressure this Saturday night, the lucky 13th of June, featuring songs from those three Sugar Hill albums plus a few new tunes they have in the works. If you've got one ounce of faith left, just trust me on this on: be there if you can.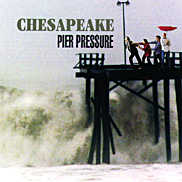 "Grrrr," you're saying, and "Boy, does he sound like he's in a rotten mood, fed up with mediocre loud crap and tired of the same old shit bands repackaged and clad in retro neon Day-glo, raggy jeans and surplus patchouli oil." Maybe you're right, or so it was until a few minutes ago, when the band's Pier Pressure CD hit the Bose and the world got a whole lot better.
To like Chesapeake you've got to love melody, crystal-clear acoustic instrumentation, and vocals that are wrapped so tight they'll take your breath away. There's a lot of db pressure in their music, which is highly focused and honed to an essential level. There's an awful lot going on in every passage, but not one note is without intention or placed in the slightest casual manner. They've taken song construction to high architecture without gilding a single column, yet each one radiates a polished glow.
Characterizing Chesapeake is a challenge; a little background helps, but not much. Three of the four are veterans of the legendary Seldom Scene, and the remaining member put in a long term with the Tony Rice Unit, another icon of modern bluegrass. But this is not a bluegrass band, far from it. Though it's fun to kid them that they've wandered far afield, they haven't, really; they've simply climbed to a different pasture up on Manic Mountain, one where the air is just as crisp and clean and where the high lonesome wind blows just as strong.
The fertile fields of bluegrass, however, are where they come from. We did a two-part profile on the band with interviews last February, but as those pages are no doubt landfill or kindling ash by now, here's the history:
Mike Auldridge, lovingly known as "His Legendship," was a founding member of the Seldom Scene and played the Dobro or resophonic guitar with that band for some 20-plus years. A pioneer on the instrument, part of Mike's enthusiasm to take the scary leap to form the renegade Chesapeake was the opportunity to expand his passion for slide and develop his skills on the lap steel and pedal steel guitars. You'll hear some licks from Auldridge you've never imagined before as a result of this endeavor, though he remains the ever-vigilant "taste police" for the band's arrangements.
T. Michael Coleman put in more than 10 years with the Scene on bass following previous adventures with Doc Watson. A Grammy winner, he's been writing a number of new songs the band is doing and currently plays both five-string electric and fretless bass.
Jimmy Gaudreau came to the mandolin by way of the electric guitar, and thereby developed his own style throughout his early years with the Country Gentleman, J.D. Crowe, and the Rice Unit. His current instrument of choice is the new Rigel mandolin, a streamlined acoustic that sports a neck that plays like a Fender Strat, but sounds like a classic old Gibson mandolin.
And then there's Moondi Klein. In addition to playing guitar and piano, Moondi plays voice, big-time. Youngest of the quartet, Moondi had worked his way up to lead singer for the Seldom Scene after wandering astray from an operatic career as a youth. Very serious pipes, and he writes, too.
So, as the story goes, this whole venture grew out of off-season jams in the basement where the door was wide open to experiment and try new stuff. The new stuff went to new places, so the boys sailed out of the safe harbor and formed Chesapeake. One big key to their music is that despite the challenge of peer pressure (which was very real), they're all having fun. T. Michael gets a kick out of doing his imitation of the way we Yankees speak; he insists that it's us mountain folk that "talk funny" and not them Southerners. Of course, the classically raised Moondi ain't no Johnny Reb, so things get interesting on stage sometimes.
The Towne Crier is located on Route 22 in Pawling, and it's worth the drive. They do dinner shows and the food is excellent, as are the acoustics of the room. Showtime is 9 p.m. Call 855-1300 for reservations and tell them Werewolves sent you. See you there.
---
Haven James has been a consistent contributor to the Music & Arts scene around the Hudson Valley and beyond for almost a decade through his column, Werewolves of Woodstock, published weekly in the
Woodstock Times
A writer, musician, philanthropist, and Mac addict; he lives reclusively, high atop Overlook Mountain with his son and a menagerie of animals, both wild and domesticated. Though currently unmarried, rumors abound as to his intimate relationships with Madonna, Sandra Bernhardt, and Eli Bach; though he insists these notions to be pure hearsay. His identity has remained a mystery to all but the closest of friends as he often travels in disguise and appears unannounced and undercover at concerts and venues in a dedicated effort to get the real story.
Go to the Werewolves of Woodstock page for more articles by Haven James.
Haven James can be contacted at werewolves@netstep.net
Posted on June 11, 1998