Chesapeake
by Haven James


Artist: Chesapeake (Parts 1 and 2)

Cutting edge acoustic music continues to ride the Rising Tide and will be cruising Full Sail to the Towne Crier on Valentines Day, February 14th [1998], as Chesapeake debuts new material scheduled for their third album to be recorded in Nashville this coming March. That's big news for acoustic folk, bluegrass, rock fans who are interested in a musical experience which is pushing the envelope.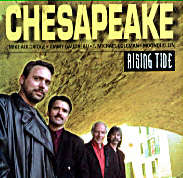 This is a band that's gone far a field from their musical roots, as Moondi Klein might put it, speaking of the biggest gamble four established professional musicians may have ever taken in their careers. Composed of three parts Seldom Scene and one part Tony Rice Unit, Chesapeake has made the step to go where no band has gone before abandoning security for the excitement and passion of the creative experience. Klein, guitarist, pianist and most time lead singer explained their predicament, "The comment that people who are unaccustomed to bluegrass music say when they see Chesapeake [is], 'I didn't think I liked bluegrass,' and; the really die hard bluegrassers come up to us and say, 'I don't lak yur style but you'all are good!' Moondi recounted in full Carolina drawl. A very telling remark but a disposition the band hopes to resolve somewhat having decided to move forward with a more market focussed production this time at bat. This is not to indicate that the band is going "Nashville Country style" with the upcoming project. What it is to say is that bringing in the talents of Gene Johnson, mandolin player of the CMA Vocal Group of the Year, Diamond Rio, to produce their new record can't help but further the presentation of the unique approach to voicing and arrangement this crew has developed.
Interviewing the four members of Chesapeake for this preview truly was like going to the well and discovering a bay with vast horizons. As a result, this dialog will follow in two parts with this segment focussed primarily on the who and what and the follow up next week directed a bit more toward the details of their creative process.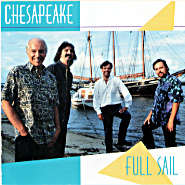 Legendary in acoustic circles was The Seldom Scene, a band that at the time of their creation were considered very avant garde for the bluegrass form. And eldest of that venture is one who bears the moniker of "His Legendship", Scene dobro player of twenty-four years, Mike Auldridge. "I've been playing dobro for so long I don't remember never playing it," Mike confessed acknowledging his pioneering work as one of the first musicians to bring this instrument into a public forum of any kind, let alone bluegrass.
Making the step to leave the Scene and set sail with this new venture has been "scary" at times but, having the feeling of being in a band that is breaking boundaries again is something he loves. Having added both lap steel and pedal steel guitar to his arsenal, Auldridge spoke of the hard work of tearing down and building up the arrangements that these guys do noting, "It becomes evident pretty quickly what color I should put on it."
"This is the band he's been waiting for all of his life," said fellow explorer and bassist T. Michael Coleman, also formerly of the Scene, who appeared to be speaking as much for himself as for Mike A. of their situation. T. Michael spent many years playing fretless electric bass with Doc Watson before joining the Scene for an eight year stint and has composed a number of the original songs earmarked for the album. This too is new for this band as all but one of the songs recorded so far have been covers even though they all of been have been heavily Chesapeaked. "I went into a writing frenzy," he said explaining that not only were their fans asking for this move but that they felt as he does that "original tunes are really the identifying element of a band, they are really the raw product that you mold into your sound." With backgrounds as disparate as these four players bring to their arrangements, what is being crafted is a "musical montage" that is evolving into a signature sound.
Hardly the only wild card in this mix, but, the only one most recently from another scene is Jimmy Gaudreau. Noted for his eleven years with the Tony Rice Unit (which shouldn't need any introduction) Gaudreau's style is again quite contra-traditional. He started back in the sixties playing electric guitar and picked up the mandolin quite by chance. "I never really learned to play the mandolin by the book, so to speak; I didn't pick up the Monroe style or anybody else's in bluegrass." Instead he just "kinda transposed" his guitar knowledge and went on to become one of the hottest pickers on any stage.
Gaudreau's openness to new forms has also led to a progressive choice in instruments. Many years the veteran of a traditional f-style bluegrass type instrument, his recent transition to a Rigel has only added to the tasty lick flavor of his playing.. "For one thing, it's brought my touch back to more like being a guitar player again because you don't have to beat on the thing to get a lot out of it ... it plays like an electric guitar and it just has this sweet sweet sound to it," he relished.
Jimmy's mounted a very simple Piezo type pickup on the inside about two inches above the lower f-hole which he runs through a major Rane EQ to "Shape" the sound. Now, not only does it look like an electric mandolin and play like an electric mandol in, it is now an electric mandolin only it "Sounds like a mandolin!" he exclaimed with contagious excitement.
Where as enthusiasm is the rule in this band, at the top of the excitement scale is Moondi Klein. The youngest member and newest to the working band world, Moondi couldn't be happier: "It's as if somebody had built a band around my voice because every time I sing, everybody lays back, and when I'm not somebody comes in there and does something extremely appropriate and tasteful that I wouldn't have even thought of."
Much of Klein's youth was devoted to operatic training, there is no shortage of vocal power. He tends to hear traditional music as just that, but, what comes out of him "and the band" appears to be quite a departure. "Oh yes! That's another problem we have," he answers. As to that time change when it goes from 4:4 to sort of 4:6 he explains, "It's weird, the groove is weird..." Then there's the guy in the double-wide with the plastic hat and the jack knife but you're going to have to wait for the show to hear that story song.
More on Chesapeake, the mechanics of the music and news flashes on the album next week.
---
Chesapeake.... Part 2
You'd be hard pressed to find a more perfect scenario for Valentines Day than being cozied up with your Sweet Melinda while listening to Chesapeake serenade you with some of the very finest acoustic music being played today. Already on their way up to the woodlands of sleepy New England, themes like these await you at the Towne Crier Friday [Feb, 1998] night.

Our cruise across the great bay with Chesapeake which began last week continues featuring further dialogs with Mike Auldridge, Jimmy Gaudreau, T. Michael Coleman, and Moondi Klein as they begin their mini-tour up North from their D.C. area home. This project called Chesapeake which began as a "boys night out" weekly jam session at the Birchmere has evolved so quickly into a phenom of special dimension that even the band can't quite explain it.

That "you really can't put a label on what we're doing" is an asset veteran dobro master Mike Auldridge confesses he is staking his life on. "You can't say Chesapeake sounds like anybody," he affirms noting the unusual approach this band is taking in developing what otherwise might be dubbed traditional music. You wouldn't expect to find a folk band featuring mandolin, pedal steel, and piano any more than a bluegrass band without a banjo. Chesapeake cuts a new course from the demarcation point of this crossroads.

Textured with delicately layered acoustic sounds, Chesapeake delivers music which weaves sparse articulate parts into lush gardens rich in color. "The stuff that we're working on now, rhythmically, is going to be fascinating," projected mandolin artist, Jimmy Gaudreau, of the new material destined for the recording session booked for March in Nashville. "We try to take out the redundant element," T. Michael qualified of their approach to the songs; both comments suggesting the significance of the juxtaposition of time and structure in their arrangements.

Moondi explained the sort of modal variation that happens on Shady Grove where "we sort of ride the one chord and sing the chorus and the chords change with the voices but all the instruments just play the key chord." The band has been working on applying this idea to the late Townes VanZandt's tune If I Needed You which may appear on the new record.

Coleman focussed the discussion, "Your musical memory will expect a certain progression, like if you're playing in a C there's a certain walk up [and] you expect there to be an F chord next ... but sing a different note against that chord, that is unexpected." T. Michael explained the next variable, "We do a lot of chord inversions, chord inversions meaning you have a root note, if you're playing in C you have a C note, the bass may be playing a G note and a mandolin may be playing an E, some form of an E chord; we think as though the band is more orchestral." The idea being something like, if somebody is already doing the one thing, why should the other player do that as well; the composite parts are what builds the song, as opposed to everyone playing the same thing together.

"You have counter movement, and then you come back together, and then you separate again," Coleman led toward the next part, the unison thing. Klein danced around the politics of this issue at first stating, "The thing that's missing from basic bluegrass backup is anything in actual unison," which he immediately restated as, "We come to really enjoy playing certain lines together." [Expect a good dose of humor at this gig]. There is a certain ebb and flow not unlike how Little Feat material moves through an electric vein in this music. Changing time, tumbling down passages, turnarounds that twist back when you think they're going to go the other way; all of it adding impact to making you sit up and take notice that something interesting is going on.

And then there's Auldridge, the band's "taste police" as they call him. For the Dobro, Mike uses a Nuemann microphone (probably the world's best and most expensive mic) commenting, "I prefer the natural sound of the Dobro rather than a kind of an electronic edge that you get when you start using pickups." However, anything old school you might perceive from this statement ends there as Mike's true passion is the pedal steel guitar which he does carry around to gigs along with his lap steel. Expect some hot licks and sweet slides from Auldridge on one of the new tunes called Nothin' Ain't A Lot at the Crier. That's the song with the "groove" Moondi mentioned last week, "It's bluesie, it's rock and roll-ey and does not confine itself to a 4:4 time frame ... it's weird-- so there it is."

So there it is, Chesapeake; fresh, creative, different but not so far a field as not to feel like home ­a sparkling fire to keep you warm this Valentines night. Call the Towne Crier as tickets are a must.
---
Haven James has been a consistent contributor to the Music & Arts scene around the Hudson Valley and beyond for almost a decade through his column, Werewolves of Woodstock, published weekly in the Woodstock Times
A writer, musician, philanthropist, and Mac addict; he lives reclusively, high atop Overlook Mountain with his son and a menagerie of animals, both wild and domesticated. Though currently unmarried, rumors abound as to his intimate relationships with Madonna, Sandra Bernhardt, and Eli Bach; though he insists these notions to be pure hearsay. His identity has remained a mystery to all but the closest of friends as he often travels in disguise and appears unannounced and undercover at concerts and venues in a dedicated effort to get the real story.
Go to the Werewolves of Woodstock page for more articles by Haven James.
Haven James can be contacted at werewolves@netstep.net
Posted in February, 1998