Bluegrass Heaven
by Haven James


Event: Peaceful Valley and Winterhawk Bluegrass Festivals
Dates: Wednesday, July 14 [1999] through Sunday, July 18

There aren't a lot of constants in this world but there is one thing you can count on--the third weekend in July means there'll be bluegrass in these hills so pack your tent and get ready cause it's festival time. Coming up next week, both the Winterhawk Bluegrass Festival and Peaceful Valley present four days of mandolin winds and high lonesome harmonies, and both are roughly an hour's drive from downtown Woodstock. As amazing as it may seem to the initiated, there are still folks who think bluegrass is clanky backwoods hayseed music. In most instances, nothing could be farther from the truth. The fact is, bluegrass rides the crest of cutting-edge acoustic music and is characteristically some of the most articulate, intellectual, passionate and often times humorous music you are likely to hear. Fans span the gamut from the predictable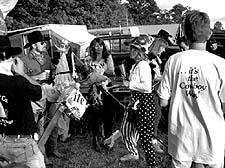 Festivalgoers with their "mounts".

redneck stereotype to stock brokers, physicists, artists... basically, music lovers of all persuasions. Even the New York State Senate and Assembly have dubbed July as Bluegrass Month in New York, stating in a joint resolution, "Bluegrass music defines a heritage that is uniquely American." Maybe that's it, whether you're chronically hip or chronically square or somewhere in between, it's just an American thing. And there is another element, since "Woodstock the Festival" rock concerts have struggled desperately to recreate that magical event and the side-affects have not always been wonderful or even pleasant. Unburdened by this legacy, the spirit of these bluegrass gatherings has been free to grow and blossom in a natural manner, and they have done well to create an atmosphere of true community and joy in their undertakings. The results are annual four-day festivals of peace, love, and music--imagine that. Enough with the sermon, here's the deal. Hands down, Winterhawk is the queen of all bluegrass gatherings North of the Mason-Dixon Line and rivals many of those below it. Year after year, the lineup can knock your socks off, and this year is no exception. It is lengthy so we'll list it below and focus in on just a couple of the highlights.

Werewolves has been a regular at this festival for years, and a curious occurrence happened time and time again. Paralleling the main performance area, which is a natural amphitheater set into a hillside, there is a sort of a midway or Boulevard as they now call it, where most of the craft booths and food concessions are located. I was standing there at Betcey's Beyond Beadery talking to some friends when this music filtered in and drew me like a magnet through a walkway to an edge where I could see the stage. "Who the hell is that?" I remember asking, thinking, these guys are incredible. "Oh, that's Hot Rize," Betcey answered with a grin. Twice more that season the identical thing happened and then again in following years. Even after I knew full well who they were, had bought all their records and had met them personally, their music would still reach out and pull me toward the stage till I realized yet again, `Oh, that's Hot Rize.' The group disbanded some years back. All of the players continued on to develop their own careers, including bluegrass music international ambassador Tim O'Brien, whose new band will play Friday, Dr. Banjo, Peter Wernick, who'll be there, Nick Forster, who will also be there, and the amazing Charles Sawtelle, who, unfortunately, will not be there. Followers of Hot Rize and their alter-ego cowboy band, Red Knuckles and The Trailblazers, already know Charles succumbed in his bout with leukemia this past March. As he was both well known and loved by everyone in the bluegrass community, this year's traditional Saturday night jam will be played in tribute to Sawtelle and will feature all of the surviving members of Hot Rize plus Peter Rowan, Jerry Douglas and many more of the best of the best.

The gates open at the Rothvoss Farm in Ancramdale Wednesday, July 14. The music starts Thursday and runs through Sunday, and most of the bands do both a day and a night set. In addition to the main stage there are four more, including a kid's stage, a workshop stage and a dance pavilion. There is a lot going on all the time. Plus, picking around the campground is a huge item and there will even be a best parking lot band contest this year in addition to a whole bunch of other competitions; there's even one for best campsite.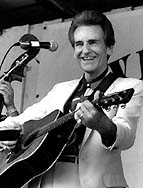 Del McCoury

Grammy and IBMA award-winners the Del McCoury Band, the Nashville Bluegrass Band, Dr. Ralph Stanley, the John Cowan Band and David "Dawg" Grisman all headline. Here's the list: Dry Branch Fire Squad, Fiddlestyx (Thursday-Sunday); Austin Lounge Lizards, The Judith Edelman Band, Dick Smith Mike O'Reilly Band, Mountain Heart, The Blue Merles, Gibson Winterhawk Talent Showcase Bands (Thursday); John Kirk, Trish Miller and Quickstep (Thursday-Friday); The Del McCoury Band, The Tim O'Brien Band, Natalie MacMaster, The John Cowan Band, Ryan Holladay and His Dad, The Hula Monsters (Friday); Roy Book Binder, Bill Keith, Mike Henderson (Friday-Saturday), The Schankman Twins (Friday-Saturday-Sunday); very special tribute to Charles Sawtelle with Wernick, O'Brien, Forster, Rowan and Friends, David Grisman Quintet, Nashville Bluegrass Band, The Gibson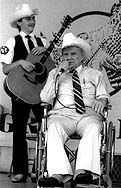 Ralph Stanley

Brothers, Chris Thileand and Nickel Creek, Leroy Troy, Steve Riley and the Mamou Playboys (Saturday); Jerry Douglas (Saturday-Sunday); Dr. Ralph Stanley, Tony Rice and Peter Rowan, Winterhawk Gospel Show, Country Current: The U.S. Navy Bluegrass Band (Sunday). The info number is 1-888-WINTHWK (946-8495). The festival site is located across the river and east to Route 22 midway between Millerton and Hillsdale. There is a good website with lots more details that will be linked from Werewolves on the Web.

The alternate event is the Peaceful Valley Bluegrass Festival. The dates are the same but the scene is quite different. Peaceful Valley (1-888-413-0137) is a year-round campground. It is flat and runs along the Delaware River in Downsville. If you camp RV style, this location can provide you with hookups and more of the modern conveniences; they even have a pool. Both the stage and the sound system are smaller than at Winterhawk, as is the lineup, but there are folks as dedicated to this fest as there are to the other. Though there are "traditional" acts appearing at both events, the tendency is to characterize Peaceful Valley as the more traditional old-time festival of the two.

Playing at the Valley will be Melvin Goins and his Bluegrass Band (Thursday); The Gibson Brothers, Gary Brewer and the Kentucky Ramblers, Smokey Greene, the Jones Brothers and the Log Cabin Boys Thursday-Friday); the Lynn Morris Band, Bill Harrell, Dale Ann Bradley and Coon Creek, Ellen Harrington (Friday); Country Ham, Blue Highway, Mountain Heart (Friday-Saturday); Jay Armsworthy and Eastern Tradition (Saturday); Jim and Jesse, Mike Stevens, Southern Rail, the Stevens Sisters, Gold Wing Express, the Larkin Family (Saturday-Sunday). Even though it has been hotter than blazes, be aware that the temperatures in the river valley can fall radically at night so don't get caught shivering. There will be weather at both festivals so take what you'll need plus lots of sun block; leave Fido home, and do bring your instrument.

Food concessions are excellent at both shows as are the other trade booths. Ice and water are also available. See you at the pickin' pasture.
---
Haven James has been a consistent contributor to the Music & Arts scene around the Hudson Valley and beyond for almost a decade through his column, Werewolves of Woodstock, published weekly in the
Woodstock Times
A writer, musician, philanthropist, and Mac addict; he lives reclusively, high atop Overlook Mountain with his son and a menagerie of animals, both wild and domesticated. Though currently unmarried, rumors abound as to his intimate relationships with Madonna, Sandra Bernhardt, and Eli Bach; though he insists these notions to be pure hearsay. His identity has remained a mystery to all but the closest of friends as he often travels in disguise and appears unannounced and undercover at concerts and venues in a dedicated effort to get the real story.
Go to the Werewolves of Woodstock page for more articles by Haven James.
Haven James can be contacted at werewolves@netstep.net
Posted on July 8, 1999