| | | |
| --- | --- | --- |
| | content-type: text/html | content-type: text/html |
| | |
| --- | --- |
| Scene Unseen is a good friend to local music | |
Story and photos by Steve Stiert
Wednesday, July 14, 1999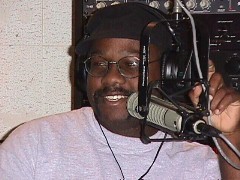 Marc Stuart, host of Scene UnSeen

I had the pleasure of sitting in the studio during the broadcast of the Scene Unseen show hosted by Marc Stuart and co-hosts Laura Donohue and Dave Schmidt. For those not familiar with the show, it runs every Wednesday from 5-8pm EST on WVKR 91.3 FM.

Scene Unseen's mission is:
"to showcase regional musical talent, to give new musicians much needed exposure, to broaden the general public's musical interests, and to make people think."
Throughout the show, Marc and co-hosts feature the music of local musicians, announce local events, and share their appreciation of local music and observations on life the universe and everything else with an upbeat and enthusiastic approach. The highlight of the show for me (and I think for them too) is the weekly 60 to 90 minute segment where Marc invites into the studio a local Hudson Valley band or artist. The range of music featured is not limited. As Marc says, "there isn't much I don't like." What is important is that the audience gets the opportunity to be exposed to the variety of great talent in the Hudson Valley, both the well known names and, perhaps even more important, the not so well known-- hence the name of the show "Scene Unseen".
| | |
| --- | --- |
| Laura Donohue | Dave Schmidt |
Marc totally dedicates the segment to the artists. It's precious time that Marc doesn't want to see wasted on subjects unrelated to the artists. Alternating between live performances from the artists and playing cuts from their albums, Marc chats with the artists in a supportive and personable manner asking questions and giving them the chance to express whatever is important to them. It's a format that lets us get to know not only the music but the artists behind the music on a really personal level.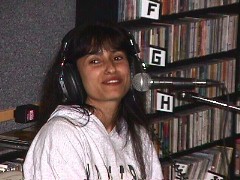 Dallas Fisher

This week's guest was blues & soul singer/songwriter Dallas Fisher. Dallas is just releasing her first CD, "Love Waits" and it was a treat to get exposed to this up-and-coming new talent. Joining Dallas was Sly Geralds on bass and Kevin Robinson on harmonica. You can find out more about Dallas and her CD at her website DallasFisher.com.

Unlike what you might expect from an independent college station, the show is run with a great deal of professionalism that belies the casual and fun atmosphere in the studio. I think airline pilots have less instrumentation to contend with than what Marc and Laura have before them to fly their show, yet they managed the buttons, switches, and monitors errorlessly and with practiced ease all the while keeping their focus on their guests. Dave Schmidt did an superb job setting up and monitoring the sound. Although the sound of the live music in the room was excellent, what I heard through the headphones, and what those in radio land heard, was even better due to Dave's mixing and application of audio magic-- he's a bonus member of every band that appears on the show.

Not to take away from Marc, Laura, and Dave, but perhaps they had it a bit easier this night as Dallas is an engaging personality and her and her band did some hot live tunes. Because she couldn't have the band with her that accompanied her on her CD, she performed several new original songs. But that worked out to our benefit as we got to hear some great songs not otherwise available. Sly Geralds, an outstanding bass player, filled in on rhythm guitar for the night and showed he's practically as comfortable with six strings as he is with four. Kevin Robinson is always a pleasure for me to hear on blues harp and did an equally slick job improvising on each song and you'd never know he was hearing them for the first time just as we were.
| | |
| --- | --- |
| Sly Geralds | Kevin Robinson |
If you missed the show, please check back here soon as I hope to be able to offer a recording of the show in RealAudio format for you to enjoy. And there are rumors that Scene Unseen will be available soon live on the internet via streaming RealAudio!
To support the show, and to help promote local musicians, Marc maintains the Scene UnSeen website. From there, you can learn not only about the show, its hosts, and its upcoming guests, but it also features a comprehensive list (with website links) of local artists and the venues where you can see them perform.
If you are a Hudson Valley musician and would like to appear on Scene Unseen, or you're interested in having a website created for you, Marc would love to hear from you. Information for how to contact them can be found on the Scene UnSeen website.
Be sure to catch their show sometime soon. It will be time well invested and you'll be helping to support the local musicians who devote their time and talent into making the Hudson Valley one of the best regions for music in the world.
---
Return to Hudson Valley Music Home Page