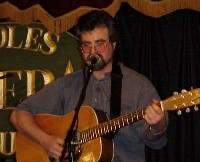 Jon Stein
Y
ou just never know about some folks. Take Jon Stein, for instance. Within the community at large, he's known as the Jon Stein in "Jon Stein Piano Services." For two decades, Jon's been providing the greater Hudson Valley with quality piano tuning, repair, regulating, and appraisal. Within the local radio community, Stein is known as the host of the Hootenanny Cafe, a weekly folk music show on WTBQ, 1110 AM. Then there's the world of local live music venues, and Jon Stein's name pops up again. He's the concert coordinator for
Bodles Opera House
in Chester. My grandmother would have said: "He has his finger in lots of pots." Gramps might have called him a "dabbler."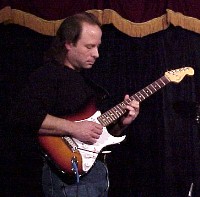 Mike Taplinger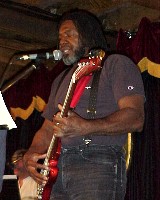 E.C. Lorick
And, sure enough, Jon's dabbling doesn't stop there. He and a number of his musician friends showed up on the Bodles stage on May 10th to open for Tom Rowe and the
Turkey Hollow Consort.
They called themselves "Folk 'n' Stein," and the enthusiastic crowd enjoyed yet another side of Jon Stein: the man, the myth, the singer, the songwriter, and yes, the dabbler. As it turns out, in another life, Jon wrote and recorded two folk albums: a cassette release entitled "Ramblin'," and before that, in 1985, an actual long playing record album called "Sailing Home." (If you don't know what a record album is, you might be able to see one on display at the Smithsonian!)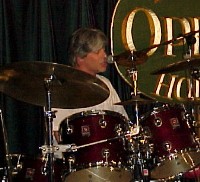 Tom Walker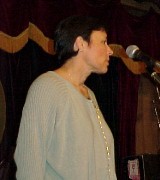 Kathy Romanoski
Folk 'n' Stein opened with a powerful original called "Thunder and Lightening," and their set list included a warm mix of originals and traditional favorites. Vocalist, Kathy Romanoski, drummer, Tom Walker, and bass player, E.C. Lorick provided beautiful back-up harmonies, and lead guitarist, Mike Taplinger played some of the most tasteful and appropriate licks I've heard in a long time. What's next for Jon Stein? Who knows? But I suspect that a dabbler's job is never done.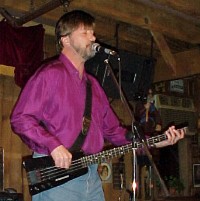 Tom Rowe
Folky folks know Tom Rowe. Really folky folks probably know Tom's son,
David,
too. Four years ago, they teamed up and began performing together, Dad on bass, and David on guitar, banjo, and mandolin. Their first album together is entitled "Rowe by Rowe." Accomplished guitarist, Denny Breau played with Tom in high school (Back when there were lots of record albums!), and so adding him to the "consort" was a natural fit.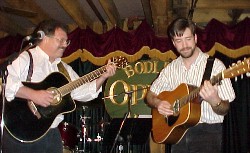 Denny Breau & David Rowe
Turkey Hollow Consort covered all the bases, playing just the right mix of originals and tried-and-true crowd pleasers. The banter was both genuine and entertaining, and the crowd at Bodles was loath to let them pack up and drive home to Maine.
| | |
| --- | --- |
| Kevin Robinson is a freelance writer/photographer, and the author of three "Stick Foster" hardback mystery novels. A former syndicated columnist for the Detroit Free Press, his byline has appeared over 100 times in national and regional periodicals. Kevin is a partner at No Bull Productions, and his PR credits include promotion and booking work for several of Kansas City's top blues bands. Kevin can be reached at nobull@NoBullProductions.com. | Ellie Apuzzo owns and operates Ellie's Consider It Done. She provides "on-site oversight for absentee owners" here in the Florida Keys; and so far, this lifelong New Yorker just can't seem to get into "Keys time!" Ellie can be reached at ellie@elliesconsideritdone.com. |
---
Return to Tuned-In Home Page