Hudson Valley music news and musical happenings.
«Return to Main Blog Page
---
Poughkeepse Day School -- 70's Music Festival, May 6th.
May 4, 2017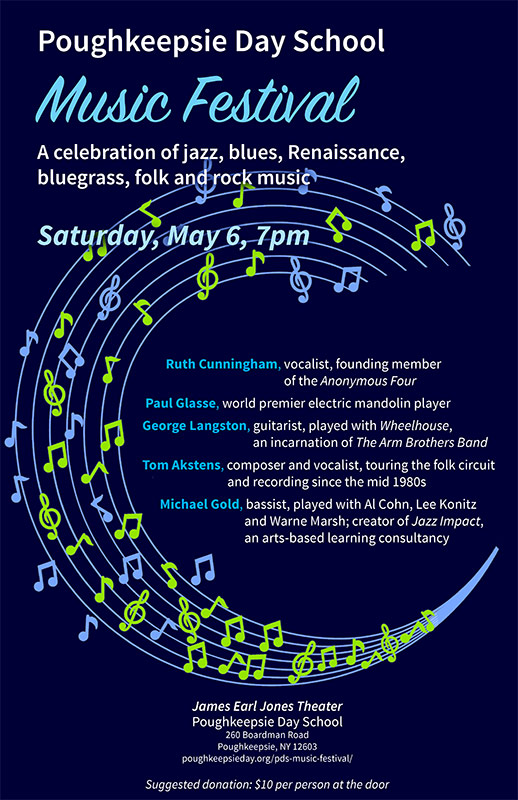 A celebration of jazz, blues, Renaissance, bluegrass, folk and rock music
Poughkeepsie, NY: Poughkeepsie Day School is hosting a music festival in the James Earl Jones Theater on Saturday, May 6, at 7:00 pm. This public concert will feature active members of the authentic 1970s music scene of the Mid-Hudson. Their music is an eclectic mix of jazz, Renaissance, blues, bluegrass, folk and rock. Featured performers will be:
Vocalist Ruth Cunningham '74, founding member of the Anonymous Four, a Renaissance quartet of international renown
World premier electric mandolin player, Paul Glasse '76
Guitarist George Langston '74, who played with Wheelhouse, an incarnation of The Arm Brothers Band
Composer and vocalist Tom Akstens, who has been touring the folk circuit and recording since the mid 1980's.
Michael Gold '73, who played bass with Al Cohn, Lee Konitz, and Warne Marsh and created an arts-based learning consultancy known as Jazz Impact
Other PDS alumni who will be performing are Ed Xiquez, T. Xiques '89, Pam Leavitt Kantarova '72 and husband Richard Sylva, Geritt Stover '75, Peter Enriquez '12, Adam Cote '02.
Damon Banks, current faculty member
Michael Gold '73, who is organizing the concert and will also perform says, "The passion that integrates all these sounds started when they were students or faculty together at Poughkeepsie Day School. They all went on to pursue their love of music. If you thrive on musical authenticity or lived the early 70's in the Hudson Valley you won't want to miss this exciting night of blues, folk, bluegrass, Renaissance, jazz and R&B."
There will be a suggested donation of $10 per person at the door.
Directions.
comments powered by