| | | |
| --- | --- | --- |
| | content-type: text/html | content-type: text/html |
"A Tale Of Two Singers"

Von Em & Scott Sylvester
Split the Bill at the
Towne Crier Cafe

Sunday, August 6, 2000

Story by Kevin Robinson
Photos by Ellie Apuzzo
Great musicians are tapped into a Source that the rest of us might recognize in various ways, even covet, but which always seems just out of reach. And that muse-laden Source of talent and inspiration


Phil Cignar


A sampling of the delicacies

(whatever and wherever it is) provides the world with a staggering range of diversity. When I saw that two wonderful area singer/songwriters, Scott Sylvester and Marc Von Em, were splitting the bill at the Towne Crier Cafe, I began pondering the nearly polar extremes that separate these two very unique and enjoyable performers. Of course, I was also pondering what entree and dessert I was going to order! Area musicians, quite naturally, think that Phil Cignar's place on Route 22 just northwest of Pawling, NY is all about music, but the audience regulars-most of whom gladly drive an hour or more each way-know that it's about great food and great music.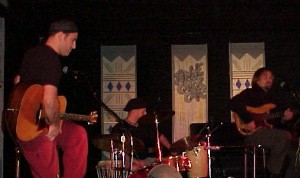 Von Em: (left to right)
Marc Von Em, Pete Pelligri, Bill Gordon

Anyway, Von Em, a tight three piece band with Marc Von Em on acoustic guitar and lead vocals, Bill Gordon (Outstanding and ever appropriate.) on bass and back-up vocals, and Pete Pelligri (Always smooth and perfectly understated.) on percussion, started out the evening by winning each and every audience member over...instantly. Marc Von Em is, in my personal left-brain/right-brain terminology, an "elf." To qualify for elfhood, one must be pretty far out into being right-brained. Elves are free-spirited, "in-the-moment," and might even appear scattered or easily distracted to the untrained eye. But as musicians, they are often pure, unobstructed conduits of whatever inspiration comes to them from that Source I mentioned above. There are no filters, no doors, no locks, no dams, and few curves. It's all primal. It's mostly all straight ahead. It's all elf. Von Em wins audiences over because every tune communicates clearly on both a lyrical and a musical level. They make it easy.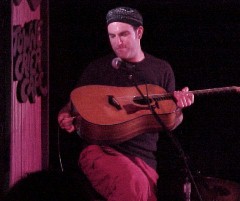 Marc Von Em

If, like "Crop Circles," the song is a fanciful contemplation of whether or not there might be aliens, we smile as we are drawn irresistibly into the unlikely conversation. When Marc performs "I'm an Average Nobody," it's pure melancholy with a decidedly positive and hopeful groove that every listener identifies with at once. "I'll Brush it Off," an alternative blues tune replete with humorous hand jive, funny faces, and laughing licks, had the whole audience laughing along. "Falling Down" paints a heart-rendingly clear portrait of a relationship from which all substance has faded away, and only the frailest of form remains. No one fails to relate. Marc Von Em's music runs the gamut. Subject and style change from moment to moment. None of it pushes. All of it tugs. And every note and every word is delivered straight from the heart.

Check out: Von Em

Scott Sylvester's music takes a much more circuitous journey, and each song represents a high degree of intelligence and sophistication. My guess is that few of Sylvester's originals just happen. They spring from real life, from disappointment, or from anguish, or from joy, but I suspect that we never hear them until they've been honed and hammered more that a few times. Sylvester is definitely not an elf. His connection to the Source is every bit as pure, but he's a more linear/logical songwriter. He turns subjects and observations back on themselves. He analyzes and he critiques. His emotions are intellectually intense and his humor is razor sharp and fleetingly fast. In a word, Scott Sylvester's music is potent.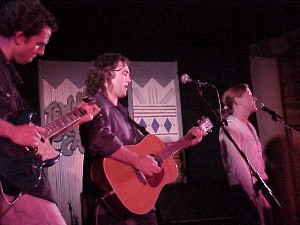 (left to right) Thad DeBrock, Scott Sylvester, Annie Baker

A talented friend and vocalist, Annie Baker, was featured on Cindy Lauper's "Time After Time," and accompanying Scott on electric guitar throughout the evening was a young virtuoso named Thad DeBrock. Thad's licks, though completely controlled and amazingly appropriate, often raised the intensity level of Sylvester's music to almost unbearable emotional levels. If Marc Von Em is a clear, clean glass window through which we can see something of the Source, Scott Sylvester is a magnifying glass. He cranks each image up and compels us to see Life, the Universe, and Everything on a decidedly more amplified level of reality. From the first song, Sylvester sweats and strains, demanding that we step up.

Even covers like Peter Gabriel's "Secret World" (the rousing encore number) are sung with a passion that verges on obsession. Sylvester's emotionally powerful tenor voice sometimes reminds me of Don Henley; and like Henley, there's nothing flippant when it comes to strong feelings. Lyrics like "You're a welcome curse...you're a dream I never had...." from "Dream I Never Had," Sylvester's original about the paradoxes of a mercurial relationship, or "It was a nice idea, a good intention, a concept, a figment of our imagination...." from another original, "Too Much Anger," about a relationship in the throes of collapse, exemplify an intensity that seldom lets up.

To be brutally honest, Scott Sylvester failed to captivate several nearby audience members. They didn't actually leave, but I watched their attention drift off after a couple of songs. They were young ladies, likely fans of Mariah Carey, Britney Spears, and Ricky Martin. They were, at first, drawn to the power and passion of Sylvester's performance; but in the end, whispered chatter about boyfriends, make-up, and belly buttons appeared to be more compelling than the decidedly mature emotional passions reflected in Sylvester's music. Such is the nature of Life, the Universe, and Everything, and Scott Sylvester pulls no punches when he invites us to consider it through his looking glass.

Sylvester's debut CD, "Sign On," is available at: www.cdbaby.com.
| | |
| --- | --- |
| Kevin Robinson is a freelance writer/photographer, and the author of three "Stick Foster" hardback mystery novels. A former syndicated columnist for the Detroit Free Press, his byline has appeared over 100 times in national and regional periodicals. Kevin is a partner at No Bull Productions, and his PR credits include promotion and booking work for several of Kansas City's top blues bands. Kevin can be reached at nobull@NoBullProductions.com. | Ellie Apuzzo owns and operates Ellie's Consider It Done. She provides "on-site oversight for absentee owners" here in the Florida Keys; and so far, this lifelong New Yorker just can't seem to get into "Keys time!" Ellie can be reached at ellie@elliesconsideritdone.com. |
---
Return to Hudson Valley Music Home Page