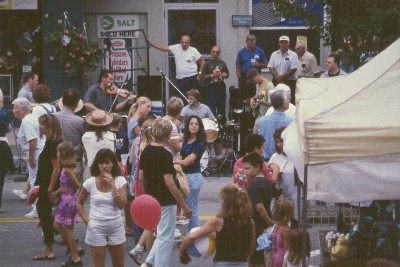 Swingshift: Drawing a Crowd
Swingshift at Florida [NY] Family Fun Festival
Sunday, August 12th, 2001
Story by Kevin Robinson
Photos by Ellie Apuzzo [ more photos ]
Michael Boyle had an idea. He wanted to put together a band that was a little bit different...at least as far as New York bands go. Married with children, Boyle has been playing guitar since he was 14 years old, and has probably performed just about every kind of popular music there is. But what he really likes is Western Swing and Cajun music...both a little difficult to come by here in the New York area.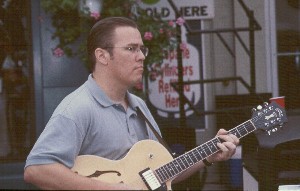 Michael Boyle

But Boyle had an ace in the hole, Louisiana fiddle wizard, Frank Urbanovitch. "My father's Polish," Urbanovitch told me, "and my mother's pure Cajun. I started performing in public with my grandfather when I was seven. Remember that scene in the Blues Brothers where they were playing behind a chicken wire screen while the patrons threw beer bottles?" When I nodded yes, he laughed and went on. "We played lots of those joints. I hid behind my grandpa, while he wiped off the beer spray and played right on."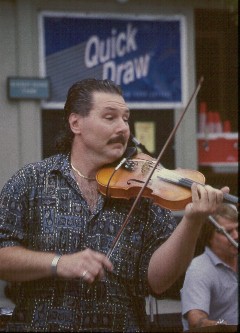 Frank Urbanovitch

Needless to say, Frank Urbanovitch knows how to party. And, as a 22 year veteran of the Jimmy Sturr Orchestra, he also knows how to work the crowd. Now factor in Keith Slattery on keyboards and Robert Lobb on bass, and you'd already have one hell of a party band called SwingShift. But wait, there's more. Buried behind the drums, is Michael Boyle's other ace in the hole, Jim Cawein. This cat is truly impressive. Cawein is the primary vocalist, and my guess is that he knows the words to every tune Bob Wills & the Texas Playboy's ever performed. But don't let that fool you. From Hank Williams, to Brian Setzer & the Stray Cats, to Lyle Lovett,& his Large Band, to a host of modern-day rockers, if it swings, if it makes you want to get up and dance, Jim Cawein can play it and sing it. And when's the last time you saw a drummer jump in on harmonica?

We caught up with SwingShift at the Rusty Nail in Middletown, New York, where they won over the room almost instantly. But, to be fair, this relatively new band has a pretty hard-core following... a following that really likes to dance! We were so impressed with the show, we followed them to the Florida Family Fun Festival on Sunday August 12th, and took along our cameras. The boys started playing at 3:30 p.m., and the sleepy little town of Florida woke up in a hurry. By the second tune, the crowd had completely stopped up the main drag, and folks of all ages were literally dancing in the street, and on the sidewalks, and anywhere else there was room. And that's one of the great things about SwingsShift, their audience demographic is one of the widest in the Hudson Valley. While this band probably won't attract too many grungers and hip-hopper's, the dancing fans we saw at both the Rusty Nail and the Florida street fest ranged in age from early 20s to late '70s.
| | |
| --- | --- |
| Robert Lobb (left), Keith Slattery (right) | Jim Cawein |
Frank Urbanovitch usually handles the lead vocals on the Cajun end of things, and he and Cawein take turns backing each other up as necessary, so there's a great ebb-and-flow of musical variety throughout the show. There are also some genuine showstoppers. When Michael Boyle puts down his guitar mid-song, picks up his fiddle, and goes head-to-head with Urbanovitch, the audience starts looking for the flames... 'cause the stage is sure enough smokin'!

Bottom line: If SwingShift doesn't get you dancing, clapping, or tapping your foot, then you've already got your other foot in the grave.

[ more photos ]