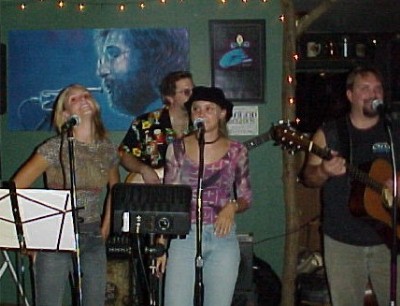 Sibling Revelry
at Clove Cafe, High Falls, NY
Friday, August 17th, 2001
Story by Kevin Robinson
Photos by Ellie Apuzzo
If we're good parents, one of the things we're supposed to do is know how and when to push our offspring out of the nest, pass the torch so to speak. One of the many reasons we always enjoy seeing Hudson Valley singer/songwriter, Bobby Kennedy perform, is watching him be a good parent, watching him pass the torch. All of his children, and his wife Nancy, have shared the stage with him at one time or another, and it's always a moving experience. But his twin daughters, Samantha and Kimberly, have taken a special interest in public performance, as evidenced by the growing maturity and polish they display onstage. What is equally obvious, is the fact that these two young women have been spending time in the woodshed...a musicians' colloquialism which refers to rehearsal time. They're both busy high school students, excel in athletics, and are most assuredly being pursued by young men their age, but they are clearly finding the time to learn an extensive play list and develop a fun/personable stage presence.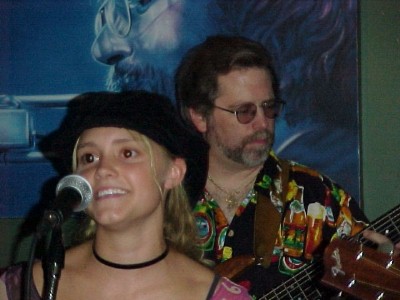 Samantha Kennedy, Dan Reiter

We first saw Kimberly and Samantha sing with their dad when they were probably fourteen years old. Their potential was obvious for all to see; and even then, their vocal harmonies were engaging. Now, if I recall correctly, they're pushing seventeen, and to say that they're coming into their own onstage would be an understatement. We caught up with the Kennedy clan recently at the Clove Cafe in High Falls, and their show was simply delightful. Bobby Kennedy, long known for an extensive play list of soft rock classics and creative originals, has not only extended his repertoire, but has deliberately rearranged most, if not all, of it to better showcase his daughters' talents. I've come to know a fair number of musicians through the years, and I think it's fair to say that many of them get little edgy about being up-staged. Bobby Kennedy positively beams. And if watching the three of them sing "Teach Your Children Well," doesn't make you smile inside and out, you've got ice in your veins.

We've seen Kennedy add bass and percussion to the act on several occasions, but it just never quite worked. Sometimes the bass players weren't all that familiar with the material, and often the percussionists apparently thought they were playing with a rock band rather than an acoustic act, but whatever, it usually diminished rather than enhanced the Kennedy's performance. On this night, however, Dan Reiter provided an evening filled with interesting and appropriate bass lines, and we hope to see more of this guy in the future.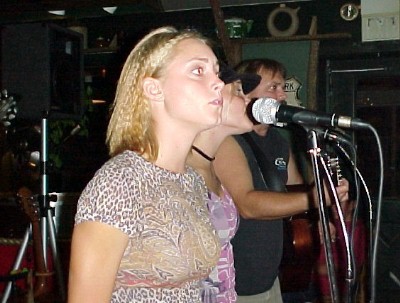 Kimberly Kennedy (Samantha, Bobby behind)

One of the other interesting evolutionary components of Bobby Kennedy & Sibling Revelry is to hear what they've done with some of the originals from their debut CD, "Late Bloomer." (Available at: www.CDBaby.com ) Traditionally, a band's CD is recorded in something of a hothouse environment. That is, you have control of everything in the recording studio, and can redo the various tracks as necessary in order to make the final product as good as possible. We've enjoyed listening to "Late Bloomer," and have several favorite tracks, but as Samantha and Kimberly get more comfortable, as teenage insecurities give way to confidence and playfulness onstage, many of Kennedy's originals have taken on a richness that is irresistible. The other night at the Clove Cafe, when they finished playing "Moonlit Bay," for example, I had to fight the urge not to ask them to sing it again on the spot!

Are we a little biased? Yes, I think we are. There's just something about this genuine working-class family, a refreshing realness, that makes us root just a little bit harder. Seeing how far they've come, wathcing as the musical torch is being lovingly passed, we can't help but wish them well in a business that has very little heart and soul as a rule. We have become fans. And if you catch their act, I suspect that you will become a fan too.