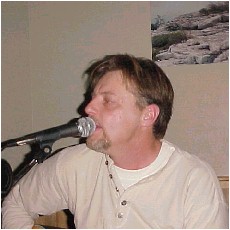 Alan Semenovich
No Bad Luck at the Gilded Otter
Friday the 13th of April 2001
Story by Kevin Robinson
Photos by Ellie Apuzzo
Alan Semenovich has been getting around. He was the bass player for the rock band Destiny, for several years, and is currently playing bass for Sunface, but a couple of years ago he started stepping out on his own. Turns out he's a natural born troubadour...a bard of the old school. (At least when he's not being a professional carpenter.) Alan's now a two-time winner of Rhythm and News Magazine's annual reader's poll for Hudson Valley's Favorite Male Acoustic Artist, and when we caught his act at the Gilded Otter in New Paltz, we found out why.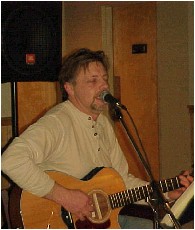 There's no glitz. No glitter. Semenovich just sings like he means it...like he's meant it all his life. He looks you in the eye, greets you like an old friend, and shares his songs like he's handing you pieces of his heart and soul. (And he is.) You'll hear everything from Hank Williams, John Prine, Bare Naked Ladies, Tom Petty, the Stones and the Beatles to several moving Semenovich originals, including "Destination," "Good Man," and "Friend."
Another thing that stands out during Alan's show is the clarity of his sound system. It's not loud (Even in a crowded place like the Gilded Otter.), but both the acoustic guitar and the vocals are crystal clear. You will hear and enjoy every word of every song. And that's what a real troubadour is all about. Alan Semenovich is about the music. We know of no higher compliment.