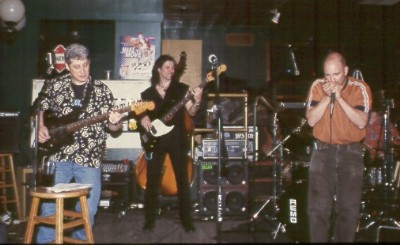 One for the Road
George Fletcher & the Handsome Men
Recorded Live at McGillicuddy's
Thursday Night - April 27th, 2001

Story by Kevin Robinson
Photos by Ellie Apuzzo

Thursday nights at McGillicuddy's in New Paltz has become a Hudson Valley tradition. It's Open Mic night, and if you want to catch a glimpse of area up-and-comers, there's no place else to be. George Fletcher (Editor and publisher of Rhythm and News Magazine, weekly columnist for the Poughkeepsie Journal, and on-air host of WRRV's "On Stage" every Sunday night at 9:00 p.m.) is the ever-gracious host, and he and his band, the Handsome Men, always kick off the evening with a bang. On this particular night, the opening set was recorded live, and several regular Thursday night favorites joined the band to lay down a tune.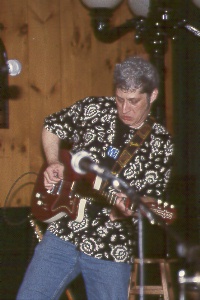 George Fletcher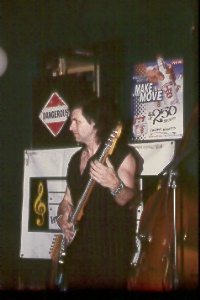 Rick Mullen

The occasion was a bitter sweet one. Fletcher's friend and bass player, Rick Mullen has been a Handsome Man since day one. Oh, he gets called away on weekends by the likes of Commander Cody & the Lost Planet Airmen, but on Thursday nights, you'll almost always find him at George Fletcher's side. Many fine drummers have come and gone, but something just clicked when Dennis Cotton came onboard. He and Rick just fell into step, and you'd be hard pressed to find a better rhythm section anywhere in the country. There are basically two kinds of drummers. Most, in my opinion, are like Animal the Muppet. They crash and bang their way through each tune; and, to be fair, many do so very effectively. A few drummers, however, seem to flow. Their every movement is fluid...poetry in motion and in sound. Dennis Cotton is definitely the later, and everybody seemed to realize that the Handsome Men had reached a new level. Fan's quickly dubbed the newcomer "100% Pure Cotton," and even Fletcher's performance reflected the new energy. Both covers and original songs that I have always loved were suddenly being delivered with a polish one reserves for national touring acts.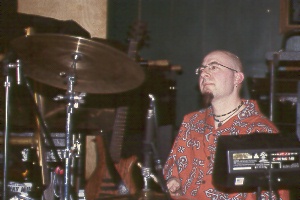 Dennis Cotton
Ok, so that was the sweet part. And speaking of national touring acts, the party on this Thursday night was graciously thrown to celebrate the fact that Rick Mullen and Dennis Cotton have recently been hired by none other than blues guitarist, Kim Simmonds, and his legendary band, Savoy Brown. They'll be on the road for most of summer, and the bash at McGillicuddy's was arranged in their honor by the guy who would miss them the most...everybody's musical pal, George Fletcher.
Joining the Handsome Men on stage were: McGillicuddy's head bartender, John "J.D." Devine performing several great opening numbers on the blues harp, vocalist Albert Rogers with a soulful rendition of Bill Wither's big hit "Use Me Up," blueswoman Chrissie O'Dell belting out the classic "Pitch a Wang, Dang, Doodle," and Thursday night favorite, Bob Gioia, singing "Kansas City."
| | | |
| --- | --- | --- |
| J.D. Devine | Chrissie O'Dell | Albert Rogers |
I'm a sucker for a "moment-in-time" like Fletcher provided on this occasion. Sure, Mullen and Cotton will return in the fall, and George's "bench" is as talented as it is deep (Look for Albert Rogers filling in on bass.), so the Open Mic will go on; but as one of my writing mentors, mystery novelist Lawrence Block, once advised: "Celebrate every acceptance...even if it's only with a trip to MacDonald's." George Fletcher did that concept one better...and he did it, as is his wont, with class.