Fiddling Around at New World Home Cooking


Story by Kevin Robinson
Photos by Ellie Apuzzo

There's an expression among Kansas City blues musicians (commonly heard at most blues jams) that goes like this: "You can't swing a dead cat in here without hitting a harp player." On Sunday afternoon, November 26, 2000, at the New World Home Cooking Company, you could have substituted the word "fiddle" for "harp" and been right on the mark.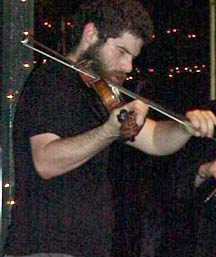 Local fiddle players and afficionados packed the popular Woodstock/Saugerties eatery for a chance to hear Cape Breton's genius/bad boy fiddle wizard, Ashley MacIsaac. I first saw the now 25-year-old fiddler three or four years ago when he and his band opened for the Chieftains out at the Red Rocks outdoor amphitheater near Denver, Colorado. In a word, he stole the show. His very hip album, "Hi! How Are You Today?", was more than impressive. It simply blew away listeners of all ages...even those who would have hitherto shown no interest in even "neo-traditional" Celtic fiddle music. Ashley MacIsaac had stepped solidly onto the road to stardom. His fellow Canadians flocked to embrace him, and after a flurry of live shows and appearances on American television, he seemed destined for greatness. He embraced that success by spending $75,000 at a Las Vegas auction to purchase the 1975 Cadillac Elvis once bought for Colonel Parker.
Ashley has a reputation of being just as comfortable playing local Cape Breton square dances as he is when rocking huge crowds. Appearing in da-glow sweatshirts, a kilt, and military boots, and playing with a vengeance, the young musician was nothing short of a show-stopping presence attack. "My father once said to me, 'If you want to play the fiddle get mad at it or don't play it at all,'" MacIsaac says. "When I go out and do my live show I present the image of an angry young man when on stage. It's angst or punk and that's what the Celts were, punks. But it's also about romancing because the Celts were also about that." His next two CD's, "Fine, Thank You Very Much," and "Helter's Celtic" were well reviewed, and his standing among traditional fiddlers was firmly ensconced.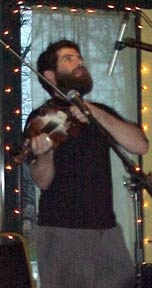 Then came the "problems." There were objections to his sexual preferences. There were rumors about drug use. There was the matter of alleged profane and racist public comments. Overnight, sponsors, venues, and even his record label and management were backing away. Ashley MacIsaac, however, like Nero, just kept fiddling; and, as his appearance in "Sauger-Stock" proved conclusively: In the end, "it's all about the music."
His beard is now full, making him appear more like 45 than 25; his demeanor in the cosy Ulster County venue was appropriately subdued; but his skill and his passion were shared in full measure. His long-time friend and oft-times accompanyist, Stuart Cameron, took four different Grayhounds to get to the gig, and together they graciously invited any and all comers to join them on stage. Three local teenagers (Rosie Newton and Susanna Kricker on fiddle, and Dan Burney on the squeeze box) strutted their stuff to the delight of the crowd, and later in the show, Rosie's mom, Abby Newton (a renowned traditional cellist) and another local fiddler named Earl Pardini joined Ashley for a rollicking medley of traditional tunes. Also seen in the enthusiastic crowd, were guitarist/singer, Steve Palmer and partner/fiddler, Rachel Handman, of the great local band, Barebones & Wildflowers, both kicking themselves for not having brought their instruments! All tolled, MacIsaac, who had just come from a marathon Celtic dance festival weekend in Boston, played for nearly two hours, stopping only long enough to replace two broken strings. For more on Ashley McIsaac, visit: www.ashley-macisaac.com
After the show, we moved to the dining room and found out first hand why owner/chef, Rick Orlando, and his restaurant on Route 212 between Woodstock and Saugerties, is garnering such widespread reputation. Our party of four ordered the salmon, the Cuban pot roast, the seasoned pork chops, and the "Purple Haze Shrimp" ("9.5 on the Rick-ter scale!"), and everyone traded bites and raves. The menu is interesting and varied, and the desserts are divine. (After years of diligent searching I have FINALLY found creme brulee served in a suitably sized custard cup...no skimping here!) For more information, call New World Home Cooking Company at (845)246-0900 or www.NewWorldHomeCooking.com
| | |
| --- | --- |
| Kevin Robinson is a freelance writer/photographer, and the author of three "Stick Foster" hardback mystery novels. A former syndicated columnist for the Detroit Free Press, his byline has appeared over 100 times in national and regional periodicals. Kevin is a partner at No Bull Productions, and his PR credits include promotion and booking work for several of Kansas City's top blues bands. Kevin can be reached at nobull@NoBullProductions.com. | Ellie Apuzzo owns and operates Ellie's Consider It Done. She provides "on-site oversight for absentee owners" here in the Florida Keys; and so far, this lifelong New Yorker just can't seem to get into "Keys time!" Ellie can be reached at ellie@elliesconsideritdone.com. |
Posted on December 8, 2000