Charlie Lang Live
at 88 Charles Street

Saturday, November 8, 2003

Story by Kevin Robinson

Mario Balaci is no stranger on the Orange County restaurant scene, and his outstanding Italian eatery in Montgomery has been getting rave reviews for years. But there have been some changes made, and Ellie and I aren't the only ones who are delighted. We're also not the only ones who affectionately called 88 Charles Street "the restaurant with one menu," but we are happy to change our tune. There are now two menus! (The bring it to your table on a tripod!)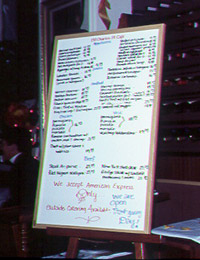 The new 88 Charles Street has changed its tune too. Not only does it have two menus now, but Mario recently opened a beautiful new dining room addition and hired Orange County's own Charlie Lang to tickle the ivories for the patrons from 8 p.m. to midnight on Friday and Saturday nights. Charlie has shared the stage with many local and national icons, including Perfect Thyroid, Little Sammy Davis, Cliff Eberhard and Maria Muldaur, and his extensive song list of popular standards and soulful originals has garnered positive attention from many listeners, including the Times Herald Record's Steve Israel who put it like this: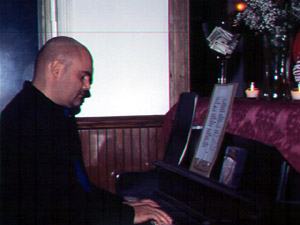 "No doubt about it, Charlie Lang is one of the most talented singer-songwriters in the mid-Hudson. When I first heard him, he wowed me with his words...but now his voice and music also deliver knockout punches. His quivering vocals have so much depth they sound like soul music. His synthesized music evokes the passion and poetry of that voice. So when Lang moans about having oxygen in his veins, the music is so chilling it makes you shiver."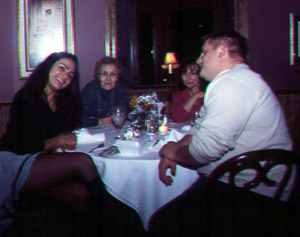 If you love great Italian food in a warm and intimate setting, 88 Charles Street will not disappoint. The wait staff is friendly and efficient, and the fare is second to none. And if you love live music, Charlie Lang will make your dining experience twice as nice. Charlie seems to know all the good stuff from Sting, Steve Winwood, Phil Collins, The Beatles, et al; and if you hang around long enough, Charlie's third set medley of Billy Joel tunes gets both the staff and the patrons singing along.
Check out Charlie and his new CD, "Oversensitive World," at: www.CharlieLang.com.