Little Melvin's
"Dealin with the Feelin'" Smokes
by Philip H. Farber
| | |
| --- | --- |
| Artist: | Little Melvin |
| Album: | Dealin' with the Feelin' |
| Label: | Keep on Steppin' |
| Rating: | **** (out of 5) |
Little Melvin Underwood is, I'm convinced, one of the great secrets of the blues.

Born in a small town in Mississippi, Little Melvin was inspired to play the blues after hearing Clarence Gatemouth Brown play the "Okee Dokee Stomp" in a local concert. With a second-hand guitar and a harmonica, Melvin taught himself the blues in what is certainly a roots tradition among blues artists.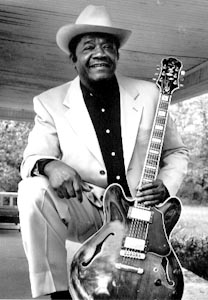 He formed a group and played venues around the South. At one gig in Monroe, La., Melvin met B.B. King. As their friendship flowered, King invited Melvin to join him on stage. That worked out so well, that whenever King was in Monroe, he would stay over and sit in with Melvin's band. That kind of exposure led Little Melvin to meet a plethora of other blues players and make a place for himself in the field.
Eventually Little Melvin settled in New Jersey. That's just a short hop from our area, which would explain the familiar names on the personnel list on Melvin's 1998 CD "Dealin' with the Feelin'."
Joining Melvin for some truly hot blues are Erik Perez on drums, Jeremy Baum on piano and organ, Chris Vitarello on guitar, Doug Abramson on bass, and Mike Moss on backing vocals. Needless to say, that's a hot band and "Dealin'..." smokes through 14 tracks of mostly original songs.
Little Melvin has a big sound. His guitar lines are sweet and dynamic, his vocals are full of emotion and he inevitably finds a groove on every song that just won't quit. His rhythm section kicks and Jeremy Baum's organ adds a nice, rich dimension to the sound, with just a hint of honky-tonk.
Little Melvin will be bringing his band to the Joyous Lake, 42 Mill Hill Road, Woodstock, tonight [03/26/99] at 10pm. The live band will feature Baum, Chris V., Eric Perez on drums, Eric Winters on bass, and Thomas Hutchison on sax. For more information, call 845-679-0397.
---
Philip H. Farber is a freelance writer who lives in the Hudson Valley. He writes for a variety of area publications, including the Kingston Daily Freeman and the Woodstock Times, as well as national magazines, books, web sites and anyplace else that will offer him money or gratification.
He can be reached at PStuart@aol.com

Posted on March 27, 1999