Hudson Valley music news and musical happenings.
Recent Entries

---
Reservoir Music Notes - Fab Faux Review, Live Music Picks
February 16, 2012
Greetings, and welcome to my 50th column of Reservoir Music Notes! And baby, it's cold outside, so come on inna my kitchen and warm yourselves up by my fire!
Last night, I braved the frigid temperatures to have a joyous time at The Fab Faux concert at UPAC in Kingston. What can I say about The Fab Faux that I haven't already said in previous columns? Well, a lot, actually.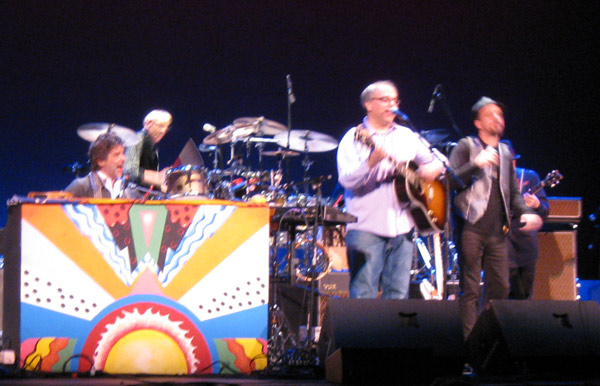 Racing to arrive on time so as not to miss the opening songs, I explained to my companion that the band was known to perform complete albums in each set. Therefore, as an example, I said that if they did the White Album, and opened with "Back in the USSR", you wouldn't want to walk in on "Dear Prudence" and kill the continuity. Well, we did manage to arrive just in time to hear the opening strains of…"Back in the USSR"! Once again, my musical instincts did not fail me!
---
Fab Faux! Fab Faux! Fab Faux!
February 10, 2012
Greetings and welcome to this week's Reservoir Music Notes!
Well, the week I've been waiting for has finally arrived! The Fab Faux will be making their first appearance in the Hudson Valley this week! If you don't know who The Fab Faux are, taking a look at last week's column will give you a good idea. In short, The Fab Faux are the best Beatles band on the planet! Rather than try to write something new, I'm going to reprint what I wrote about the band last week, because I think that said it all pretty well. On Saturday, February 11, The Fab Faux, make their first trip to the Hudson Valley, with an appearance at UPAC in Kingston. If you don't know them, The Fab Faux is a band that performs the music of The Beatles.
---
Mountain Jam Lineup, Jonny Monster Band Revue, Live Music Picks
February 2, 2012
Greetings! And welcome to this week's Reservoir Music Notes. They announced the preliminary lineup for Mountain Jam this week. The usual suspects are back (Warren Haynes, Michael Franti), but this year's festival will be headlined by Stevie Winwood! Also new to the Jam this year will be The Word, a new band consisting of sacred steel ace, Robert Randolph, John Medeski, and The North Mississippi Allstars! They should have called it The Wow! Other new acts added this year will be Lukas Nelson (Willie's son), The Carolina Chocolate Drops, and local bands, Sister Sparrow and The Dirty Birds and Connor Kennedy. AND Trombone Shorty and Orleans Avenue will return for the third time. Sounds like they've done it again!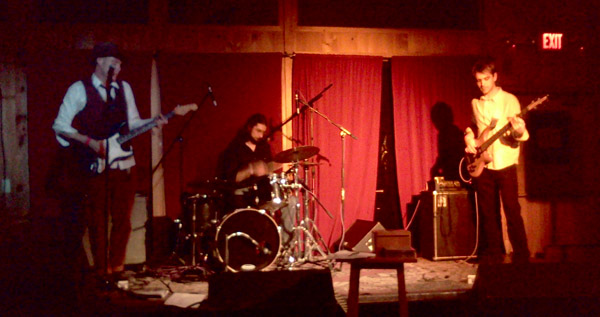 Friday night, I took my own advice and went over to The Bearsville Theater for the Jonny Monster Band, and they were even more impressive than the first time I saw them! Jon opened their set solo acoustic with a resonator guitar, doing a short set of old school blues. Not as comfortable onstage without his band and electric guitar, he nevertheless managed to pull off a very competent set. Gotta give him props just for doin' it, ya know! Then the band came on, and you could tell immediately that they were all at home now! Roaring into their set, I was struck by how good the rest of the band were. At my first exposure to Jonny, the guitar playing was so mindblowing that I barely noticed the rhythm section! Chalk it up to the element of surprise! This time, knowing what to expect, I had the room to relax and listen to the whole band. Drummer Roger LaRochelle is a dynamic powerhouse who never loses sight of the groove and fits Jonny's guitar playing perfectly! Bassist Pete Newman just stands there playing the exact right notes. This is a band of equals! But, of course, the focus is always on Jonny, as it should be. He's the one who's making you sit there thinking, "Can this kid really be as good as I think he is?". Over and over again, Jonny Monster answered that question with a resounding "Yes!". I'm telling you, catch them once and you'll be hooked!
---
Johnny Otis and Etta James Pass, Jonny Monster Band Profile, Live Music Picks
January 27, 2012
Greetings, and welcome to this week's Reservoir Music Notes. The great Johnny Otis ("Willie and the Hand Jive") and the great Etta James passed away this week. Ironically, Etta was said to have been discovered by Johnny. Two more immortal legacies go into the history books!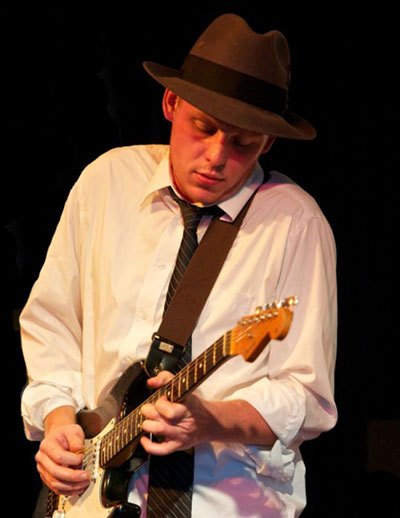 This week I'm profiling one of the most exciting young guitarists around, Jon Klenck, AKA Jonny Monster, and it's not hard to see where his name came from - He is a monster guitarist! I've already written about how the Jonny Monster Band blew my mind on New Year's Eve at Backstage Productions in Kingston. In that article, I said that if you drew a line from Jimi Hendrix and Stevie Ray Vaughn to Jonny Monster, you'd be overstating the case, but not by much! To those two illustrious axeslingers, let me also add Johnny Winter, because that influence is also there in Jonny Monster's playing. But that's the league this kid is playing in! He's really that good!
And Jonny's no Jonny Come Lately to the Blues music he plays so skillfully. He's done his homework, as evidenced by his occasional solo acoustic shows where he goes back to the roots of the Blues, performing material by the likes of Robert Johnson and Leadbelly.
Based in New Paltz, the band consists of Jonny on guitar and vocals, Pete Newman on bass, and Roger LaRochelle on drums and vocals. They play all over the Hudson Valley and New York City, and last year opened for Johnny Winter at The Bearsville Theater. I wasn't there, but I'm sure Jonny held his own in the showdown with Johnny, and I wouldn't be at all surprised if the student bested the master! And now The Jonny Monster Band triumphantly returns to The Bearsville Theater this Friday night, January 27, for a free show in the Artist in Residence series. This show is on "Don't Miss" status!
---
Bearsville Sessions Revue, Grateful Dead and Patti Smith News, Live Music Picks
January 26, 2012
Greetings and welcome to this week's edition of Reservoir Music Notes. Could it be? Is Winter finally here? Most people I know were trying to trick themselves into believing Spring was already here, but Mother Nature said, "Not so fast!".
I braved the cold last Friday night to go to The Bearsville Theater for the fifth installment of The Bearsville Sessions series, and I was very happy I did! Bearsville Sessions V focused on the British Invasion of the early 60's, the musical movement that brought us The Beatles, The Stones, The Dave Clark Five, The Searchers, The Kinks, The Animals, et al. Even though I was an Elvis fan at 5 and was exposed early on to the original great masters of Rock n Roll, this was the music I cut my teeth on as a teenager, and it still holds up! The Bearsville Sessions Band is a collection of great local musicians, and they always have some cool special guests on tap. This week was no exception, as one of the highlights of the night was
luthier extraordinaire, Joe Veillette's
version of the Unit 4+2 classic, "Concrete and Clay". Keyboardist and guitarist Ross Rice also outdid The Zombies on "Tell Her No"! In fact, quite a few of the performances this evening outdid the originals, and that's sayin' something! Most of it was due to the band's versions rockin' a bit more than some of the originals. A lot of this music was overproduced on record, (IMHO), due to many of the original groups being assigned staff producers who didn't really understand Rock n Roll, or were learning on the job. So now, with the passage of half a century, a good little rockin' band can actually match or exceed some of those great records we grew up with, just by rockin' it harder! Drummer Eric Parker was on fire, as was guitar player, Adam Widoff. Oh hell, the whole band was on fire, including the background singers! My thanks to Jodie Sleed at The Bearsville Theater for making it all possible. A splendid time was had by all!
---
Live Music Picks for this Week
January 12, 2012
Greetings readers! Once again, we lost two pretty important people this week. Fred Milano of the original Dion and The Belmonts passed away January 3rd at 72, and we also lost Tommy Ardolino, the drummer for NRBQ. Two great groups that lost original members this week. I guess everybody's getting to that age.
I have nothing profound to propound about this week, so I'm just going to get straight to my live music picks.
Wednesday, Jan. 11 – The great ROBERT GORDON returns to BB King's in Manhattan. He's older, grayer, and paunchier, but he stills rocks out with the best of them! If you go, request "The Way I Walk". KENNY VANCE AND THE PLANOTONES carry the doo wop torch into the City Winery in Manhattan. Kenny was an original member of Jay and The Americans and is still singing great! ROSS RICE AND THE VERY SEXY TRIO are at The Catamount in Mount Tremper for their regular biweekly Wednesday night gig. There's also an unusual gig this evening in that it's a spoken word reading, but it's music related. Inquiring Minds Book Store in Saugerties hosts RAUNCH AND ROLL, readings by authors Howard Massey, Robert Burke Warren, and Jeremy Wilber from their original writings. Massey will read from his recently published book "Roadie", inspired by the life of the immortal Ian Stewart AKA the sixth Rolling Stone; Wilber from his book, "Miles From Woodstock" about the heady days in Woodstock back in the day; and Warren from his original writings. Should be quite interesting!

Thursday, Jan.12 – The inimitable BOOTSY COLLINS, late of P-Funk and James Brown's band, stops by to funkify BB King's in Manhattan.

Friday, Jan. 13 – My friend, TODD WOLFE, formerly Sheryl Crow's guitarist, brings his electric blues band to the Roundout Music Lounge in Kingston, but I will have to skip Todd this time around, as I will be at The Bearsville Theater for this week's Pick of the Week. THE BEARSVILLE SESSIONS BAND, in their fifth installment of the series, focuses on The British Invasion. Now, this is the music I cut my teeth on, the band is great, so I gotta be there! But for those of you seeking something a little less raucous, RHETT MILLER, frontman of Americana rockers, The Old 97's, makes a rare local appearance at The Orient in Poughkeepsie (He lives in New Paltz). Also tonight is the (usually) weekly jam at the home of Stephen and Dona Crawford. All are invited. The address is 49 Webber Lane, Olivebridge.

Saturday, Jan 14 – If you're upstate, THE BEN ROUNDS BAND rocks The Catamount in Mount Tremper. If you're downstate, SKOLLIE, a great band consisting of Blondie Chaplin, Anton Fig, and Keith Lentin, is at The Rock Shop in Brooklyn. Blondie has spent the past couple of decades singing and playing guitar with The Rolling Stones, and before that, toured with Rick Danko and was a member of The Beach Boys. Anton Fig has been playing drums in the David Letterman Late Show Band since forever. Keith has played with Chris Spedding and a host of others.

Monday, January 16 – Last week, when I recommended STEVE EARLE at City Winery, I didn't realize that his gig there was a residency that runs every Monday night from now until Feb. 6, but that's what it is, so it'll be here again next week and every week through Feb.6. Catch at least one of them. If you dig Jazz, there's a great club in Manhattan on Broadway and 105th called Smoke, and they do! Some of the hottest jazz guys in New York call this club their home, and every Monday night, they have THE SMOKE BIG BAND. Ellington, Billie Holiday, Nina Simone, Count Basie. You get the picture? Smoke's jam session will blow your mind!


Tuesday, Jan. 17 – The new version of NRBQ is at The Iridium in Manhattan tonight. Piano player, Terry Adams is the only original member, but I'm sure they'll still rock as hard as ever. For you upstaters, check out the open mic at The Catamount in Mount Tremper, hosted by Ben Rounds.
Fred Perry is the owner of Reservoir Music Center on Route 28 in Shokan, and founding member of Alt-Country supergroup, The Brooklyn Cowboys, is from a 3rd generation musical family and lives in the Hudson Valley, where he does what he can to promote live music.