Hudson Valley music news and musical happenings.
Recent Entries

---
Reservoir Music Notes - Chuck Mead, Del Fuegos, Live Music Picks
March 8, 2012
Greetings and welcome to this week's edition of Reservoir Music Notes.
Last Saturday night, I went on an insane adventure to NYC. I probably bit off more than I could chew, but I closed the store early and raced to Manhattan to catch Chuck Mead at Joe's Pub. Chuck doled out a set of the finest Country Music this side of Tennessee for his adoring fans, many of whom included VIP's from satellite and terrestrial radio. I've said it before, and I'll say it again: Chuck Mead is the real thing, the genuine article, and he's one of the few who's carrying the torch for real Country Music! His take on Johnny Cash and June Carter's classic duet "Jackson" with Laura Cantrell was as good as anyone's, and that's some pretty impressive company!
---
Reservoir Music Notes - CKS Band Profile, Live Music Picks
March 3, 2012
Greetings and welcome to this week's Reservoir Music Notes. Well, we lost another one this week. The great blues guitarist, harp player, and vocalist, Louisiana Red, passed away February 25 at the age of 80. Red was a three time W.C. Handy Award winner, and had played and recorded with some of the immortals of the genre. Now he's immortal. RIP Red.

Strangely enough, almost all of this week's live music picks are in the city. The only local show I'm recommending this week is The CKS BAND at The Falcon in Marlborough, and they are strongly recommended! So I'm going to take this opportunity to profile the band, who I consider one of the most promising and exciting new bands to come along in a while! They're not really a brand new band though, as the members have played together in other outfits for a long time. Consisting of drummer Randy Ciarlante, keyboardist Bruce Katz, and guitar player Scott Sharrard, all three are world class players who never fail to put on a great show.
---
Howlin' for Hubert @ The Apollo Theater
February 27, 2012
Greetings and welcome to this week's Reservoir Music Notes.
Well, we all know by now that Whitney Houston died this week. I actually got the news just before my deadline last week, but I decided not to write anything about it because, well, her music just ain't my bag! But, she did have an amazing voice and was a force to be reckoned with in music, so I decided not to let her pass without at least a mention. The girl could sing! I only wish her career had been guided by someone other than Clive Davis, so she might've had a real music guy in her corner. She could've been another Aretha, had her material not been so white bread! RIP Whitney.
---
Reservoir Music Notes - Fab Faux Review, Live Music Picks
February 16, 2012
Greetings, and welcome to my 50th column of Reservoir Music Notes! And baby, it's cold outside, so come on inna my kitchen and warm yourselves up by my fire!
Last night, I braved the frigid temperatures to have a joyous time at The Fab Faux concert at UPAC in Kingston. What can I say about The Fab Faux that I haven't already said in previous columns? Well, a lot, actually.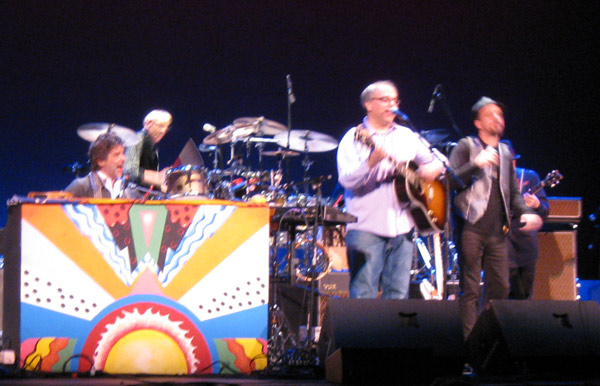 Racing to arrive on time so as not to miss the opening songs, I explained to my companion that the band was known to perform complete albums in each set. Therefore, as an example, I said that if they did the White Album, and opened with "Back in the USSR", you wouldn't want to walk in on "Dear Prudence" and kill the continuity. Well, we did manage to arrive just in time to hear the opening strains of…"Back in the USSR"! Once again, my musical instincts did not fail me!
---
Fab Faux! Fab Faux! Fab Faux!
February 10, 2012
Greetings and welcome to this week's Reservoir Music Notes!
Well, the week I've been waiting for has finally arrived! The Fab Faux will be making their first appearance in the Hudson Valley this week! If you don't know who The Fab Faux are, taking a look at last week's column will give you a good idea. In short, The Fab Faux are the best Beatles band on the planet! Rather than try to write something new, I'm going to reprint what I wrote about the band last week, because I think that said it all pretty well. On Saturday, February 11, The Fab Faux, make their first trip to the Hudson Valley, with an appearance at UPAC in Kingston. If you don't know them, The Fab Faux is a band that performs the music of The Beatles.
---
Mountain Jam Lineup, Jonny Monster Band Revue, Live Music Picks
February 2, 2012
Greetings! And welcome to this week's Reservoir Music Notes. They announced the preliminary lineup for Mountain Jam this week. The usual suspects are back (Warren Haynes, Michael Franti), but this year's festival will be headlined by Stevie Winwood! Also new to the Jam this year will be The Word, a new band consisting of sacred steel ace, Robert Randolph, John Medeski, and The North Mississippi Allstars! They should have called it The Wow! Other new acts added this year will be Lukas Nelson (Willie's son), The Carolina Chocolate Drops, and local bands, Sister Sparrow and The Dirty Birds and Connor Kennedy. AND Trombone Shorty and Orleans Avenue will return for the third time. Sounds like they've done it again!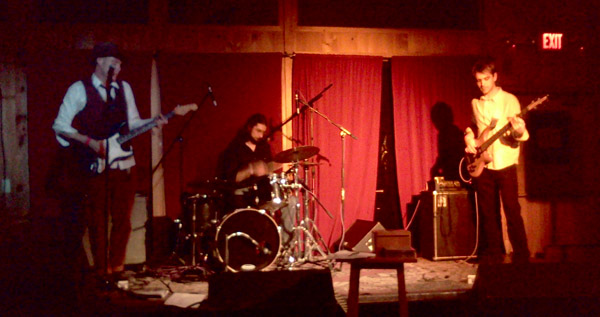 Friday night, I took my own advice and went over to The Bearsville Theater for the Jonny Monster Band, and they were even more impressive than the first time I saw them! Jon opened their set solo acoustic with a resonator guitar, doing a short set of old school blues. Not as comfortable onstage without his band and electric guitar, he nevertheless managed to pull off a very competent set. Gotta give him props just for doin' it, ya know! Then the band came on, and you could tell immediately that they were all at home now! Roaring into their set, I was struck by how good the rest of the band were. At my first exposure to Jonny, the guitar playing was so mindblowing that I barely noticed the rhythm section! Chalk it up to the element of surprise! This time, knowing what to expect, I had the room to relax and listen to the whole band. Drummer Roger LaRochelle is a dynamic powerhouse who never loses sight of the groove and fits Jonny's guitar playing perfectly! Bassist Pete Newman just stands there playing the exact right notes. This is a band of equals! But, of course, the focus is always on Jonny, as it should be. He's the one who's making you sit there thinking, "Can this kid really be as good as I think he is?". Over and over again, Jonny Monster answered that question with a resounding "Yes!". I'm telling you, catch them once and you'll be hooked!