Hudson Valley music news and musical happenings.
Recent Entries

«Return to Main Blog Page
---
Distinction & Extinction
June 22, 2012
New Album Debut Party for The Princes of Serendip Free Concert 5 pm June 23, 2012 Colony Café, Rock City Road, Woodstock
Mathematicians, as everyone knows, are a species distinct from the rest of us, some of them with admirable hair styles. Laurence Kirby, a mathematician at CUNY's Baruch College is even more distinct than that and has occasion to pose successfully as the distinguished musician T.G. Vanini.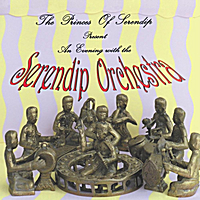 As Vanini, Professor Kirby has graced the lime-lighted stage surveillance tapes which have documented public performances of such eccentric musical groups as The Fighting MacKenzies, One Sky Family, The Junkyard Angels, Spatter the Mud and, most pertinently on this occasion, The Princes of Serendip.
The occasion in question is a free admission performance by the later group at The Colony to celebrate the new CD release of "An Evening With the Serendip Orchestra" at 5 pm on June 23rd. And the CD in question is an extraordinary blending of synthesized and organic sound visions which will not be performed on the occasion in question, giving way to other songs from the Serendip repertoire.
Issac Asimov once observed that great scientific discoveries are less likely to be trumpeted with a declaration of "Eureka!" than a mutter of "That's funny..." and, serendipitiously, despite Horace Walpole's improperly folded map, 'Princes of Serendip' roots can be traced back to ancient Persia, more specifically to Sumer, where the original details may still be deciphered by some future follower of the late cuneiform scholar Zecharia Sitchin when some "new" Sumerian tablets are dug up amidst the skulls and bones of venerable and oft-contested soil (Curiously, "Sumer" is also the name of a UV telescope searching for clues elsewhere in the solar system but unaltered truth can be as hard to find as Hiram Bingham's original birth certificate and it is the twice buried Plimpton 322 which should be mentioned in this context.
T.G. Vanini stood aside for Professor Kirby during the production of a fascinating short documentary entitled "Plimpton 322: The Ancient Roots of Modern Mathematics" in which Laurie astonishes those of us still carrying an abacus instead of a cellphone with the emerging discovery of long-forgotten methods of calculation. But back to the Princes of Serendip show...
Just as there are reasons the promoters of potato chips use the slogan "Snack like you mean it!" instead of the equally emphatic "Pig out!", there are solid reasons why the contents of the new album will not be played live. First of all, numerous contributors to the CD, including monkeys, geese, elephants, frogs, macaws, wolves and other critters of nature are not stage trained and, lest a restraining order be brought by those responsible for the cleanliness of the performance area, the animals were not invited to the show. Secondly, the bones of the work were preserved for over 15 years on an old Atari computer and redressed and painstakingly embellished for CD elaboration. The fascinating results, however, do not readily lend themselves to live performance. For that, you'll need the CD and something to play it on, just as you cannot hear the spontaneous music of singing plants without the software and midi-instruments which allow us to listen to the musically changing electrical potentials of the life process of plants.
But you knew that, right?
The 76 and a half minutes of music on the CD is not the kind of work to be taken lightly. Ambitious and courageous in the current sausage-link musical climate, Vanini, the vision follower, evokes uncommonly textured moods and rhythmic spaces in neoclassical and folk form measures where most popular musicians, afraid to explore their own musical genius or experiment with unconventional lawn care products, hesitate. Many of us, conditioned to our own most favored forms of expression, may even pause as listeners at first to this novel unraveling of twilight occasions and sun-drenched bursts of realization. It may take a pause to get our bearings in these not always immaculate but consistently meticulous passages, stumbling on cloven toes and soaring on reachingly poised wings as the voices of nature advise with the cloying tones of a wounded and contemplative beast or scold like an earthly mother addressing errant children.
Animals offer a rare window out of our darkly bottled human perspectives of life. Martin Buber observed that "an animal's eyes have the power to speak a great language" and an ability to see through these reflections, dimmed as they are becoming in the increasingly toxic environments our wayward brothers and sisters, the humans, are producing, extends cause to come to our senses. Even fans of network news would have to admit that we've departed them in the service of progress.
One of the most devastating images in memory, which can no longer be found on the Internet, was that of the lone surviving (as far as known) baiji freshwater dolphin in the Yangtze River with its head above the surface, looking about at the industrial shoreline, for any company at all. The haunting posture of that lonesome gaze spoke volumes of so much to pass on to nowhere and, to quote a bottomless lyric line from the album, the question "How did you get here?"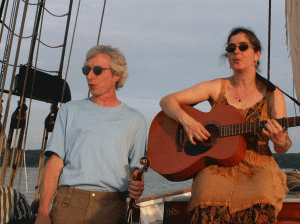 While Professor Kirby may speak of a Darwinian caution that "we're not so special," against a cloud cover of looming extinctions in today's sky from which we are not immune, Vanini dedicates the song "You Are Not Above Me" to the memory of "the Dusky Seaside Sparrow of Florida, whose voice is heard at the start and end of the song. The last member of this species, a male named Orange Band, died in 1987...in Disney World." In similar frustration, two years after a presence lasting over 20 million years, Robert L. Pittman, who traveled to China hoping to see a baniji, wrote in the Dec.26, 2006 NYT; "From now on we will have to choose which animals will be allowed to live on the planet with us, and baiji got cut in the first round. It is a sad day. I know it is their (China's) country, but the planet belongs to all of us." At last count, there were only an estimated 200 Vaquita dolphins left in Mexico's Bay of Cortez.
Space forbids a tracing of the deep and diverse musical influences here. Born in Hong Kong, raised in Britain, a basking veteran of Paris, Kirby has many exotic and operatic tints to the formation of his individual approach, Beatles, Mozart, progressive folkist Roy Harper, Milton Babbitt, Lewis Carroll, perhaps the Finn Jean Sibelius, certainly the middle section of Bartok's 3rd piano Concerto, perhaps Stravinsky and Zappa but digging deeper will probably lead us to arguing how much Phillip Glass owes to Erik Satie.
In this rescued evening of songs reimaged from a distance of years music, Vinini's keyboard, violin and maneuvered menagerie displays mystical urges not to unite drifts of life joy we may perceive as fragmentary but to discover their invisible connective entirety. It says "I am the dream imagining myself in sound." Life partner Julie Parisi Kirby's strategic and occasional voice cloaks over the shoulders of Vanini's phrasing like a halo of light and Jude Roberts adds another touch of grace to a fascinating project which proves that endangered diversions from commercial dominance are alive and well.
— Irv Yarg
comments powered by