Hudson Valley music news and musical happenings.
Recent Entries

---
Reservoir Music Notes - Live Music Picks
November 1, 2012
There's a hurricane comin' on, my son's visiting from California, and they cancelled tonight's Social Distortion show at The Chance, so we're gonna go straight to this week's live music picks.
Halloween, Wednesday, October 31 – It seems like everyone did their Halloween partying over this past weekend, so the day, itself, may be a bit of a letdown. Then again, maybe not! THE CONNOR KENNEDY BAND will be at The Bearsville Theater performing the music of The Allman Brothers Band, and, in the city, JACKIE GREENE is at The Music Hall of Williamsburg, Americana Roots Rockers, RECKLESS KELLY, is at The Bowery Ballroom, and the big show tonight is SMASHING PUMPKINS at The Barclay Center in Brooklyn.

Thursday, November 1 – The choices are slim tonight. Upstate, we've got DOCTOR JOHN and THE BLIND BOYS OF ALABAMA at The Palace Theater in Albany, and downstate, TOM TOM CLUB at The Brooklyn Bowl.

Friday, November 2 – Again, upstate, JACKIE GREENE returns to The Bearsville Theater, and downstate, CHRIS ISAAK is at The Beacon Theater.

Saturday, November 3 – All shows tonight are in the city. Former Parliament/Funkadelic keyboard whiz, BERNIE WORRELL and his orchestra are at Maxwell's in Hoboken, Former J. Geils Band frontman, PETER WOLF starts a two day run at City Winery, and #1 Itunes Reggae chart topper, J. BOOG, is at BB King's. My son produced and engineered J. Boog's chart topper, so if any of my friends are reading this, meet me down there.

Sunday, November 4 – PETER WOLF concludes his engagement at City Winery, and upstate, The BANJO SUMMIT is at The Bardavon Opera House in Poughkeepsie, featuring arguably the top three banjo players in the world, BELA FLECK, TONY TRISHKA, and BILL KEITH. This really has to be a Pick of the Week!

Monday, November 5 – New Orleans R n B and Funk royalty, IVAN NEVILLE brings his DUMPSTAPHUNK to The Highline Ballroom, along with highly regarded Big Easy guitarist, ANDERS OSBORNE.

Wednesday, November 7 – The second Pick of the Week is former Thirteenth Floor Elevators frontman, and noted mental patient, ROKY ERICKSON, who will be at The Bell House in Brooklyn, and PHIL LESH AND FRIENDS begin their invasion of the East Coast with three nights at The Wellmont Theater in Montclair, concluding on November 9.
Have a great week, and please don't forget to tune in to The Little Delaware Jamboree on WIOX, 91.3 FM, and on the web at www.wioxradio.org, every other Monday evening at 8:30 for my radio version of this column. The next show will be November 12.
Fred Perry is the owner of Reservoir Music Center on Route 28 in Kingston, and founding member of Alt-Country supergroup, The Brooklyn Cowboys, is from a 3rd generation musical family and lives in the Hudson Valley, where he does what he can to promote live music.
---
Reservoir Music Notes -- Eugene Geary, Live Music Picks
October 26, 2012
It was just a little over a year ago that I wrote the obituary for my friend, Eugene Geary, the most rockin' guitarist I ever played with, who I wrote a couple of albums worth of songs with, and who passed away last October 11th. We were friends since we were kids, and there is no replacement for him as a guitar player, friend, and musical partner.
Shortly after "Huge" passed on, a friend gave me a CD of the last songs we wrote and recorded together, one of which won a certificate of achievement in the Billboard Song Contest. The CD never left my car player, and, in fact, it's still there, because my car burned up last April. I managed to save the CD player with discs intact, but I hadn't gotten around to taking it apart yet to remove the discs, so, when another friend gave me a new copy, I was very happy to relive it again. As I drove around listening over and over, I realized that the anniversary of his death was upon us, and started thinking about the way we wrote and recorded those songs. Most of the songs we wrote together started with lyrics that I wrote, which Huge then wrote music for. For these last few, we changed the way we worked.
The initial spark came from my friend for these songs. He had the germ of the idea, and then we adopted the method Mick Jagger and Keith Richard used when they wrote together. Huge played the riff over and over, while grunting and making primordial noises in the back of his throat. I stood with pen and paper and translated these sounds into English, just like Mick used to do with Keith. For every record I ever made, my operating slogan was always, "If it's good enough for The Stones, it's good enough for us", which is why every track we ever recorded was done live in the studio, with everyone playing in the same room at the same time.
---
Reservoir Music Notes - Python Soup, Stones' News, Live Music picks
October 18, 2012
Howdy y'all! Last week I was remiss in my duties. A very important show flew under my radar. Even though I knew about it and had been looking forward to it for weeks, I forgot to recommend it in this column. The show in question was Python Soup at The Bearsville Theater. A supergroup of sorts, Python Soup is nonetheless a showcase for the percussive talents of drummer Simon Phillips. That said, I would be doubly remiss if I didn't say that the great Don Byron was mind blowing on clarinet, bass clarinet, and saxophone, and Scott Petito anchored the entire shebang beautifully on stand up and electric bass. David Spinozza threw in some tasty licks on guitar, and Pete Levin layered the music with lovely keyboard work. But, for me, as a drummer, and even for the non-drummers in attendance, it was mostly about the unbelievable stick work of Phillips! The man is simply and definitely one of the greatest drummers in the world today!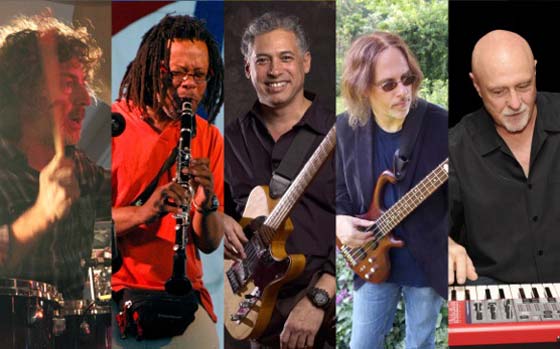 Simon Phillips first came to my attention as the drummer on the great "801 Live" album, recorded with Brian Eno and Phil Manzanara. The album opens with a cover of The Beatles "Tomorrow Never Knows", which they abbreviated to "TNK". It is an almost entirely different song, although still very recognizable. The beat that Phillips laid down for this song is truly remarkable, and I never get tired of listening to it! That opening track opened my eyes to the talents of Simon Phillips and put him on the map as one of the premier top level drummers in the world! Take a listen to it. It's amazing, and stands with The Beatles version as an equal!
I didn't know at the time, but this was Phillips first credited appearance on record. I was probably familiar with his name as a session musician, so didn't realize that this was actually his debut! And what a debut it was! After that, Phillips went on to play with a who's who of A list musicians, including all of Pete Townsend's solo work, Jeff Beck, The Who, David Gilmour, and many others. When Toto drummer, Jeff Porcaro, died suddenly as the band was preparing to go on tour, Phillips was the only drummer they considered to replace Porcaro, and went so far as to say that if Simon couldn't do it, they would not tour!
So, I stood right behind the drums and hung on every note! Phillips' playing is so inventive, creative, complex, and powerful, that my attention was riveted for the entire evening! I loved to watch as Phillips easily switched between leading with his right hand and his left, not an easy feat for a drummer, and one that very few drummers can do successfully! And what a sweet man! This was one of the best shows I've seen in a very long time, and certainly the most musical. The only thing that compared, recently, was The Grandmothers of Invention, who I also heartily recommend!
Simon Phillips, drummer extraordinaire! Don Byron, master of eclectic horns! Scott Petito, rock solid anchor! David Spinozza, (who by the way, has recorded with John Lennon AND Paul McCartney, AND Paul Simon, AND Dr. John, and, and, and… just about everyone), tasty fretmaster! And Pete Levin, fillin' in the space on keys! Like I said, a supergroup! Catch 'em if you can! Python Soup!
---
Reservoir Music Notes -- Love for Levon
October 11, 2012
Greetings! What a week it's been! It started last Sunday with Steve Earle at The Bardavon in Poughkeepsie, then the Love For Levon concert, Wednesday, at the IZOD Center, and just managed to make it to Blackberry Smoke at Irving Plaza, before collapsing in a heap at 8 o'clock in the morning yesterday! I think I need another day to recover!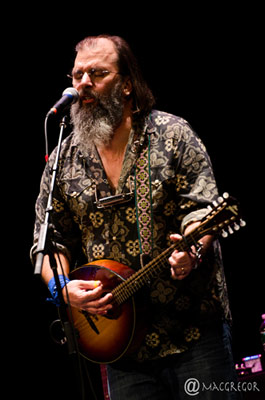 All of these shows were just fantastic and thoroughly enjoyable! Steve Earle proved, once again, that he is a fully developed, well rounded artist, a renaissance man really! He does everything, he plays everything, and he's done just about every style of music there is, even hip hop, at his first Bearsville Theater show a few years ago! Steve's done rock and roll, bluegrass, and country, but at The Bardavon last week, he showcased his singer/ songwriter skills, just standing up and delivering one great song after the next, in a very simple, yet captivating style. Almost all of your favorites were there – "City of Immigrants", "Guitar Town", "Copperhead Road", "Devil's Right Hand", "My Old Friend The Blues", and so many more. He is the penultimate singer/songwriter, and singer/ songwriters everywhere should take note of this man to see how it's done! My thanks to Lucy Edgcomb and Chris Silva at The Bardavon for their gracious hospitality in making this show possible.
Two quick days to recover, then down to the IZOD Center for the highlight of the week, the Love for Levon concert. This was such a special event! I wish you all could have been there. The vibe was pure love, and Levon's spirit was everywhere! With all the huge stars in attendance, all egos were subjugated to the vibe, which really was love for Levon. Was there ever a more loved man on this planet than Levon? I doubt it! Here are some of the highlights.
---
Blue River Runs Though It
October 1, 2012
Eric Andersen with Brian Hollander at the Rosendale Café October 6
The late, legendary 'Blacklisted Journalist' and longtime Bearsville resident, Al Aronowitz, once told me that the moment of Eric Andersen's breakthrough came when Judy Collins sandwiched his song "Thirsty Boots" with three fresh Bob Dylan songs on her celebrated "Fifth Album" before Eric himself had recorded it. We were discussing the golden singer-songwriter era emerging in the 1960s which still shines a beacon more than four decades later and in which Andersen rose with the cream of Greenwich Village singing songwriters who were dominating the national folk scene at that time.
The tides of American music were shifting from a rock & roll invasion of the popular charts in the previous decade and the hootnanny folk wave of the early '60s toward a legacy sparked by cognizant lyric-driven songs of Woody Guthrie, Hank Williams and a blend of other performing composers revived in the inspiration of that period's concerts and festivals. Bob Dylan, Phil Ochs, Tom Paxton and Eric Andersen were prominent contributors to the forging of a new singer-songwriter genre and Andersen, who appears at the Rosendale Café this weekend with Brian Hollander, has been active in a current renewal of recognition of the lasting quality of the music of that era.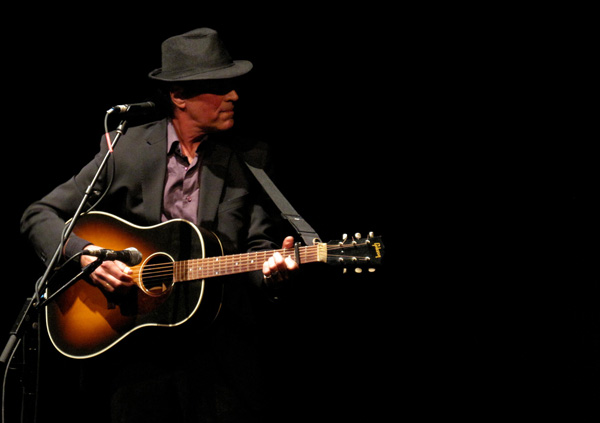 ---
Reservoir Music Notes
September 27, 2012
Greetings! Well, it's been a pretty uneventful week for me. I tried to go to the Rosendale Zombie Festival, but we got rained out, so I spent the night eating chili with my friend Jeff. Didn't make it to any of the shows I recommended, but I hope to make up for it this week and next. We've got some great music coming your way!
But first, one of the 35 friends who told me they'd give or send me the Keith Richards autobiography, "Life", finally did, and I just finished reading it. It's a fabulous, fast, addicting (no pun intended), read, and I heartily recommend it! I discovered that Keith and I share some of his strange idiosyncrasies. Such as "only eating when I feel like it" and "quite solitary eating habits at odd hours". LOL. There are some others, but I can't tell you about them because they're all illegal. JUST KIDDING! Some jokes at Keith's expense are hard to resist! There were some other quirky traits we share, but I can't remember them. Anyway, once you get past his childhood, it's hard to put it down! It's in paperback now, so you can probably buy it on the internet for 2 cents. LOL.