Hudson Valley music news and musical happenings.
«Return to Main Blog Page
---
I Want Your Feedback
May 31, 2013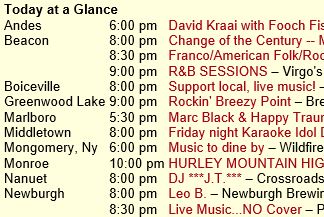 About two months ago we changed the format of the music calendar summary displayed on our home page. We changed the "Today at a Glance" section to group events by town rather than time. We felt this would make the list more easily scannable for events near you. Personnally I like the change a lot, now I can easily see what is happening in my home town.
How do you feel about this change? Is it for the better or worse? Just add your comments below.
-- Steve
comments powered by