Hudson Valley music news and musical happenings.
Recent Entries

---
Reservoir Music Notes -- Love for Levon
October 11, 2012
Greetings! What a week it's been! It started last Sunday with Steve Earle at The Bardavon in Poughkeepsie, then the Love For Levon concert, Wednesday, at the IZOD Center, and just managed to make it to Blackberry Smoke at Irving Plaza, before collapsing in a heap at 8 o'clock in the morning yesterday! I think I need another day to recover!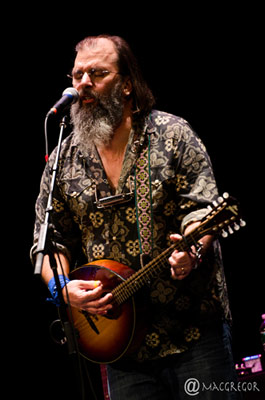 All of these shows were just fantastic and thoroughly enjoyable! Steve Earle proved, once again, that he is a fully developed, well rounded artist, a renaissance man really! He does everything, he plays everything, and he's done just about every style of music there is, even hip hop, at his first Bearsville Theater show a few years ago! Steve's done rock and roll, bluegrass, and country, but at The Bardavon last week, he showcased his singer/ songwriter skills, just standing up and delivering one great song after the next, in a very simple, yet captivating style. Almost all of your favorites were there – "City of Immigrants", "Guitar Town", "Copperhead Road", "Devil's Right Hand", "My Old Friend The Blues", and so many more. He is the penultimate singer/songwriter, and singer/ songwriters everywhere should take note of this man to see how it's done! My thanks to Lucy Edgcomb and Chris Silva at The Bardavon for their gracious hospitality in making this show possible.
Two quick days to recover, then down to the IZOD Center for the highlight of the week, the Love for Levon concert. This was such a special event! I wish you all could have been there. The vibe was pure love, and Levon's spirit was everywhere! With all the huge stars in attendance, all egos were subjugated to the vibe, which really was love for Levon. Was there ever a more loved man on this planet than Levon? I doubt it! Here are some of the highlights.
---
Blue River Runs Though It
October 1, 2012
Eric Andersen with Brian Hollander at the Rosendale Café October 6
The late, legendary 'Blacklisted Journalist' and longtime Bearsville resident, Al Aronowitz, once told me that the moment of Eric Andersen's breakthrough came when Judy Collins sandwiched his song "Thirsty Boots" with three fresh Bob Dylan songs on her celebrated "Fifth Album" before Eric himself had recorded it. We were discussing the golden singer-songwriter era emerging in the 1960s which still shines a beacon more than four decades later and in which Andersen rose with the cream of Greenwich Village singing songwriters who were dominating the national folk scene at that time.
The tides of American music were shifting from a rock & roll invasion of the popular charts in the previous decade and the hootnanny folk wave of the early '60s toward a legacy sparked by cognizant lyric-driven songs of Woody Guthrie, Hank Williams and a blend of other performing composers revived in the inspiration of that period's concerts and festivals. Bob Dylan, Phil Ochs, Tom Paxton and Eric Andersen were prominent contributors to the forging of a new singer-songwriter genre and Andersen, who appears at the Rosendale Café this weekend with Brian Hollander, has been active in a current renewal of recognition of the lasting quality of the music of that era.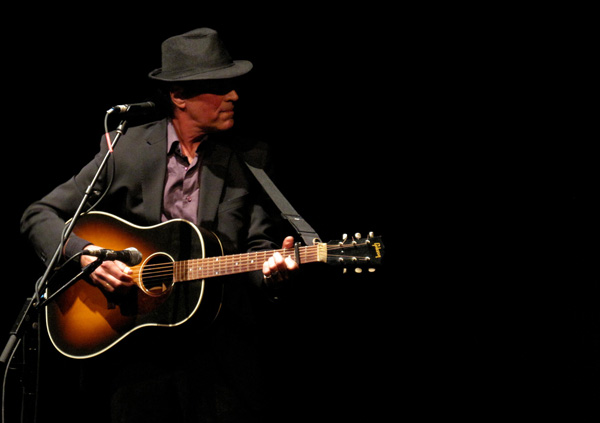 ---
Reservoir Music Notes
September 27, 2012
Greetings! Well, it's been a pretty uneventful week for me. I tried to go to the Rosendale Zombie Festival, but we got rained out, so I spent the night eating chili with my friend Jeff. Didn't make it to any of the shows I recommended, but I hope to make up for it this week and next. We've got some great music coming your way!
But first, one of the 35 friends who told me they'd give or send me the Keith Richards autobiography, "Life", finally did, and I just finished reading it. It's a fabulous, fast, addicting (no pun intended), read, and I heartily recommend it! I discovered that Keith and I share some of his strange idiosyncrasies. Such as "only eating when I feel like it" and "quite solitary eating habits at odd hours". LOL. There are some others, but I can't tell you about them because they're all illegal. JUST KIDDING! Some jokes at Keith's expense are hard to resist! There were some other quirky traits we share, but I can't remember them. Anyway, once you get past his childhood, it's hard to put it down! It's in paperback now, so you can probably buy it on the internet for 2 cents. LOL.
---
Reservoir Music Notes - The Week in Review, The Week in Preview
September 23, 2012
Greetings! The incredible live music continues! Last week, on Wednesday, I went to see Jorma Kaukonen and Barry Mitteroff at The Bearsville Theater. It was good, but it was a typical, sleepy, acoustic Jorma show. I left as soon as it ended. I'll wait for electric Hot Tuna to play The Beacon in November.
Then Thursday, it was UPAC for 3, and Coheed and Cambria, both of which feature the sons of my favorite local guitarist, Jimmy Eppard. 3 opened the show, and they were amazing! Weaving intricate rhythms and notes, they cast a spell for the audience! I wanted to get a drink, but I didn't want to miss a note!

Claudio Sanchez of Coheed and Cambria
at UPAC, Kingston, 9-13-12
Photograph by C3 Photography, Catharina Christiana

Joey Eppard and Chris Gartmann of 3
at UPAC, Kinbgston, 9-13-12
Photograph by C3 Photography, Catharina Christiana
Guitarists Joey Eppard and Billy Riker led the band through a series of genre mixing songs while the amazing rock solid rhythm section of drummer Chris Gartmann and bassist Danny Grimsland demonstrated how it's done! This is a band of stars, and as good as Joey and Billy are, and they are very good, for me, the real stars of the show were Chris and Danny! These two are a world class rhythm section, and both are destined to be included in the ranks of the greats! In fact, the entire band probably will be after this tour with Coheed and Cambria is over. They'll finish it up having been seen by twenty thousand plus paying customers, who I predict will all become fans. Their new album and this tour should take 3 to the next level!
Then C&C took over, and it was obvious who the crowd came to see! The excitement level rose, the crowd got more dense, and the dancing got more intense. The band wound their way through a set of high quality hard rock and metal tunes, reminding me very much of bands I used to listen to in the 80's – Kix, Ratt, Skid Row, even Savatage, Warrant, and Def Leppard. The audience loved it, but for me, as good as Coheed and Cambria were, 3 were the big winners for the night!
---
Reservoir Music Notes - The Week in Review, The Week in Preview, Steve Vai Review, Live Music Picks
September 13, 2012
Steve Vai is such a rock star! Just look at these pictures and tell me this guy ain't a rock star! I just got back from Steve's show at The Egg, and what a show it was! The audience was wall to wall guitar geeks, and once again, Vai showed why he is worshipped by them! He really is one of the best guitar players out there! Steve Vai could walk on the stage with any band in the world and they'd be thrilled to have him! And you couldn't yank him off the stage with a crane tonight! The encore was an hour, and the show didn't end until after 11. Vai did everything! Electric, acoustic, band, solo. His virtuosity was on display all night long! From the minute he walked on, it was so refreshing to hear loud, rockin' music, and that's what he did for most of the night. The audience loved it and so did I! And The Egg is just about the best venue around for live music. There ain't a bad seat in the house! My thanks to Ted Etoll at The Egg and Ryan Romenesko with the Vai tour for making it possible!
| | |
| --- | --- |
| Steve Vai and his electric harpist, The Egg, Albany, NY, 9-9-12 | Rock star and guitarist extraordinaire, Steve Vai, at The Egg in Albany, 9-9-12 |
---
2012 Woodstock Invitational Luthiers Showcase
September 8, 2012
If you are a guitar lover, or, like me, just appreciate the beauty of fine woodworking, you're going to want to attend the Woodstock Luthiers Showcase. Held annually at the Bearsville theater, this show draws luthiers from across the northeast to show some of the most beautiful sculptures I have ever seen -- that you are invited to grab and play too!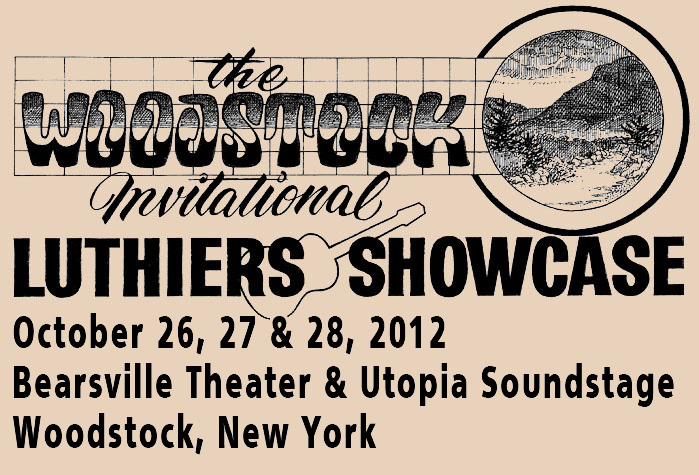 The show runs October 26-28. Visit their website for the lineup of events and performances.