Hudson Valley music news and musical happenings.
---
Reservoir Music Notes - Grandmothers of Invention, CKS, Live Music Picks
August 24, 2012
Greetings! Last week, due to taking the previous week off, I plumb forgot to write a review of The Grandmothers of Invention show at The Bearsville Theater. Well, let me tell you, the small, but well informed crowd who were lucky enough to be there got to see one of the best musical performances Woodstock has seen in a very long time! The band features 3 former Mothers, Don Preston, Napoleon Murphy Brock, and Tom Fowler, ably assisted by a few extremely capable young men, virtuosos all! They perform the music of Frank Zappa and some of their arrangements are actually more complex than the originals! It was such a joy to sit there and listen to a group of guys who could really play! The Grandmothers raised the bar on the level of musicianship expected from a professional band, and everyone, jazz guys, rock guys, classical lovers and everything in between, could all get together around Frank's music and the playing of The Grandmothers of Invention. Many thanks to Jodie Sleed at The Bearsville Theater for courtesies extended.
And last Friday night at Bearsville, one of last week's picks, and a group of musicians that I have profiled in these pages several times, once again proved that they are in a league of their own, especially when stacked against other local talent. CKS, a super group of sorts that consists of Randy Ciarlante (The Band, Levon Helm Band, Hoo Doo Gurus), who regular readers of this column know is my favorite Hudson Valley drummer, (not to mention his amazing, smoky, soulful vocals), Bruce Katz, 3 time Blues Music Awards nominee for Piano Player of the Year, and a regular member of Gregg Allman's and Delbert McClinton's touring bands, and Scott Sharrard, AKA "Gregg Allman's secret weapon", also a member of Allman's band and bandleader in his own right, put on a blazing performance with high point after high point! These guys are smokin'! I've been watching Bruce and Randy for 8 years, and this is the best band they've ever had! The show was a total joy from start to finish!
The theater was filled with loads of old friends and familiar faces, and a splendid time was had by all! Again, thanks are due to Jodie at the theater for making it all possible. If you get a chance to catch CKS and you don't, you're a fool, and you will regret it. Maybe not today, and maybe not tomorrow, but soon, and for the rest of your life! (Apologies to Humphrey Bogart).
---
Reservoir Music Notes - Capitol Theater Re-opens, Live Music Picks
August 16, 2012
After a well deserved and much needed break last week, I'm back, refreshed, and I have some great news that's gonna start the week off with a bang! The Capitol Theater, in Port Chester, NY, site of the legendary Dr. Stanley Krippner Dream Experiments with The Grateful Dead and their audience, forty years ago, is re-opening as Westchester's premier Rock showcase! This is going to be a serious world class music hall! The head of the whole operation is Peter Shapiro, former owner of Wetlands Preserve and current owner of Brooklyn Bowl, who knows a thing or two about how to run a successful music venue! Peter's partnered with concert promoters, Bowery Presents, who produce shows at The Bowery Ballroom, Terminal 5, The Mercury Lounge, Music Hall of Williamsburg, and lots of other rooms all over Manhattan and beyond! They're even producing this week's live music pick, John Prine and Lucinda Williams at The Palace Theater in Albany! So those guys know what they're doing too!
The Capitol Theater had a long successful run as a rock venue in the 70's, before falling on hard times. They got through it though, and now, with new owners, a new business model, and a newly renovated theater, this promises to be one of the best places to see a show anywhere! The theater itself is a beautiful, turn of the century, art deco palace, the kind of place that makes you feel good just being in it! I am so excited about this!
---
Reservoir Music Notes - Connor Kennedy Band Performs "Layla", Live Music Picks
July 26, 2012
Greetings! Last week there was a show that flew under my radar and didn't
get recommended. The show was Connor Kennedy's 18th Birthday Bash at The
Bearsville Theater. Connor assembled a top shelf band of musician's and
the set list was the entire "Layla" album by Derek and The Dominos!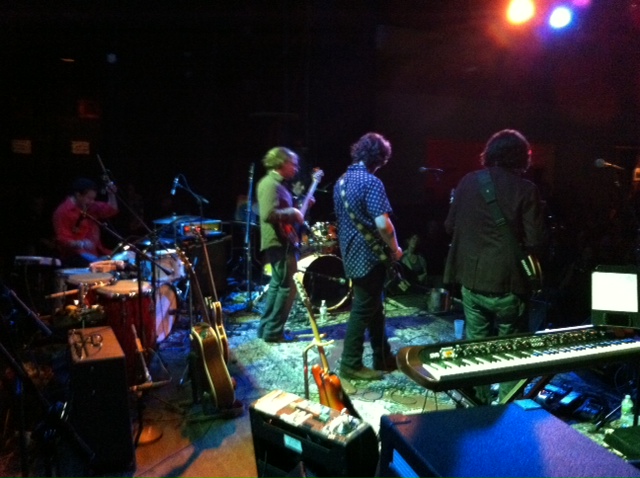 The Connor Kennedy Band at The Bearsville Theater, 7-20-12. Photo by Justin Foy.
---
Reservoir Music Notes - Live Music Picks
July 19, 2012
Greetings! We're gonna keep it simple this week and just go straight to the live music listings. It's too damn hot to write!
Wednesday, July 18, down in the city, the great slide guitar virtuoso, CAROLYN WONDERLAND, swings over to Joe's Pub from her home in Austin. Carolyn's a Ramble veteran and wails on her guitar! You won't mind too much if you go to this!

Thursday, July 19 – As I mentioned last week, the quirky and eccentric guitarist, RICHARD THOMPSON makes a rare appearance at The Bearsville Theater tonight, and MARIA MALDAUR AND THE BLUESIANA BAND is at The Falcon in Marlborough, with opening act, ELECTRIC RUBYFISH. Again, ya gotta love a band called Electric Rubyfish!

In the city, mandolin virtuoso, DAVID GRISMAN, is at City Winery, and the great and influential country-rock band, DESERT ROSE will be performing an acoustic set at The Iridium. Desert Rose was Chris Hillman's band (Byrds, Flying Burrito Brothers, Manassas).

Tonight also kicks off the festivities at two of the biggest festivals in the country, THE GREY FOX BLUEGRASS FESTIVAL, in Greene County, and GATHERING OF THE VIBES in Connecticut. Both will run through Sunday. Check their websites for schedules and information.

It looks like nobody was willing to take on both of these behemoths on the same weekend, because there is NOTHING going on over the weekend, except of course, THE ROSENDALE STREET FESTIVAL! Always a great event, this year promises to be better than ever! It's a local musician lovefest, with 74 bands booked for the course of the weekend! See their website for complete schedule.

Monday, July 23 – PATTERSON HOOD, he of The Drive By Truckers, rumbles into The Bell House in Brooklyn with his side project THE DOWNTOWN RUMBLERS.

Tuesday, July 24 – If you missed AEROSMITH and CHEAP TRICK in Albany or Long Island last week, here's another chance to catch this great double bill at The IZOD Center at The Meadowlands in New Jersey.
THE WALLFLOWERS reunite for a gig at The Bowery Ballroom, and the great blues guitarist, ANAPOPOVIC makes a very rare appearance at The Iridium. She's a huge star in Europe.

The last three events are my Picks of the week!

Wednesday, July 25 – The legendary acoustic finger picker, TOMMY EMMANUEL makes a rare NYC appearance at Town Hall. If you like this kind of stuff, this is a must see! And wrapping up the week is WILCO at terminal 5. These Alt-Country demi-gods never did much for me, but I know they're pretty good, and I'd be interested to check them out live.
Have a great week!
Fred Perry is the owner of Reservoir Music Center on Route 28 in Kingston, and founding member of Alt-Country supergroup, The Brooklyn Cowboys, is from a 3rd generation musical family and lives in the Hudson Valley, where he does what he can to promote live music.
---
Reservoir Music Notes - Stones Gather Moss, Live Music Picks
July 12, 2012
Greetings! Today, July 12, is the 50th anniversary of The Rolling Stones first gig, at The Marquee Club in London, and to mark the occasion, the boys gathered at the site of the club for a photo op. Lemme tell ya, they still look good. It's hard to believe Mick is, what, 65? 68? They all look great! Hope they sound great too next year! I'm looking forward to it! Go here to see the photos.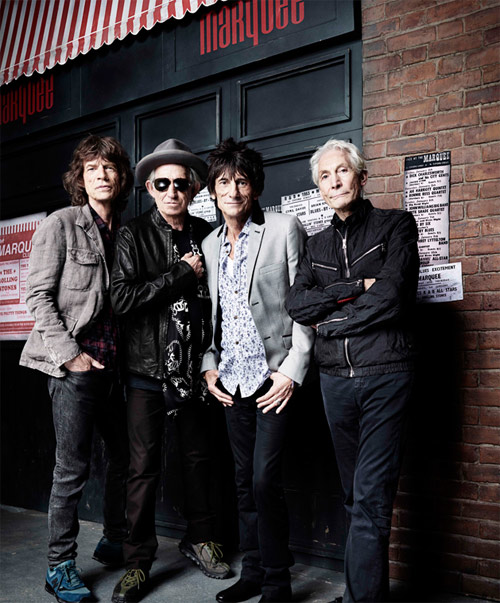 Fleetwood Mac have also announced plans for a reunion next year. Hope that works out well. They're older now, but hopefully they can still pull it off. Should at least be worth checking out.
---
Reservoir Music Notes
July 5, 2012
Well, once again, it's hot, everybody's celebrating The Fourth, even though it's the first, so it's a holiday, not much going on, not even sure if the paper comes out this week! But, my loyal internet readers must be served, so the show must go on!
Last week, as promised, I went to see The Sierra Leone Refugee All Stars at The Bearsville Theater. It was a good show, first class reggae and world music. I took photographer Erik Lamont with me, so we have some pictures for you. Thanks to Jodie at the theater for hooking us up.