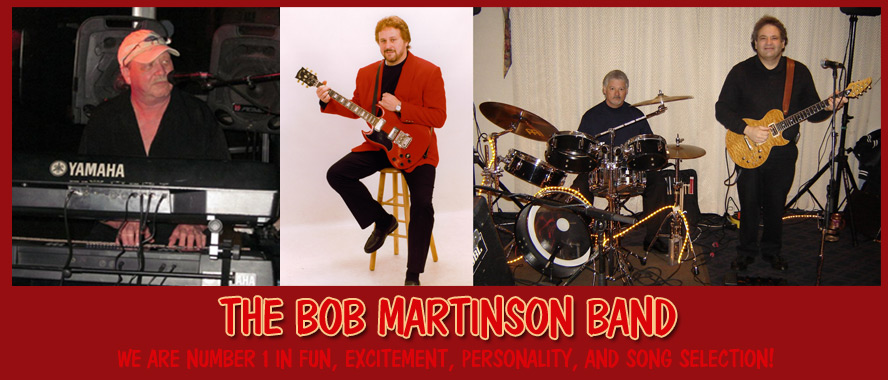 Rhythm and News Readers Favorites for 2000
---
Favorite Lounge/Dance Band
Bill's Toupee
Bob Martinson Band
Sonando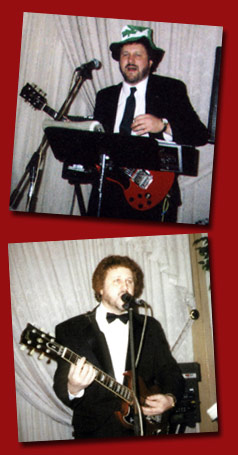 Bob Martinson has been actively pursuing his music career for over 15 years. Bob is signed to the "Empty Sky Records" label and is leading the very popular "Bob Martinson Band" and "The Bob Martinson Show". Bob plays guitar and sings lead vocals in the bands. Martinson is a true believer in the now-dying breed, the good old- fashioned bar band. His repertoire runs the gamut from Billy Ocean to Bob Seager to the Eagles, and spans four decades. He can easily rock with songs from Eric Clapton or the Rolling Stones, or slow it down with a song from Lionel Richie or George Michael. Although he plays mostly cover tunes in his show, Bob also prides himself in his ability to focus on original tunes.
Why hire the Bob Martinson Band?
Experience with Personality
The Bob Martinson Band uses well seasoned Professional Musicians who have years of experience. Bob, the leader, has been on T.V. shows, and has over 20 years of experience entertaining. We dance and have fun with the audience.
Weddings, Parties, Bars, Etc.
Weddings, Bars or Corporate functions are a specialty for the Bob Martinson Band. Everything from outside weddings to elaborate events held at places like The Best Western are done by our band.
Corporate, Cruises, Cars Shows
Bob has been known as the King of Boat Cruises. Most Sundays between May and October Bob is playing the Boat Cruises. He sings and plays guitar to Oldies, Country, and Top Forty, Music. Holiday parties are a speciality of Bob's Band.
State of the Art Equipment
Every job that the Bob Martinson Band does comes complete with a wide variety of music from the 40's to the 90's and also Country music. We have Great amps, Speakers, and Lights. Wireless microphones allow for effective toasts and presentations. The neatest Professional appearance available in the industry today is what you'll get when you book with the Bob Martinson Band.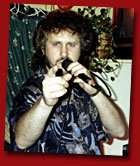 The Original Party Starters
Bob & band have had music careers most all of their lives. You won't have to worry about your event not being a success because of un-Interested Musicians. We have Energy, Look, & Smiles all the time. Your function will be a success every time you use the Bob Martinson Band.
Contact us early for booking info.
Fun, Fun, Fun is what you'll get when you book with a PROFESSIONAL BAND.
Sample Song List

And I Love Her
Another Saturday Night
At the Hop
Bad Moon Rising
Billy Jean
Blue Moon of Kentucky
Blue Suede Shoes
Blueberry Hill
Boardwalk
Born to be Wild
The Break-up Song
Can't Help Falling in Love
Careless Whispers
Celebration
Dancin' on the Ceiling
Daddy's Home
Doin' It All for My Baby
Don't Be Cruel
Earth Angel
Fire and Rain
Fresh
Good Lovin'
Great Balls of Fire
The Heat is On
Hello
Hotel California
Hound Dog
I Should Have Known Better
I'll Cry Instead
In the Still of the Night
Johnny Be Good
Just My Imagination
Kansas City
Knock on Wood
Let's Twist Again



Leroy Brown
Midnight Hour
Mony Mony
Movin' On Over
My Girl
Neutron Dance
Oh Donna
Old Time Rock'n'Roll
On the Road Again
Peaceful, Easy Feeling
Pretty Woman
Proud Mary
Right Here Waiting
Rock'n'Roll Girls
Rock Around the Clock
Runaround Sue
Runaway
Save the Last Dance for Me
Stray Cat Strut
Suddenly
Takin' Care of Business
Tears on My Pillow
Teddy Bear
Teenager in Love
This Magic Moment
Twist and Shout
Unchained Melody
Walkin' on Sunshine
The Wanderer
We Belong Together
Whole Lotta Shakin' Goin' On
The Wonder of You
Woolly Bully
Yesterday
Your Cheatin' Heart