Bluegrass Heaven
by Haven James


Event: Peaceful Valley and Winterhawk Bluegrass Festivals

It has become an upstate New York tradition: the third weekend in July equals bluegrass. Simultaneously, two of the largest summer festivals in the Northeast are held within vaulting distance of each other, with Woodstock located smack dab in the middle. Both Peaceful Valley and the Winterhawk Bluegrass Festival run over four days from July 16 through 19; both offer on-site camping, both feature a huge lineup of talent plus lots of extra sideshows, and both can be a pickin' parlor full of fun. The two events are, however, as different as cowboys and Indians.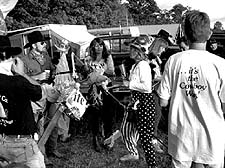 Festivalgoers with their "mounts".

The Peaceful Valley Campground is located in Shinhopple off Route 30 along the Delaware River near Downsville. It is a permanently equipped vacation facility with a pool, a store, a cafeteria shed, a video game shack, actual bathrooms with showers, a laundry room, a limited number of RV hookups for the mobile-endowed, and a vast expanse of flat land on which to pitch a tent, with sites laid out in organized rows along the access ways. More rustic sites pepper the outback and a few river islands where groups gather for harder partying. There are many permanent trailer installations owned by season lessees, sporting American flags and lawn furniture, which cover most of the primary riverfront property, and events of all varieties are held here throughout the summer. The valley is actually a wide flood plain located between parallel ridges, so as you walk across the field you can hear the sound from the stage bounce back off the opposite side in a haunting echo.

This 16th annual Peaceful Valley Bluegrass Festival is run conservatively as a classic traditional venue, with many of the acts being family bands that return year after year. The sound system is adequate for the performance area and the style of most of the bands, though it is not particularly hi-tech; one nice feature is the large open tent which stretches across the back of the main field providing shelter from sun and showers. Strung around in a loop behind the tent are concession booths (food, crafts, tapes, CDs) and the prices are generally surprisingly reasonable.

The music at Peaceful Valley runs till midnight each day except Sunday, when the festival ends at 5 p.m. Day tickets range from $15 to $25 with an $8 per-day add-on for camping (a four-day camping ticket costs $60). This year's lineup lists 20 groups, most of whom play more than one day. Top billing goes to International Bluegrass Music Association winners J.D. Crow & The New South, Bluegrass Hall of Fame members Jim & Jesse and The Virginia Boys, and the rising contemporary band, Southern Rail. The Stevens Sisters will be back and these girls have incredible voices. The Lewis Family, Country Ham, The Larry Stephenson Band, Mike Stevens, Blue Highway, Shady Creek, The Larkin Family, The Goins Brothers, Gold Wing Express, and the one and only Smokey Green are all on the bill. Solid bluegrass gospel comes with the Lynn Morris Band, and Jay Armsworthy & Eastern Tradition and Garry Brewer & The Kentucky Ramblers Show round out the event. There will also be square dancing, clogging, and country music dancing as well as kids' activities and workshops. Call the Arnold Banker family at (607) 363-2211 for more information.

Across the Hudson River off Route 22 in Ancramdale (between Hillsdale and Millerton), it's "Sweet Sixteen" for the Winterhawk Bluegrass Festival. The Cadillac of Northeast gatherings, Winterhawk returns with over 30 acts, multiple stages, and some of the hottest progressive music being played today as well as a host of traditional all-stars.

Held at the Rothvoss Farm on the rolling acres of the foothills of the Berkshires, the festival is ensconced in a tent city raised by staff and volunteers. The only permanent features of the site are the shed stage, the power lines, and the well ports. There are showers and a gazillion port-o-potties brought in, and a "Main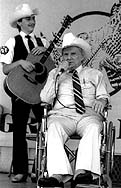 Ralph Stanley

Street" midway of food and crafts concessions is set up along the concourse up the hill to Manic Mountain. The performance area is a natural amphitheater curled in the hillside and Klondike Sound puts up towers and relay stations to fill the bowl with full-range audio. There's a flat area for RVs and buses to park both up the hill and down, but that's the extent of modern hookups here. It's camping in the rough--bring your own everything, and don't forget your instrument.

Some of the music you'll hear around the campsites rivals that played on the stage. In fact, you'll probably find performing artists picking with the regulars around the campus when they're not on stage, or at the Homespun Workshop Stage, where participatory activities run every day. Chesapeake's Moondi Kline will be at the show to pick and hang even though he's not even booked to perform on stage this year. That's the kind of scene this is.

One special feature for player attendees is the All-Festival Band. Pioneered a few years ago by Dr. Banjo, Pete Wernick, it takes place on Sunday afternoon, when everyone brings their instrument to the stage area and plays a few songs together. Intentions are to enter the event in the Guiness Book of World Records for the largest bluegrass band, but nobody has yet figured out how to make an accurate count.

There's a fully equipped children's stage with special shows and activities including the antics of Cecil B. de Clown. And newly expanded is a dance pavilion where John Kirk and Trish Miller, the fabulous Fiddlestyx, Cajun rage Steve Riley & the Mamou Playboys, and the old-timey Freight Hoppers will play for fractal feets. Most of the acts on the main stage are big label bands (as far as bluegrass gets big label, that is), mostly Sugar Hill and Rounder with an occasional Warner thrown in. Bluegrasses poet laureate Ron Thomason and his Dry Branch Fire Squad host the festival and play daily plus the Sunday morning gospel affair. It's hard to pick a headliner, but it's one of the following six or seven.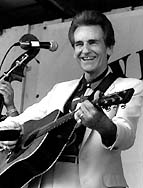 Del McCoury

Saturday night, the big event will be the Sam Bush Band. With "Glamour" and "Howlin' At The Moon" out on vinyl, count on this as hot. Then there's the legendary Del McCoury Band and Ralph Stanley & the Clinch Mountain Boys. First time ever at this bluegrass event will be Bela Fleck & The Flecktones, and returnees Tony Rice & Peter Rowan, Laurie Lewis with Tom Rozum, Todd Phillips, Craig Smith, Tim O'Brien & The O'Boys fill in the top. There are too many more to comment on, so here's the list: Lonesome River Band, Continental Divide, Roy Bookbinder, Darol Anger, John Cowan, David Grier, Tony Trischka, Chris Thile & Nickel Creek, Walt Michael with Tom McCreesh & Harvey Campbell,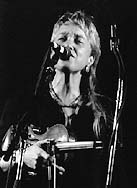 Laurie Lewis

The Shankman Twins, Crucial Smith, The Adairs, Country Current, Mike Henderson, Tut Taylor, The Gibson Brothers, The Fox Family, Breakaway, The Piners, Ryan Holladay, and Woodstock's own Bill Keith.

Tunes go to midnight on Thursday and to 1 a.m. or a little later Friday and Saturday and there are spots where the picking goes on till whenever. The party ends before dusk on Sunday.

Winterhawk has a toll-free hotine at 1-888-WINTHWK or a standard number at (315) 724-4473. Four days with camping is $70; there are also day tickets. There is a Winterhawk web page with further details, late-breaking news and free ticket contests and also a Peaceful Valley web page.

Though bluegrass fans have pleaded for years for the promoters of these two festivals to sort out their face-off so that folks could attend both, it appears that "circumstances beyond their control" prohibit either from rescheduling. For some fans, it has meant alternating years, as both are excellent venues. For others, it has meant pledging allegiance to one or the other. Whatever your choice, make it to one of them. A summer bluegrass festival is like no other event and we are blessed to have two quality gatherings to choose from.
---
Haven James has been a consistent contributor to the Music & Arts scene around the Hudson Valley and beyond for almost a decade through his column, Werewolves of Woodstock, published weekly in the
Woodstock Times
A writer, musician, philanthropist, and Mac addict; he lives reclusively, high atop Overlook Mountain with his son and a menagerie of animals, both wild and domesticated. Though currently unmarried, rumors abound as to his intimate relationships with Madonna, Sandra Bernhardt, and Eli Bach; though he insists these notions to be pure hearsay. His identity has remained a mystery to all but the closest of friends as he often travels in disguise and appears unannounced and undercover at concerts and venues in a dedicated effort to get the real story.
Go to the Werewolves of Woodstock page for more articles by Haven James.
Haven James can be contacted at werewolves@netstep.net
Posted on July 10, 1998