Hudson Valley music news and musical happenings.
---
Reservoir Music Notes -- Billy Preston
May 26, 2012
Greetings y'all! I hope you caught Mick Jagger's performance with Jeff Beck on Saturday Night Live. It was truly inspired! Look it up on Hulu or You Tube. You won't be sorry!
This week, inspired by last week's article about Duck Dunn, I'm going to start a new series about lesser known luminaries in the world of music who nevertheless, consistently rubbed shoulders with rock and roll royalty! This will not run every week, but it will be a recurrent theme that will resurface from time to time. The first in the series will focus on Billy Preston.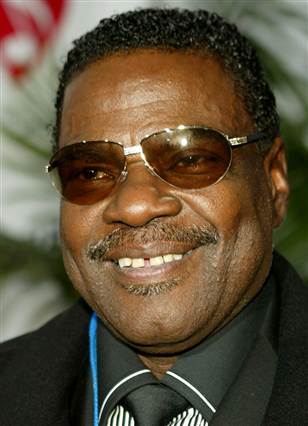 Billy was a child prodigy who went on to record with both The Beatles and The Rolling Stones, who respected Billy so much that he was given his own segment on the Stones' tours in the 1970's. In the middle of their set, Billy performed 2 of his songs backed by The Rolling Stones! The Beatles gave him a label credit on "Get Back", which featured Preston, and was released as "The Beatles with Billy Preston". Billy was the only person ever to be credited on a Beatles' record! (Music historian note: Yes, I know there were the Tony Sheridan records, but those were Tony Sheridan releases, not Beatles' records).
In fact, Billy was widely considered the "real" Fifth Beatle, and there were rumors at the time that he was given full group membership status! What definitely is known is that most of the group favored making Billy a member, but Paul famously vetoed it by saying, "It's bad enough with four"! Either way, he went on to have featured credited roles on "The White Album", "Abbey Road", "Let It Be", and many Beatle solo records! He was playing with The Lads at their last performance on the Apple Records rooftop! He also had featured roles in The Concert for Bangladesh, The Concert for George, and numerous Beatle solo tours!
---
Reservoir Music Notes - Donald "Duck" Dunn Obituary, Live Music Picks
May 16, 2012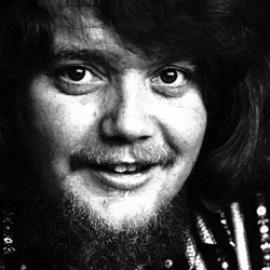 Just as we were going to press I got the news that Rock and Roll Hall of Famer and GRAMMY Lifetime Achievement Honoree, Donald "Duck" Dunn, had passed away in his sleep after a double show at Tokyo's Blue Note night club. Duck, as he was known to all, (including his teachers back in school), was best known as a member of Booker T and The M.G.s, the house band at Stax Records, who backed every artist on the label, live and in the recording studio! Stax artists included Otis Redding, Sam and Dave, Eddie Floyd, Wilson Pickett (technically on Atlantic, the parent label), Rufus and Carla Thomas, and Albert King, and Booker T and The M.G.s (which was short for "Memphis Group"), also had several hits under their own name and others.
After The MGs broke up in the early 1970's, Dunn went on to record with Muddy Waters, Elvis Presley, Eric Clapton, Willie Dixon, Freddie King, John Fogerty, Jerry Lee Lewis, Bob Dylan, Neil Young, Rod Stewart, Tom Petty, and Woodstock's own Levon Helm (in The RCO All Stars)! And that's just a partial list! In 1980, he joined The Blues Brothers, touring, recording, and playing himself in both films, where he delivered the memorable line, "We had a band powerful enough to turn goat piss into gasoline"!
Dunn was in Japan touring with his old bandmate, guitarist Steve Cropper, and label mate, Eddie Floyd ("Knock on Wood"). He was 70. The world has lost one of the real all time greats! More info at www.duckdunn.com.
---
Lyonhart's Musical Mirrors
May 15, 2012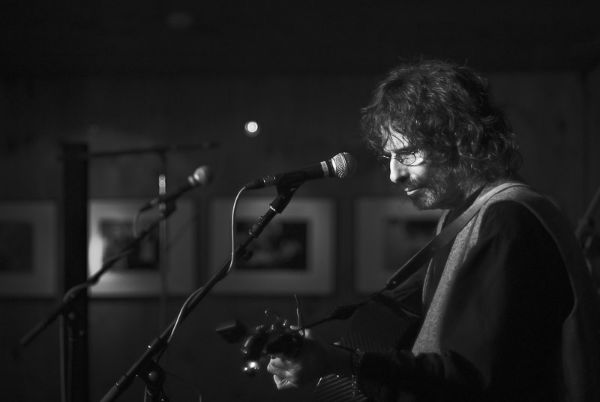 In the rush of images and memories that came with the news about Levon, personal and universal, was a ghost parade of songs, each touched alive by the mere thought of them. The Band classics, of course, Levon's solo flights-in a flash of bittersweet reflection, his "When I Go Away," for instance, and, in that mix, a tune about a down-home tradition that fine Arkansas lad brought up to the region he chose to befriend...."Ramble In the Pale Moonlight."
That song, written in honor of Levon and the legendary musical "rambles" at his home and studio in Woodstock, is sure to be on the agenda when its authors, Charles Lyonhart and George Quinn make a first-ever appearance at the Rosendale Café with guitarist Brian Hollander at 8pm on Saturday, May 19th.
---
Reservoir Music Notes - Dylan to Receive Presidential medal of Freedom, "Levon Helm" Lyrics, Live Music Picks
May 11, 2012
Greetings all! It's late, past my deadline, I'm tired, there's not much of anything new and exciting (other than Reservoir Music's move to a new and exciting location at 711 Route 28), and not much live music to recommend this week, so I'll just say goodnight and see you next week! Psych! Actually, all true, except the last part. So, I'm gonna be brief and to the point.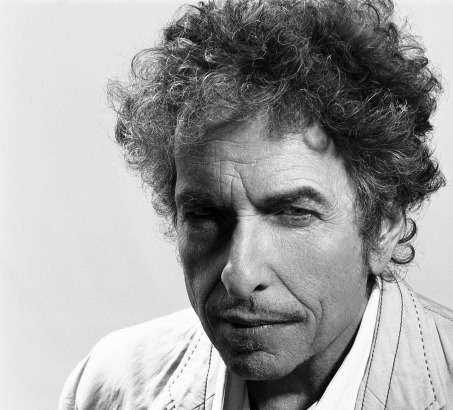 Bob Dylan will be receiving the Presidential Medal of Freedom, which is the highest civilian honor given by the United States! President Bush gave this award to guys like Paul Bremmer, the overseer of the Iraq reconstruction. Obama's giving it to Dylan! Other recipients this Spring will be Shimon Peres, President of Israel (two Jews blues?); Toni Morrison, the Pulitzer and Nobel Prize winning novelist; Madeleine Albright, former Secretary of State under President Clinton; John Glenn, the first American in outer space; retired Supreme Court Justice John Paul Stevens, and 7 other luminaries. They're in pretty good company! I'm sure Obama will want to sing with Bob, the only question is, will it be "Blowin' in the Wind", "Chimes of Freedom", "The Times They are A-Changing" or "Mister Tambourine Man". Time will tell! I'm voting for "Tombstone Blues"!
---
Reservoir Music Notes - More Thoughts of Levon
May 3, 2012
Last week's Levon Helm viewing/funeral for the fans was a sad and somber affair, but at least it was closure. The shock of realizing you would never see him again was somewhat offset by, well, seeing him again!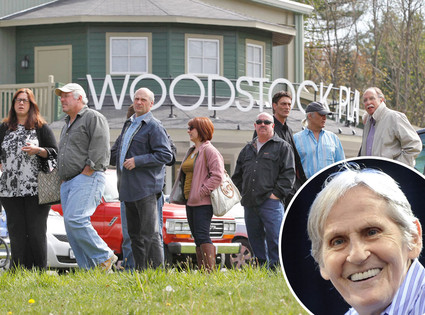 Levon's casket was layed out, closed, on the Ramble stage, next to his drums, as it should be, and when you filed past you could see a slide show of photos of Levon being displayed on a large screen. I'm sure if you stayed there long enough, there'd have been all sorts of pictures, including ones of Levon on stage. There'd have to be! But when I got to the designated spot, the part of the slideshow that was playing was all pictures of Levon with his grandson, Lavon. The joy in that man's eyes was so evident in those pictures! He always had that, but this was something special! He obviously loved that little boy and got so much joy from him! It was amazing and beautiful to see, and it made me so happy that in his final years, besides the historic comeback he engineered, with the help of manager, Barbara O'Brian, he also got to have this beautiful personal happiness! And how lucky Lavon was to have got to spend time with the world's coolest grandpa!
But now that he is gone, I predict that his fame, his popularity as a recording artist and actor, and his legend as an American and international cultural icon will grow larger than life! And I really hope that The Levon Helm Band will carry on. They are simply too good to pass with Levon! The band has become adept at singing most of the songs in the repertoire in the years Levon battled cancer and his voice fell victim to it. They could simply carry on! They have the perfect drummer to fill the giant chair Levon vacated in Randy Ciarlante, who also is a singing drummer, like Levon, who also has a great, soulful voice, like Levon, who has a similar drumming style to Levon's, who previously was a member of The Band, and who was already in The LHB playing double drums with Levon! The Levon Helm Band is one of the greatest musical units, and one of the greatest personal accomplishments, in musical history! Play on! Please?
---
Reservoir Music Notes - Levon Helm Crosses The Great Divide
April 26, 2012
Last Tuesday was not a good day! As I was getting ready to leave for work, my daughter called to tell me her mother had died. A half hour later, on my way to the store, my car died and then burned up. Two hours later, a friend called to tell me Levon had only a couple of days to live!
As bad as the other stuff was, hearing the news about Levon was like getting sucker punched in the gut! He was so full of life, and after seeming to beat back the cancer, it seemed like he could never die, but death comes to us all, eventually, and April 19th was Levon's time!