Hudson Valley music news and musical happenings.
Recent Entries

---
Reservoir Music Notes - More Thoughts of Levon
May 3, 2012
Last week's Levon Helm viewing/funeral for the fans was a sad and somber affair, but at least it was closure. The shock of realizing you would never see him again was somewhat offset by, well, seeing him again!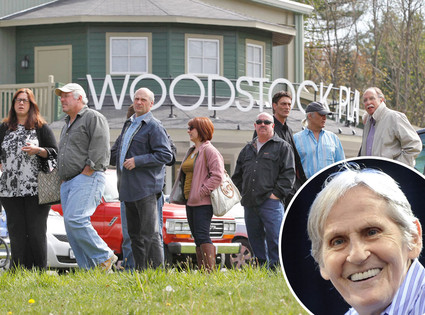 Levon's casket was layed out, closed, on the Ramble stage, next to his drums, as it should be, and when you filed past you could see a slide show of photos of Levon being displayed on a large screen. I'm sure if you stayed there long enough, there'd have been all sorts of pictures, including ones of Levon on stage. There'd have to be! But when I got to the designated spot, the part of the slideshow that was playing was all pictures of Levon with his grandson, Lavon. The joy in that man's eyes was so evident in those pictures! He always had that, but this was something special! He obviously loved that little boy and got so much joy from him! It was amazing and beautiful to see, and it made me so happy that in his final years, besides the historic comeback he engineered, with the help of manager, Barbara O'Brian, he also got to have this beautiful personal happiness! And how lucky Lavon was to have got to spend time with the world's coolest grandpa!
But now that he is gone, I predict that his fame, his popularity as a recording artist and actor, and his legend as an American and international cultural icon will grow larger than life! And I really hope that The Levon Helm Band will carry on. They are simply too good to pass with Levon! The band has become adept at singing most of the songs in the repertoire in the years Levon battled cancer and his voice fell victim to it. They could simply carry on! They have the perfect drummer to fill the giant chair Levon vacated in Randy Ciarlante, who also is a singing drummer, like Levon, who also has a great, soulful voice, like Levon, who has a similar drumming style to Levon's, who previously was a member of The Band, and who was already in The LHB playing double drums with Levon! The Levon Helm Band is one of the greatest musical units, and one of the greatest personal accomplishments, in musical history! Play on! Please?
---
Reservoir Music Notes - Levon Helm Crosses The Great Divide
April 26, 2012
Last Tuesday was not a good day! As I was getting ready to leave for work, my daughter called to tell me her mother had died. A half hour later, on my way to the store, my car died and then burned up. Two hours later, a friend called to tell me Levon had only a couple of days to live!
As bad as the other stuff was, hearing the news about Levon was like getting sucker punched in the gut! He was so full of life, and after seeming to beat back the cancer, it seemed like he could never die, but death comes to us all, eventually, and April 19th was Levon's time!
---
Reservoir Music Notes - Rock and Roll Hall of Fame Inductions, Live Music Picks
April 19, 2012
Greetings, and welcome to my favorite time of the year! Reservoir Music is moved (to 711 Route 28 in Kingston), so I'm back this week with a full length column. Since I took a short break from writing to move the store, y'all might not know that this year's Rock and Roll Hall of Fame induction ceremonies were held over the past weekend. This year's inductees in the "Performer" category were Guns n Roses, Small Faces/Faces, Donovan, Beastie Boys, Red Hot Chili Peppers, and Laura Nyro. The great Freddie King made it in the "Early Influence" category. "Sidemen" inducted this year included Tom Dowd, Cosimo Matassa, Glyn Johns, and Don Kirshner. Also in the "Performer" category, backing bands The Blue Caps, Crickets, Midnighters, Miracles, Famous Flames, and Comets were inducted.
Last year at this time, in my column of March 17th, 2011, I wrote a column called "The Top Ten Bands that should be in the Rock and Roll Hall of Fame, but Aren't". I wrote this particular column in response to last year's class of inductees, who I felt were particularly weak. Three of those on my list, Guns n Roses, Donovan, and Small Faces/Faces were inducted this year. A fourth, Tom Dowd, is a talent I have championed for many years. So I feel a little bit vindicated, but I'm still looking for the rest of my list, which was Love, T Rex, Gram Parsons, Little Feat, J. Geils Band, Joe Cocker, and Johnny Winter.
In other music news, the classic Bob Dylan album, "Blood on the Tracks", is being made into a movie. I always thought that album played like a movie, but I'll bet the movie sucks, unless they put a vampire in it! The subject matter is usually better in song than stage, but, of course, I reserve judgment until seen!
And sadly, Bee Gees singer Robin Gibb is reportedly in a coma and not expected to live more than a couple more days. He's been fighting cancer.
---
Reservoir Music Notes - We Moved!
April 13, 2012
Greetings, and welcome back to Reservoir Music Notes! I haven't been on Facebook, I haven't written my column, and I've been pulling 18 hour days for the past three weeks while moving my store, Reservoir Music, a few miles down the road! As of this writing, we are fully in our new location, 711 Route 28, Kingston, NY 12401. I kept the phone numbers. Call at 845-657-6127 or email to reservoirmusic@gmail.com.
Enjoy your week, and I'll see you back here next week with a full length piece of my mind! Thanks for reading!
Fred Perry is the owner of Reservoir Music Center on Route 28 in Kingston, and founding member of Alt-Country supergroup, The Brooklyn Cowboys, is from a 3rd generation musical family and lives in the Hudson Valley, where he does what he can to promote live music.
---
Reservoir Music Notes - Bobby Keys Review, Live Music Picks
March 21, 2012
Greetings all and welcome to another week of Reservoir Music Notes.
Boy am I in a frenzy! I mentioned last week that Reservoir Music is moving to 711 Route 28, just east of the Hickory Barbecue, and the preparations have my head spinning! And we haven't even started to actually move yet! Stop by our original spot at 3179 Route 28 in the next two weeks for great moving sale bargains! I'm lowballing anything I don't have to move.
---
Reservoir Music Notes
March 17, 2012