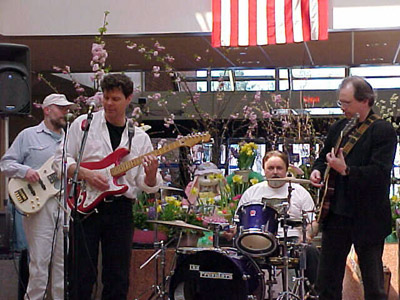 Mark Caulkins and The Providers at Helen Hayes Hospital
The Providers & the
Helen Hayes Performing Arts Series

Saturday, April 12th, 2003

Story by Kevin Robinson
Photos by Carol Bliefernich

On Saturday afternoon, April the 12th, a long weekend seemed a little shorter and a lot more fun for the folks recovering and rehabilitating at Helen Hayes Hospital in West Haverstraw, NY. Bert Rappaport is the hospital's Director of Recreational Therapy, and he oversees the Helen Hayes Hospital Performing Arts Series. These weekend performances are open to the public, and followed by free refreshments. "Patients really enjoy the break," Rappaport told me as The Providers set up for their first appearance.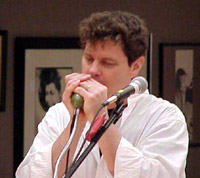 Mark Caulkins

As a quadriplegic, I understand, first hand, that traumatic injury dramatically changes people's lives. They must work hard to get a handle on the new rules they must live by, and the weeks or months they spend in a rehab hospital can be overwhelming for both patients and their families. Recreation Therapy is all about teaching patients how to get back to the things they enjoy doing, and by bringing in quality entertainment, Rappaport demonstrates first hand to patients that they can still enjoy many of life's pleasures that might otherwise seem far removed in the pain and frustration of a hospital stay. Sponsored, in part, by the Helen Hayes Hospital Foundation, the Performing Art Series is a program that really makes a difference...and you can see it on almost every face in the place.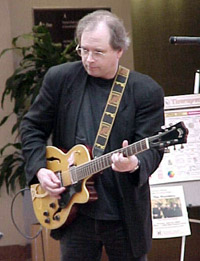 Vinny Arminino

The Providers played many popular cover tunes, as well as a number of Mark Calkin's originals, and the audience was very appreciative. "These guys are great!" Rappaport said of The Providers' performance. "One of the best bands we've ever had in here...and the most dynamically appropriate!" The Helen Hayes Hospital Performing Arts Series uses the hospital's beautiful two story lobby atrium as it's stage, and the acoustics are exceptional. "The sound here is super," said Providers guitarist, Vinnie Arminino. "The room does most of the work!"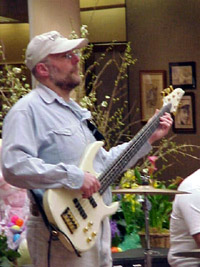 Bob Couse

The Providers began many years ago in NYC. Frontman, Mark Calkins and his long time friend, Vinnie played all the famous clubs, did all the showcases, and were even courted by the recording industry on more than one occasion, but when the rubber met the road, they chose family factors over music business factors and moved to the country. With the addition of Bob Couse on bass and Gregg Busch on drums, The Soul Providers grew out of that relocation. They changed their name to The Providers, and they are now staples on New York State's "north country" music scene, where they regularly pack the house at the historic St. Charles Hotel and are perennial favorites at the Clermont Music Festival. Virginia Guarino of the Hudson River Sampler called The Providers "A seasoned band and a class act with the ability to blend instruments, personalities, and voices, generating a mix of music guaranteed to move both body and soul."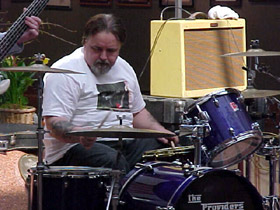 Gregg Busch

Together, the band built Pine Knoll Studio in Pine Plains, NY, primarily as a personal rehearsal/recording studio, but word got out and many great artists have recorded tracks there, including Bar Scott, Rhett Tyler, Bob Malone, Alan Semenovich, Steve Stiert, Todd Giudice and Charlie Lang. Check out The Providers and their self-titled debut at www.theprovidersonline.com