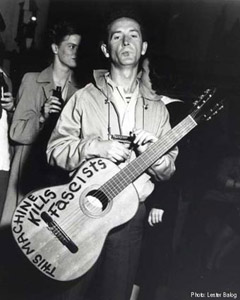 Photo by Lester Balog
Funseekers to Invade Colony Cafe
For Woody Guthrie Birthday Hoot
Saturday, July 12, 2008
Colony Café
by Irv Yarg

Once upon a time in the homeland, topics like peace, justice and an entirely irresponsible pursuit of personal happiness were subjects of public interest which are now, fortunately, being permanently rooted out and eradicated, bit by bit, by a dedicated group of lawmakers now serving in Congress and the U.S. Senate. As globalists under Moloch, we, of course, celebrate the nation's joyless turn to totalitarian world rule in the near future, dedicated to efficiency, but we must caution against complacence- for the battle is far from over.
There are still some rabid radicals, according to a balanced newsman I heard this week, who would like to re-introduce such discredited and threatening ideas as individual rights, fair trials, reckless gambling with future results- like elections without controlled candidates and other such insidious nonsense- even, heaven help us, a return of truth to the public arena- how's that for a shuddersome notion? Such rubbish can truly interfere with the installation of a productive and profitable slave state, which is why I'm alerting you to an event our agents have informed us about, scheduled for 7 pm SHARP on Saturday, July 12th at The Colony Café in that bothersome and unlikely town the rabble insist upon calling Woodstock Nation.
The event in question is described as the Second Annual Woody Guthrie Birthday Hoot, named after a songwriter, artist, activist named Woody (July 14, 1912-October 3, 1967) who did a lot toward forming the preset for what would become a musically-embedded Woodystock Notion, an unapproved cultural develoipment with unnecessary ideals of social justice, beauty, ethics, humanity and other outmoded and useless values. He would go around singing and organizing for absurdities like unions, fair pay for workers , racial and religious tolerance and other obstacles to sensible rule, with a sign on his guitar which said "This machine kills fascists"- this in an era when the honored Benito Mussolini boasted the glories of a state with blended rule by corporations and government that we have since so carefully adopted without using Duce's designation of "fascism" aloud... I shouldn't need to remind you how painfully slow and tedious the calculated taming of Guthrie's sort of influence has been by marketplace forces over the past decades. Without mass media and Moloch's good will, our designs for mankind could have been in real trouble.

Tom Pacheco
(Photo by Roland Mousaa)

However, the sway of Guthrie and his ilk has yet to be totally stamped out. Even reality shows haven't succeeded and, in more recent years, although we' ve managed to largely suppress the singing of his song "This Land Is Your Land" in schools, quite a few songs by, inspired by and even about Guthrie have been plaguing us. Songs by bounders like Joel Rafael, Country Joe McDonald and many others, call upon his ghost. Steve Earle pleads for Guthrie to return in "Christmas In Washington," no doubt to interfere with decisions best left to the Board that oversees the orchestrated compliance of a mute, disinterested or deceived and obediently cowered populace. How else can true social progress be achieved? But the ominous legacy of unregulated movements builds upon this kind of music and tradition; songs like "Woody and Jack" by Woodstock songwriter, Tom Pacheco, which he wrote after talking to a Guthrie co-conspirator named "Ramblin' Jack" Elliot, or another little poisonous dart he's never recorded called "What Would Woody Think?"

Fortunately, Pacheco doesn't seem to be on the playbill but, to find out what was planned for the evening- (from 7 to 9:30-wherein participants will compose a dreaded "free speech zone" and other freedom cult members will devote themselves to a disreputable but still legal activity called "having fun"), I disguised myself as a reporter and called the Hoot's organizer, John Pietaro.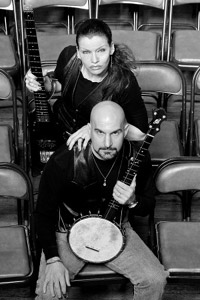 Flames of Discontent:
Laurie Towers & John Pietaro

"When I book these shows, I always try for a mix of styles, sounds and feelings to keep the hootnanny form alive with a combination of ingredients in the true spirit of it," said Pietaro in his Beacon, N.Y. home. A labor organizer and social activist, himself, besides performing as The Flames of Discontent with his rhythm-stirring wife, Laurie Towers- who often finesses out a lead electric bass solo against his banjo, Pietaro said they would be presenting a number of Guthrie's lesser-known songs, like a rockabilly version of "Round & Round Hitler's Grave," an anti-death squad number called "Hang Knot" (have they no respect for all of the money that goes into training and conditioning organized lynch mobs?) and an original composition drawn from Guthrie's prose writings.

There'll also be a rendition of Guthrie's "Deportees (Plane Wreck at Los Gatos)" which may spark some unwanted sympathy for the immigrant workers we' ve cultivated as scapegoats for job outsourcing and our campaign to lower wages worldwide (to increase the take at the top, of course). This kind of song of human sympathy spits in the face of our efforts to use economic and xenophobic levers to deflect attention from what we're paid to do with a bit of some good old-fashioned group hatred. This while notorious trouble-makers like Jim Hightower are blowing the whistle with observations like "in the last 15 years, Mexico's long-standing system of sustaining its huge population of poor citizens (including small self-sufficent farms, jobs in state-owned industries and subsidies for such essentials at tortillas) has been scuttled at the insistence of U.S, banks, corporations, government officials and 'free-market' ideologues. In the name of 'modernizing' the Mexican economy, such giants as Citigroup, Wal-Mart, Tyson Foods and GE-in cahoots with the plutocrats and oligarchs of Mexico-have laide waste to that country's grassroots economy, destroying the already-meager livelihoods of millions." So, home-loving Mexicans have to head North- which certainly makes them harder to blame.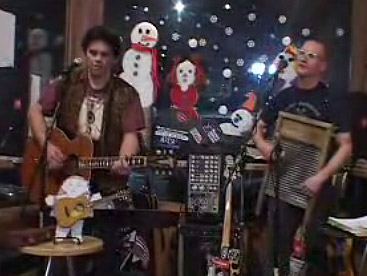 "Hope Machine"
Steve Kirkman (left), Fred Gillen Jr. (right)

If people start listening to this kind of trash because of some misguided song-inspired sympathies and looking more closely at NAFTA, CAFTA, the WTO and so on, it could give the whole game away and it'll take forever to establish a decent, equal-opportunity slave state.

Another act, just as bad in that respect, is Hope Machine, with songwriters Steve Kirkman from North Carolina, Fred Gillen, Jr. from the Hudson Valley and a young banjo intern from the Woody Guthrie Foundation Coalition run by Arlo Guthrie's sister, Nora, and other co-conspirators keeping the Woodystock tradition alive. The group's name is not a spin-off of Gillen's tune "Killing Machine" about a troubled soldier returned from Iraq (that noble enterprise which has enabled us to liberate trillions from public funds safely into corporate hands), looking for work. It comes from Woody Guthrie's statement: "The note of hope is the only note that can help us or save us from falling to the bottom of the heap of evolution-because, largely, all a human being is, anyway, is just a hoping machine." Of course, since the dictionary definition of "conspiracy" is actually "hoping together," this is an instinct which must be suppressed if we are soon to re-evolve via our grand unnatural selection theory of Survival of the Richest.
| | |
| --- | --- |
| Gus Mancini | Patti Martin |
Another act will be a pair of performance pieces by famed Sultan of Sonic Soul, Gus Mancini, gunning on saxophone and keyboards with writer, poet, actress and performance artist Patti "Sweet P" Martin determined to awe the audience with words.

Rounding it out will be a good friend of Woody's associate Pete Seeger, Chris Ruhe, a singer-songwriter, cultural organizer and member of the Beacon Sloop Club who also has an environmental activism radio show on Vassar College radio and tours frequently internationally. You know the type- a busybody who thinks the environment is a common heritage instead of a corporate possession. But, as Robert Anton Wilson once observed "Read your lawbook, son, ownership is the right to use or abuse," and we've certainly proved who really owns the earth environment, haven't we?

So, fellow globalists, here's what we're going to do... We'll be there at 7 sharp to observe and take notes on what these upstarts are doing. Our long-range economic assault is working perfectly with the "Enron loophole" legislation of 8 years ago driving up the price of oil, right on schedule, through new speculator markets trading from Europe and Dubai, overseen by Goldman Sachs, Stanley Morgan and the rest of the boys and the ethanol scam by the Agra-giants & GMO folks increasing the price of food by as much as 75%, according to a secret World Bank report just leaked to the British newspaper, The Guardian, we've got them by the throat... Everything is in place for the final stage in the removal of the greatest obstacle nation to the new world plan. Everyone is doing their jobs splendidly and we'll be there to pick up the pieces and place them comfortably into the North American Union as part of new global economic order that good ol' Zbiggy and the crew have designed so artfully.

All the right people are onboard, all systems go and we won't have to suffer absurd concepts like "accountability" for actions taken while in office or laws broken by globalists or multinationals. What silly rot! Homeland laws don't apply to global citizens. Just get over it!

But, meanwhile, we can't have these Guthrie folks waking too many people up, so show up in force and let's see what they're up to!

-Irv Yarg
---
Irv Yarg is an internationally published observer on cultural and political events who resides in the Hudson Valley area. His analysis of the recent and ongoing musical history of the region will be featured as a part of our coverage of the local scene.