Smokin' Roadhouse Caravan
The Upswing at the Hickory BBQ Smokehouse
Friday, March 28 [2003]
by Irv Yarg

You can't win them all...and if you do, you'll be investigated...
Having failed to persuade members of the swinging gypsy jazz band, The Upswing, to assume supernationalistic poses so that this article could kick off with a snappy title like "Jingoes Play Django," we'll just wade right in and explain what these guys really are up to behind that bubblingly optimistic name.
Individually, Christopher Strone provides rhythmic foundation on his slimline stand-up, contributing pockets of remarkably au fait articulations from the lower end while Russ Cashdollar punctuates skintop with tastefully measured restraint. Cashdollar is known for his four-year stint in the Albany-based band, The Lustre Kings and his tours with the "King and Queen of Rockabilly"; Robert Gordon and Rose Flores. Strone studied jazz at the Hartt School of Music with Jackie McLean and "survived two years of Bourbon Street" playing with Bo Diddley among other blues greats. A New York City sessions bassist with over 25 albums to his credit, he's currently in the mountains performing Renaissance renditions on bass and cello with music Sol Sonata, as well as groovin' in The Upswing.
Meanwhile, Guy "Fooch" Fischetti adds to the group's unique amalgam of sound by doubling on pedal steel and fiddle against an acoustic cascading of guitar. Fischetti, who has played in a number of theatrical productions, including Big River, and on the soundtrack of the Public Television movie Brother's Keeper, was part of New York City's western swing band, The Dixie Doughboys, for a dozen years.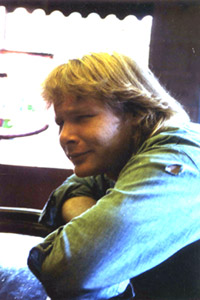 Lane Ackerman

For lead guitarist, Lane Ackerman, taking the musical path this quartet has been storming along these past months was a question of refinement in both his musical style and his lifestyle. Looking back over his shoulder, Ackerman can still glimpse a trail of smoking oats along the road he staggered over before he reached the back step of that caravan wagon.

"Once I stopped drinking, I hated all the barroom playing I was doing," Ackerman reflected, referring to the raw, energetic and sometimes roughshod attack he took to the strings as a performer during his years in Southern California and Mexico as well as his previous incarnation as a guitar wizz in this area.

Lane learned his initial guitar licks early on from a brilliant, award-winning finger-picker who happened to be his father, Bruce Ackerman. Lane's jazz sensibilities developed as he studied its musical structures in high school but, to earn money during college, his talents were consumed in a country rock band working the barroom scene. He now characterizes that period as "A hundred bucks a night and all the pride you can swallow."

While he could read jazz changes and always tried to work in some moves from swing territory, the customary band menu didn't jibe with 'jazzy' jive and Lane jived himself into jittery juxtapositions of jukin' jams and jumpin' juice. (Sorry about that, just working our way toward Django.) When a bourbon high becomes so integrated with a given mode of playing that conditioned tuning and sipping sets a kind of cruise control for riffs, drying out requires some musical as well as physical and psychological rewiring. It was the musical adjustments which proved most difficult.

Playing with a rock band at the time he tossed out the bottle, Ackerman says that it "took a long time to stop playing the old booze stuff and get into the Django direction. Without drinking, I couldn't get into that aggressive, repetitive guitar attack and I had an awkward period where I couldn't play anything."

In the wild & wolly days, Lane Ackerman (center frame
at the far end of the bar) discusses the topic of the day.

Always an admirer of the Reinhardt school of playing, Ackerman found himself listening more and more to the guitar intricacy of Django's old tunes. Along with Charlie Christian and Wes Montgomery, Reinhardt remains part of the holy trinity of guitarists whose influence on young pickers grows as their sophistication expands. The Django approach had a special appeal to Ackerman's abundant fretboard energies.

"It's not wimpy," Lane says of the style. "It has real acoustic pluck and twang. That kind of soft jazz stuff of doing standards in that muted tone on a big f-hole (guitar)...I just never dug that stuff. It never excited me. I'm interested in what sounds you can get out of the guitar and Django was the first guy to do a lot of string bends, play harmonics. He was innovative and his fingers were just flying."

When Lane's fingers fly, they also benefit from the fact that his father is also the crafter of widely-coveted handmade guitars and the one he picks was especially made with a deeper than usual cutaway to accomodate his predilection for reaching the higher frets. The guitar, too, is a tribute to Lane's pursuit of the ranging licks of the gypsy master.

Perhaps because he made only one brief American tour in 1946 (during which he played with Duke Ellington and plugged in, for the first time, to an amplified sound), the Django cult in the U.S. is a mere fifth of its European proportions but, among musicians, the reverence is particularly strong. His style has influenced players from B.B. King to the Sons of the Pioneers; Larry Coryell to Ricky Scaggs.

Born in January 1910 to a gypsy entertainer father in a caravan the outskirts of Charleroi, Belgium, Django was reared outside Paris, where his early playing was inspired by the American inventor of solo vocabulary for guitar, Eddie Lang. It was Lang who chiefly elevated guitar out of the "rhythm instrument" category before his death at 30 during a tonsillectomy in 1933. Five years before that tragic loss to an awakening stream of music, Django, at age 18, recorded his first songs.

Later in 1928, Reinhardt's fret hand was burned so severely in a fire that his last two fingers melded together while healing, an injury which prompted him to create new techniques which soon fascinated other guitarists.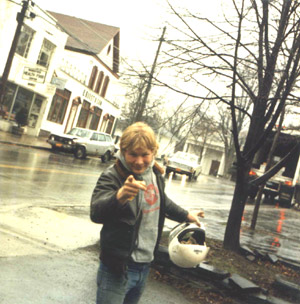 "In that style of music, you don't want to use your pinky anyway because it's a weak finger and tends to add extra, kind of limp notes," Ackerman said, reflecting on the compliments of the grip to the verve and drive of his own playing. "So, I've worked out a lot of these arpeggios and stuff, trying to use the fourth finger. That sound is from hitting the string and sort of bending it for vibrato effect and you really need the strength of the rest of your fingers to do it. The pinky is a wimpy thing- you know, Joe Pass, Jim Hall; sit there with your legs crossed and read from Real Book stuff- not to denigrate them but that's what almost alienated me from jazz because I never like that big, fat, muffled, Italian tone. Django has that real snap to his playing."
Where Ackerman chooses lightning phrases and octave jumps over Pass's harmonic maneuvers and Hall's understated "intermodulations," he zeroes in on the same Reinhardt intensity that also brought new focus to contemporary French guitarist, Bireli Lagrene. Now a father with an MCP, an MCSA and his own computer consulting business, the remade Ackerman still finds zest in his guitar fingers. His object is to be as feverish and passionate as Django while including the elaborate harmonic combinations- fast and clever notes.
"Actually, (Reinhardt's) picking technique on the right hand all comes from the wrist," Ackerman enthuses. "You never touch the guitar. You'd describe it 'as if you were shaking out a match.' It's a real hard attack, all from the wrist."
The blend of gypsy spirit and American roadhouse twang offered by The Upswing can be heard on Route 28, a few miles north of Kingston, at a relatively new restaurant which raises a barbecue cuisine to a gourmet level, much as Charlie Lang raised the level of guitar in the world and Lane Ackerman hiked the take of what he wanted out of his own guitar.
- Irv Yarg
---
Irv Yarg is an internationally published observer on cultural and political events who resides in the Hudson Valley area. His analysis of the recent and ongoing musical history of the region will be featured as a part of our coverage of the local scene.