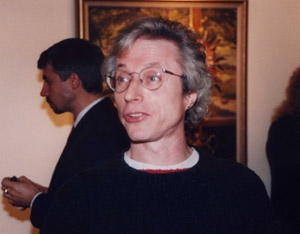 Laurie Kirby
The Secret Life of Professor Kirby
Preview of Princes of Serendip Appearance at
Woodstock Artists Association
Saturday, December 7 [2002], 7:30pm
by Irv Yarg

In R.M. McKenna's award-winning short story, "The Secret Place," there is an invisible landscape which is both 'there' and 'not there.' It's a matter of perspective.
Likewise, in Edwin A. Abbott's classic social satire of 1884, Flatland: A Romance of Many Dimensions , the inhabitants of the author's two dimensional universe change dramatically with shifts of perspective.
The hidden universe which Laurence Kirby maps musically with his talented cohorts in The Princes of Serendip will be on display in concert at the Woodstock Artists Association on Saturday, December 7th, starting at 7:30 pm.
Kirby, who has been exploring alternative worlds for many moons, finds them in music and in mathematics, two fields he navigates with considerable skill and imagination.
"They are two different ways of creating your own universes," Kirby notes when asked about imaginary realms. "In each case, it may or may not connect with the real world."
Following a pause which leaves an impression of Kirby processing his responses in interviews as cautiously as he sculpts a lyric line, he adds a carefully considered choice of words: "It's up to your own judgment."
Indeed, as a professor of mathematics at CUNY's Baruch College since 1982, who avidly researches mathematical logic, Laurie Kirby is eminently qualified to nonchalantly drop phrases like "assuming there is such a thing as reality" - as he does in pondering the relationship of language and reality on his website at http://math.baruch.cuny.edu/~vanini/. The question is, or should be, how did he get that chamber in his closet? The answer is, just to be a little too cute, "It's in the equation."
"It's true that, when you do explore math, you come across strange, unexpected features and formations that just seem to be there," Kirby explains. "So, it is a bit like exploring a landscape and, I suppose, there's a 'dream' element to it. If you do research in math and get to that level, it is an inspiration. You can wake up in the morning with the solution to a problem just as you can with a poem or a tune in your head. So, in a sense, you can 'dream' it."
Growing up in Hong Kong and England, Laurie Kirby started playing violin "some time around three o'clock" during his childhood. Along the way, he performed in an obscure collection of notable ensembles which included a British folk band called "Black Pig" and a French folk-rock group named "Menerval." Privately, he played chamber music privately and just for pleasure and thus, he kept his chamber in the closet, so to speak.
After study at Cambridge and Manchester and a teaching stint in Paris, Kirby moved to the States in 1978 and taught at Princeton for three years. Another trio of years spent living in New York City saw occasional excursions into music, including a brief stay with a band called The Bluegrass Workers of America but nothing he would term "solid" in regard to his own aspirations. It was not until he shifted his theater of operations upstate that he began performing with some regularity with fellow songwriters Michael Bohacik and Mighty E, in a Woodstock trio called Breaking Ground.
"At that stage, I was accompanying myself on keyboard and the others played guitar and percussion," Kirby recalls. "Then, I would back them up on their own songs and usually switch to fiddle to do that. One thing I never got very good at was playing fiddle and singing at the same time."
Another outlet for Kirby's melodic wares came when he played wide receiver for Wayne Montecalvo's team of musical ruffians in the uniquely wild and woolly Rosendale-based band, The Fighting McKenzies.
The bent to uniqueness never abandoned him as Kirby began to formulate the delicious song-poems which comprise the repertoire of T.G. Vanini and the Princes of Serendip. Adding new dimensions to folk music by blending the intimate character of chamber variation with the lilting drama of his own song-poetry, the professor created a lovely and peculiar sonic art form which has radio programmers across the Northeast confounded.
"I feel that I don't hear this kind of thing being done...that we can do something other people can't," Kirby offers. "It may be a problem that we can't be classified but I think it's also a strength."
The creature Kirby led out of the chamber as The Princes of Serendip moves in three separate bodies, including his own, and has given birth to two offspring, the latest of which is being celebrated Saturday at the album release concert as a self-titled CD soon to become as indispensable as the original T.G. Vanini album, Growth and Gravity, both of which are available on the Rose Hill label.
If the Chuck Berry managed to get Beethoven to roll over in the 1950's, The Princes have initiated a movement to roll some of the old fellow's sensibilities back into the scene.
"It's listening music," Kirby notes. "It doesn't claim to work as background music. That's one way I think that it's not 'fashionable'- not 'modern.' The tendency these days is just to have music as wallpaper."
It's been said that contemporary music, like every social innovation in a corporately dominated environment which moves the herd toward a less humane society more beholden to the corporate line, has become as much a mere commodity, in the eyes of many in the "musical" universe, as it is an art form. Hence, a popular musician is often treated like a star salesman and his or her figures notated on a sales chart rather than a bar stave by overseers who wouldn't know the difference between a bariolage and a barcarole. Marketeers, confident that they can create and control public taste, set the sails and younger musicians imitate that with which they are inundated by an expeditiously decreasing number of "providers."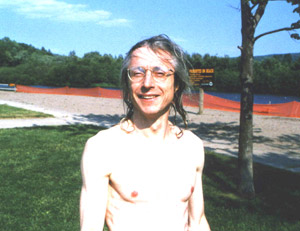 Prince of Seren after a dip

Swimming against this tide exposes many talented individualists to a vicious undertow and requires a robust and self-assured stroke. That's why Kirby was elated to discover a pianist paddling in the same direction he was.

The group's keyboardist, Don Yacullo, started taking lessons at five and was improvising well enough while in the third grade to impress a music professor at the New Jersey college where his mother, also a pianist, worked as a secretary, into tutoring him for a number of years. A devout hiker, Yacullo became attached to Ulster County's mountainous terrain when he played a recital at SUNY New Paltz with percussionist-composer, Joe Lentine, and moved up from Union, New Jersey in 1985.

Yacullo, who currently runs a computer lab at Saugerties High School, has a background of working with disadvantaged teens in Kingston and is also music coordinator and accompanist for Potential Unlimited- a Poughkeepsie-based arts organization that supports performing artists with developmental difficulties. His meeting with Kirby in the open microphone sessions held at Carl Rossel's public club, The Art Gallery, in Mount Tremper in the early 1990's, led to the Mozart-inspired home chamber sessions that eventually spawned the Princes.

Speaking of the group's music as "a kind of blending of classically-influenced folk, Celtic, folk-rock, British whimsy with occasional weird jazz inflections," Yacullo flirts with descriptions of the original development of rock & roll from country, rhythm & blues, blues and pop. Under it all, his own love of chamber music brings this hiker into musical stride as Kirby crosses his imaginary landscapes. Step aside, Chuck.

"It was a wonderful thing when I hooked up with Don," Kirby acknowledges. "First of all it relieved me of keyboard playing; at which I was competent but he's better."

Yacullo reacted positively to Kirby's compositions, brought out during one of their exercises in the civilized pleasures of chamber music and Woodstock bassist Alan Murphy was recruited when the sessions began producing a sound which begged to be taken to the public.

"Laurie had already played some pretty solid gigs, shared the bill at the Town Crier with Laura Nyro, a number of solo appearances," Yacullo said, remembering their first appearances at venues like Katmandu Cafe in Woodstock ("...or was it Dharmaware Cafe back then?") Before Murphy moved on to other things in 1997, the group performed at a wide range of venues like Rip's Cafe in Saugerties- which, like Katmandu and so many other local showcases, are now just memories.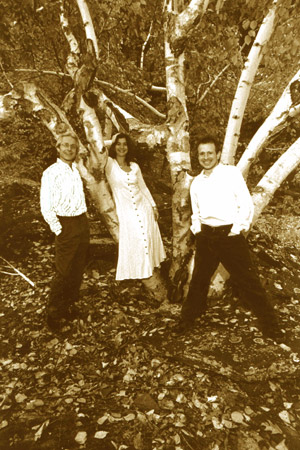 Lest it be thought the inspiration for their name derives from the relatively obscure folk group of the 1960's- The Serendipity Singers- Yacullo points out that the development of the group's progress was serendipitous.
"It happened kind of spontaneously, just playing classical chamber music to 'alright, let's give these songs a try' to 'you know, this might sound good with a bass player' and so on," Yacullo observed. "It just sort of clicked along."
The cultivation was in a shared classical sensibility. The genesis was in the song-poetry of Professor Kirby which had a knack of winding themselves into chord progressions.
While many of the songs on the new CD are child-friendly and admirably work their wizardry on the young-at-heart, some can be as ominous as a fairy tale. One of the landscapes on the new album, "City of Visitors," features "a house made of cardboard and iron" which serves as a home threatened by machine guns and sneers, a splintering front door and the shadow of political eviction. "The Dinosaur's Advice" comes on like a bright and simple ditty but delivers a somber undercurrent of ecological warning.
Some of the new songs, like "Chickadee" and "October Butterfly" celebrate the wonders of nature. Then, in "Heaven," there is grogginess from the poisons slipped into meals and the illegality of complaining about stolen freedoms. Others like a stunning jewel of a song called "Like an Empty Room," are oriented to personal and romantic perspectives while the amusing "The Bargain," with its "fiddle-de-idle" (echoing the spirit of Abbott's "Fie, fie how frantically I square my talk!") comes as close to traditional Celtic flavor as you can get without living in an earlier century. Some of the lead vocals are beautifully contributed by the trio's loveliest prince.
Saving this Prince for last is not meant as a slight but springs from a wee twist of awkwardness. Indeed, since one of Kirby's fellow travelers is, in fact, not a fellow, the title of Princes of Serendip is an 's' short for a third of the ensemble. (Notice how the fraction works in, Professor?) Laurie and Don, of course, recognized Julie Parisi as a "prince of a gal" even before the singer-songwriter joined the group and there is no sexist intention in the choice of names, which is more than can be said for the Victorian flaw in section four of Abbott's otherwise superb book (which is on line in its entirety at alcyone.com. In fact, at another website, caltech.edu/people/patricia/lctoc, there is a bulletin from the Committee for the Truth About Flatland which insists that "In Flatland, we have 150 genders with equal social status and power." That certainly overwhelms the mere five genders we have here in Ulster County.
Julie, who found Laurie's music "mythical" and "archetypal," was delighted when she was asked to contribute to the first album.
"I loved his music and thought that was great," Julie recalls. "Then he asked if I wanted to do a gig with him and kept asking, so I ended up kind of 'in the band'. Over the course of a year, we got to be friends and then more than that."
Laurie felt Julie's one shortcoming was that her name wasn't long enough, so he overcame that by giving her one of his own to make the meter a musical "Julie Parisi Kirby" and tighten the geometry of the relationship. Prince of a fellow, this gifted and fortunate mathman.
Admission to the gig is $6 at Rhythms and The Golden Notebook and, if not sold out, at the door. Tracks from the new album can be heard at www.princesofserendip.info
-Irv Yarg
---
Irv Yarg is an internationally published observer on cultural and political events who resides in the Hudson Valley area. His analysis of the recent and ongoing musical history of the region will be featured as a part of our coverage of the local scene.