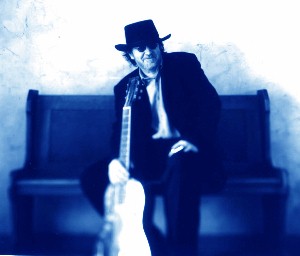 Photo by Steve Harris
Slick Grit on a Dented Halo
Texas Folksinger Ray Wylie Hubbard
Makes First Area Appearance
Friday, September 7, 2001
Rosendale Cafe
by Irv Yarg

The name first drifted up from Texas on a whiff of early-to-mid-seventies culture haze and it's hard to be sure just exactly when because that's all it was, a name... Ray Wylie Hubbard.
Probably there was an attendant line like "a songwriter you should know about, down in the Austin scene," but there were no particular songs attached until Jerry Jeff Walker popularized Hubbard's "Up Against the Wall Redneck Mother" and that one just muddied the water for music fanciers here in the "liberal" Northeast.
It wasn't until the 1990's that Ray Wylie began to come into his own nationally and Friday night [Sep 7, 2001] at the Rosendale Cafe will mark his first upstate New York performance outside of a Hudson Bay Festival appearance way up by the border two years ago with Pete Seeger and others interested in cleaning up the Hudson River. Beyond an occasional appearance at the Lone Star Cafe or other stray Manhattan night spots, it took the astute ear and well-aimed, long lasso of Rosendale's Mark Morganstern to corral this maverick in our vicinity and here are some reasons we should tip our hats for the effort...
For one thing, as we endure the residency of G.W. Bush and other such misappropriations of the human form in our daily diet, it's nice to know that there are Texans who not only know what compassion is but actually, as they like to imply in conservative circles, suffer from it. (One lasting impression of Dubya's utter lack of compassion- and a good reason he should not possess the kind of power he enjoys- was his mocking of a woman's plea for her life before he executed her as Governor of Texas. "Please don't kill me," he mimicked with a chilling giggle.) Now, that doesn't mean Ray Wylie subscribes to the Jim Hightower newsletter or has nice things to say about the New York Giants but a knowledge of true human feelings and dilemma is a political statement without party affiliation.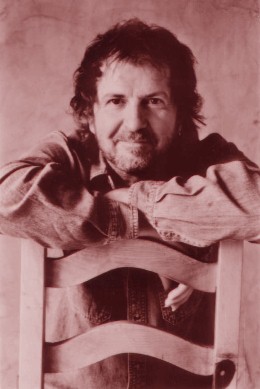 Another point we need to realize, here in greater Northeast, is that when a musician speaks with a drawl and wears wide-brimmed hat, it doesn't automatically make him a "country" singer. Heck, I knew that even before Hubbard confided into the phone at his Wimberly, Texas home that he's always been a bit "misunderstood."
Hubbard started off in music while he was still a high school student in the Oak Cliff section of Dallas, where he was still a sophomore when singer Michael Murphy was a senior. There were other musical luminaries-to-be in class there at the time, including Larry Groce of National Public Radio's Mountain Stage fame.
Starting out in the folk music scene at a little Dallas club called The Rubiyat, Hubbard followed the same trails as folkies in New York.
"You get your Peter, Paul and Mary and you find Dylan," Hubbard noted, "and, through Dylan, you find Woody Guthrie and Cisco Houston and it opens the door to Leadbelly and all those floodgates of just incredible folk music come pouring out. Here, in Texas, there's such a history and tradition of a wonderful fabric of different kinds of music...everybody from Mance Lipscomb and Lightnin' Hopkins to Bob Wills and Ernest Tubb to Freddy King. Then, there's writers like Townes (Van Zandt), who was so strong lyrically, Guy Clark and Billy Joe Shaver- a quality of writing that you had to aspire to, to even be a contender. I was very fortunate, growing up, to be able to see Mance, King, Tubb and the others; Jerry Jeff when it was just him and guitar; Townes a long time ago...and, kind of, you absorb it."
It took Hubbard many years to meet the challenge left by such legacy and he may not even have been aware of the running start he was working on while his little folk trio, 3 Faces West, played the coffeehouses of the Southwest, the folk festivals and ski bar circuit in Colorado, summering in Red River, New Mexico at a little folk colony north of Taos. It was there that he ran into Jerry Jeff Walker and sang a song written as a goof, "Redneck Mother." Meant as a parody of Merle Haggard's hippie-hatin' "Okie From Muskogee" (which was itself meant to be satiric, according to Haggard), its success as an anthem of intolerance, taken to heart by rednecks everywhere, brought him a bunch of semi-annual royalty checks (which he admits helped out immensely along the way) and chagrin in large doses. When he re-recorded it live in 1998, it was under the title "Obligatory Encore."
It was because of the splash caused by that one song that Hubbard and his folkrock group, Cowboy Twinkies, landed a deal with a major record label and Hubbard got landed with a label of another kind.
"We started playing honky-tonks because of that song and I got tagged as a 'country singer' when I never was," Hubbard drawled. "I find nothing derogatory about the term 'folksinger' at all. I'm pretty acoustic. I've always played acoustic guitar. There's just more grit and groove in it now than the stuff I used to do. But I was never a 'mainstream' writer. What I've done was always kind of to the left of center of anything musically."
Austin, in that period, was an exciting genre-blending scene energized by the arrival of Willie Nelson, a former Nashville country singer and writer who bent the rules on two memorial albums for the soul-oriented label, Atlantic, before hitting it big at Columbia with a career-turning folk album called Red-Header Stranger. Michael Murphy would soon be riding the "Cosmic Cowboy" wave in Austin while Nelson and other artists took off on the "outlaw" trail until somebody noticed the oxymoron implicit in "outlaw formula."
Unfortunately, before the Austin sound became a distinct entity on the music scene, Hubbard had been ambushed in Nashville. After he and his group recorded in that city and left for home, their tracks were pulverized beyond recognition by added singers, steel guitars and other accouterments of the Nashville method and they didn't even learn about the production changes until the album's release.
"We never heard it before it came out and it just broke our hearts when it did," Hubbard sighed. "I talked to my lawyer and he suggested the only option was to start drinking heavily. Down here in Texas, I was still a working musician, naturally, but I didn't record for a long time. I felt I had been burnt, misunderstood and, while I wasn't really bitter and I've made peace with it now, I had a hard time getting it together after that."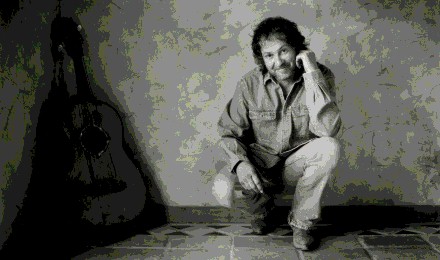 Photo by Maria Camillo

With the one-star rating reserved for albums that are "remarkably ill-conceived," Rolling Stone's Dave Marsh magazine pronounced that "(w)hatever charisma Hubbard has in person was not transferred to this record" and curiosity here in the Northeast was transformed to disappointed distaste as his name settled into the distant dust. He began a long stretch of years as a road house player, finding all of the pits in the road such wayfarers are usually first to stumble into, nights blurred by drugs and alcohol, travel and fatigue; choices that made variety seem sometimes to be the price of life...A coin tossed in the grip of what he now calls "neon poisoning." Fittingly, perhaps, during some of these years, he played with the Lost Gonzo Band.

You might make a case that it had taken all that time for Hubbard to ripen into the legend his early notices promised but, in point of fact, self-discovery doesn't happen until you know where to look and the resurrection of Ray Wylie Hubbard is all about self-discovery. It had a trinity of ingredients, according to the artist.

"Thirteen years ago, I did get clean and sober," Hubbard said, referring to his 41st birthday when he dropped the outlaw powders and juice like he was quitting a club. "It helped a lot when I wasn't falling into the drums anymore. Then, I got serious about my writing. There was a book I needed to read, Letters to a Young Poet by Rainer Maria Rilke, which someone gave me and that validated some things I had been thinking. Scales fell from my eyes about writing for the sake of writing and I said 'I'm going to write whether I make another record or not.' So, I turned my back on the bar-band, honky-tonk scene to get back to just my acoustic guitar to do the solo stuff.

"There's a great quote by Roger Miller, who said that writing is like an old cat having kittens...You just crawl off under the porch by yourself and... just do it. But the third thing was important, too..."

Without mentioning the humility it must have taken for a life-long musical performer, Hubbard explained that, at age 43, he started taking guitar lessons, learning to finger-pick and reach dimensions he couldn't find expression for in the past.

"I wanted to learn how to be a better player," he said of developing his raw and taken-for-granted talents and abilities. "I'd always been a kind of honky-tonk strummer, just beating the soup out of it...I learned songwriting, then, instead of throwing together riffs and lines. I studied the craft of it. Inspiration and craft plus time and effort minus fear and doubt equals song."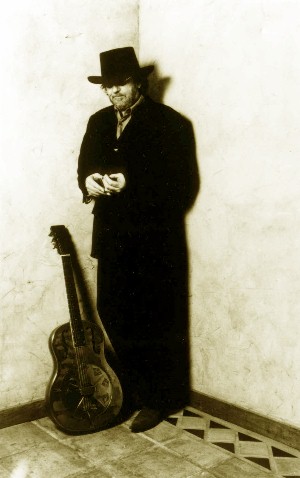 One element which developed in his songwriting is an extraordinary facility to portray the angels and demons of our very ordinary gaze. The perspective of demons which may have haunted him is not a fix on his personal demons but those inherent in each of us and the human values he has mined in his own backyard are the ones which shine around the globe...casting shadows.
The release of 1994's Loco Gringo's Lament won high, and perhaps surprised, critical applause and his albums since that point have made the depth of his narrative and musical abilities increasingly evident. His latest release, Eternal and Lowdown, is a snakingly rhythmic treatment of the shadows and the shinings; full of swamp roots and high-blown clouds, open tunings and bottleneck; rough and slick on the same sliding backbeat. And the stories it tells are lined with self-discovery, throbbing with life-twisting turns and observations...
"I kept writing but I didn't quite have a handle on it," Hubbard said of his "lost" years. "I was a working musician playing in honky-tonks. I wasn't as prolific as I am now. The last eight years, I've really hit a good stride as far as writing but I wasn't a real writer back then. I'm still trying to be a real writer..."
But, the evidence is in at last...The late-blooming Ray Wylie has finally earned his own place in that pantheon of Texas songwriters, edging into 'living legend' status and, although he's been quoted as downplaying the influence of those Texan beacons on his own tunes- even as he trumpets his admiration for them, the legacy is strikingly clear in his latest album. Some critics have even begun to speak of him as an heir to the late folkblues poet, Townes Van Zandt.
"Did I downplay the influence of Townes?" Hubbard asked asked, genuinely puzzled. "I've got to look at my press kit."
That press kit contains two remarkable observations not touched upon here but worth quoting. One from the Austin American-Statesman testifies to the wit he brings to a live show by noting that "Ray Wylie's a funny guy who once performed a 45-minute set without playing a song and got a standing ovation anyway." Another, from the Alt-Country bimonthly No Depression, claims the latest album "conjures visions of what Mance Lipscomb might have sounded like sitting in on The Basement Tape sessions, with the McCoury brothers hovering in the background." Now, no one's going to compare Hubbard to a Northerner like Bobby D. (who influenced Townes as much as Hank Williams did) but just picture that scene at Big Pink, Dylan fans, as all that wild and grainy songwriting was going down. It's an image worth bearing in mind.
-Irv Yarg
---
Irv Yarg is an internationally published observer on cultural and political events who resides in the Hudson Valley area. His analysis of the recent and ongoing musical history of the region will be featured as a part of our coverage of the local scene.