The Mastery of an
Intricate Art Form

Paul Geremia returns to Rosendale Cafe
Saturday, August 3 [2002]

by Irv Yarg

This article originally appeared in the Woodstock Times in September 1999. Since that time,
Paul Geremia has released a new album The Devil's Music available on Red House Records.
You can't see it, of course, unless you have one of those flashy new microdot Zapee scan downloaders but there's an astonishing compact disk compressed into this period. Yeah, that last one.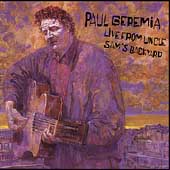 Live From
Uncle Sam's Backyard.

We're not sure how well this super technology works yet but, putting MP3 technology to shame under the proper and precise conditions, you can factor that dot and scan it for future reference and find not only the blues culture of one of the genuine masters of the form spinning his art but, also, my own immortal impressions of the concert. Just as immortal as that dot, I assure you.

On the outside chance you haven't had time to pick up your own Zapee downloader yet, allow me to brief you with a few highlights of review of this remarkable performance by Paul Geremia Live From Uncle Sam's Backyard. If you do have your downloader, of course, just a few lines from the cd is bound to entice you, no, compel you to attend Geremia's personal appearance at the Rosendale Cafe on Friday, September 11th. Otherwise, the actual virtual-size disk is available from Red House Records with a comely cover painting by Eric Von Schmidt.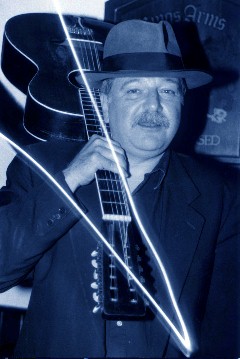 Geremia, himself, was surprised to hear that the label had a tape of him in concert that they wanted to release and, since he is in general a bit leery of live performance albums, he was reluctant to okay the issue until they played it for him. What he heard, he had to realize, was the captured essence of a relaxed, soulful gig on a summer night in 1991. Opening with his own composition, "Diggin' Uncle Sam's Backyard," a hip sideways glance at the national scene, Geremia bounds wryly into action on the cross rhythms of a boiling six-string. His brilliant and quite distinctive playing slackens your jaw with the amazing possibilities of what can be done with a simple guitar as you chuckle at sage folk wisdom of his observations. On to a G-sixth transformation of Bo Carter's "Arrangement For Me Blues and a whirl with Skip James "Devil Got My Woman" as you've never heard it before. Then Geremia's masterful blending of Blind Boy Fuller's "Piccolo" with Willie McTell's "Kill It Kid Rag" just won't leave your feet alone and you have to feel that "mastery" is the proper terminology whenever you describe what this man does. There are a handful of living artists who have mastered the rural blues form until it seems to exude from their aura but there are none better than Paul Geremia.
Introducing his version of Robert Johnson's "Travelin' Riverside," which is, in part, an assimilation of Hambone Willie Newbern's 1929 "Roll and Tumble Blues," Geremia reveals a bit of how deeply he has studied and absorbed his art. We learn what became of poor Hambone from a dedicated seeker of blues marrow who has tracked the footsteps of the legends throughout the country, even unto pilgrimages to the obscure gravesite of Willie McTell. "I'm not really into going to cemeteries," Geremia laughed in his Rhode Island home when trek was brought up, "but, in a way, I could feel I followed him to the last place he went." Hambone was arrested in the raid of a bawdy house he was hired to play in and beaten to death by the guards of a work farm and quickly forgotten by the world at large. His few classic recordings survived to carry his legacy into our age from a time when country blues was The Thing. The music became eclipsed in the 1940's as swing prevailed. Geremia was among the wave of artists who resurrected the culture with loving creativity and authenticity during the 1960s, putting his own inimitable spin on the tradition.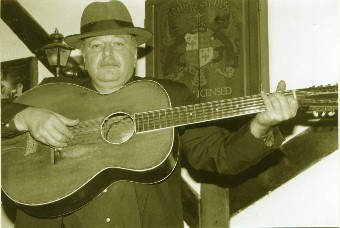 "It's just trying to put the pieces together in your own vision of the music; your concept of where it's coming from," Geremia reflects. "You try to understand it as far back as you can go, other than reading about it. If I was an orphan and I didn't know who my parents were, I'd feel compelled to learn as much about them as I could, even though they weren't around in my lifetime.
That's the way I feel about some of these musicians. They did something that effects me, so, the more I can know about them the more I can understand the music that influences me. Although I'm a songwriter, without that source, I wouldn't have the musical inspiration. I'd probably write poetry." Geremia does, of course, write blues poetry with unquestionable authority. Coming up, he met and played with some of the great names of a bygone age; Pink Anderson, Son House, Lonnie Johnson, Skip James, Muddy Waters, Fred McDowell, Blind John Davis and others.
"I was fortunate enough to have been able to meet some of the people who made the music or, at least, did the initial recordings back in the 20s and 30's, the first wave of artists that recorded out of that tradition" Geremia said. "It sort of died out by the late 30's and black people weren't into country blues back when I started getting into it. It was considered an embarrassment to middle class black people and so a lot of musicians who were alive went unnoticed. Fortunately, some of them were brought back to the forefront (during the 60's revival) but a lot of the information has been kind of lost."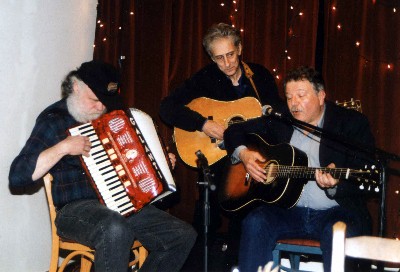 Paul Geremia at Rosendale Cafe 1999 with surprise
guests Garth Hudson (left) and John Herald (center).
And some of it saved, treasured and polished by the new blues artists that Geremia stands in the "forefront" of, picking out his own fresh classics like "I Really Don't Mind Livin'" or "My Kinda Place," "Something's Got To Be Arranged" or his tribute to Big Walter Horton on the Uncle Sam cd. Sliced into the amazing dot are his hot and creamy versions of old classics like McTell's "Broke Down Engine" and "Dying Crapshooter Blues." There's a gorgeous treatment of an instrumental by Steve Mann, an influential West Coast guitarist of the 1960's and a hilarious rendition of "The Monkey and the Baboon" cut from traditional verses collected around New Orleans by Dr.John and served up here in a delicious dish that gris-gris guru might find hard to recognize.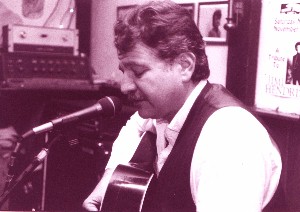 What this dot does, once downloaded, is give you a taste of a riveting style in full flight; a performance typical of a master; the kind of performance well worth a pilgrimage to Rosendale Cafe or, if you can't download that period up there, you should race out right now and pick up the cd. It's a pure blast of blues bliss by a guy who embodies the form so exquisitely, Geremia brings it the very breath of life that keeps it so vital and present a musical form.

-Irv Yarg
---
Irv Yarg is an internationally published observer on cultural and political events who resides in the Hudson Valley area. His analysis of the recent and ongoing musical history of the region will be featured as a part of our coverage of the local scene.