Justice for the "Unknown Legend"
Reggae Pioneer Winston Grennan Looks Forward and Back

by Gary Alexander
| | |
| --- | --- |
| | At 56, Reggae immortal Winston Grennan lost his battle with cancer last week following a valiant eight-month struggle against insurmountable odds. A much beloved figure in the musical community around the world as well as in his adopted hometown of Woodstock, Winston died in financial difficulties chiefly spawned by the expense of his medical treatments, sadly still denied the full-fledged "star" magnitude of stature in the arts which his achievements had earned him. Certainly a star among those in-the-know, Grennan reviewed his disappointments and expectations with me on his September birthday in 1997 with an absence of true bitterness in his tone which was a tribute to his nobility of character... |
He's no Rodney Dangerfield and it's not "respect" that he pursues. Mere respect, after all, should be an automatic ingredient registered to any artist of genuine accomplishment and Winston Grennan's credits, while notably unheralded, stretch into the pre-dawn twilight of the reggae music movement.
When he looks back on his contributions to the foundation of reggae as a musical genre, even numbering himself among the few who coined the term, and his current status as an "Unknown Legend" in the field, he considers that it isn't measures of respect due him, it's justice.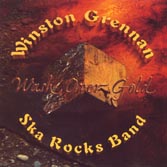 Having recorded with virtually every major reggae artist and group from Bob Marley & The Wailers to Desmond Decker & the Aces, Peter Tosh, Toots & the Maytals, and on & on through thick pages of sessions, Grennan is currently chasing justice with a new album release under his own name, Wash Over Gold, and has chosen his home base of Woodstock as the place to kick off a coast-to-coast CD celebration tour (at the Byrdcliffe Barn on Sunday, September 21 [1997], at 3 and 7 p.m.)
"I've done a lot for reggae and I didn't get the justice," Grennan pointed out, adding that many of the true pioneers of the form remain unrecognized today. As he did for a gathering of reggae stars in Nashville a few weeks ago, Grennan can outline the misinformation and inaccuracies in the current books about reggae and tell you exactly who was where and when. Skatalite bassist Lloyd Brevett concurs that it was Grennan's classic and often imitated "one-drop" beat that shaped the very heart of the sound in its emergent days when he seemed to be the drummer at every important session. "Reggae was created by de riddim," Brevett was quoted as saying. The rhythm...that's Winston.
Grennan's musical sophistication began with the lessons of six musical uncles in his native Jamaica. He built his own first drum set as a kid by felling a tree and devoting long laborious weeks of cutting sections to size and hollowing them out into the kit he still speaks of with a smiling glow of pride. The beginning of his ponderous discography was poured into one after another plain-labeled 78, then 45's which sported the singer's name and little else and which enjoyed local spins as well as British and European airplay in a time the U.S. hadn't yet caught the beat. The anonymous musicians who supplied the ride for the often unpaid vocalist tended to stay that way and it wasn't until 1993 that copyright laws came to Jamaica.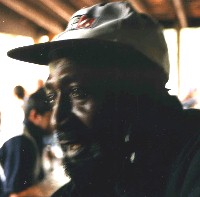 Grennan, however, moved to New York in the early 1970's, settling in Woodstock, parts of which remind him of home, and gigging to houses so packed in the heyday of the Joyous Lake that lines went twice around the building and required two separate shows a night to accommodate. Meanwhile, he expanded his musical knowledge, studying theory and gigging with jazz greats like Dizzy Gillespie, Freddie Hubbard, Eric Gale and others. His recording credits embraced performers far beyond reggae and ska...Marvin Gaye, Aretha Franklin, Garland Jefferies, the Rolling Stones, Peter, Paul & Mary, Paul Simon, the O'Jays and a long etcetera. Movie credits include Jimmy Cliff's The Harder They Come (including the soundtrack and film appearance); Kid Creole's Fresh Fruit In Foreign Places; Cat Stevens' soundtrack for Harold and Maude and the original tune "Savior" in 9 Weeks.
The new album, the third under his own name, starts off with "Domestic Violence," treating the topic with a joyful simplicity of lyric typical of reggae even when addressing human darkness- the root of all evil, for example, never seems unredeemably ominous on "That Man." Bad, sure. Regrettable, yes. But keep that light-hearted stance within as you play- it's not part of you. (A portion of the album's proceeds is being donated to Family Violence Prevention Fund.) "Colorful Faces" follows with a guest vocal from Tony Culture stirring in on Grennan's own against, as you would expect, a rhythm-drenched backdrop. Grennan's stretch of tempos on most of the album is a range he calls "Swegway," meant to incorporate international rhythmic attitudes with unexpected energies between standard reggae and ska. Still pioneering, Grennan takes familiar themes to his own blend of flavors, writing the tracks with a stray lyrical touch on a couple of the songs from the disk's astute producer, Mark Brown, and Nancy Lewis, and adapting Don Drummond in a tribute that features some quite tasty brass flourishes from Todd Horton and Winston, himself. David Oliver adds some fine keyboard touches.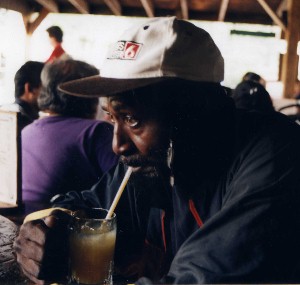 Today, with CD boxed sets of rereleases coming out regularly, sometimes long uncredited players are finally getting listed. Sometimes not. Histories of reggae which tend to ignore the importance of its founders are following secondary sources who weren't on hand, according to Grennan and others who were. It is doubtful that useful sessions records were kept at the sessions which gave birth to the music. Memories grow dim but some of the originators can listen back and say "Hey, I tink dat's me." But, if some day someone other than Winston Grennan claims to be the originator of the Swegway beat you'll hear at the Byrdcliffe Barn this weekend, as they have for the "one-drop" reggae beat, you and I, at least, will know better.
---
Gary Alexander is an independent journalist and scholar whose focus of interests range through a variety of disciplines. Under various names, he has written (and ghost written) upon history and current event; science and technology, as well as music and the arts in books and for national periodicals. While particularly attentive to the subtle and complex impact upon cultural imagination and contemporary structures of presumption which activity in the above mentioned topics tend to have, Alexander treats his topics with a slightly more than occasional resort to humor.

Posted on November 11, 2000