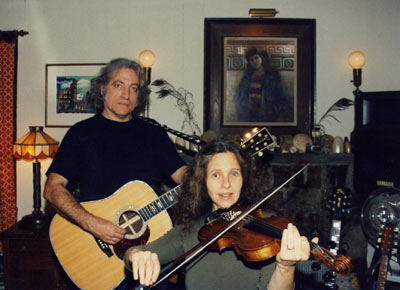 Gastronomical Starlight
Whitman and Pantell at the Colony Cafe

Sunday, September 24th, 7:00 PM
Colony Cafe, Woodstock, NY
22 Rock City Road. 845-679-5342

Story by Gary Alexander
Immortal questions like "Tofu or not tofu" are seldom the subject of musical inquiry. The title song of a recent cd by Karen Whitman and Rick Pantell, however, does seem to invite some speculation along those lines. While it is generally acknowledged that the duo's witty tribute to queasy cuisine, "Chicken Fat Pudding," is hilarious, the primary focus of debate about the song clusters around the questions of whether it pokes fun at health food aficionados or is actually satirizing those who WOULD poke fun at "sensible" menus. Thankfully, should these questions arise during a performance of the tune at their 7 pm show on Sunday, September 24th, at The Colony Cafe on Rock City Road in Woodstock, it's a safe wager that they'll be quickly drowned out by laughter.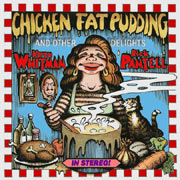 CD: Chicken Fat Pudding

Known first and foremost for their exceptional careers in the visual arts, Whitman and Pantell are scarcely newcomers to acoustic creation and other songs on their diverse album harken back to a parallel legacy of musical involvement.

"I was the lead singer of the Balkanizers throughout the 1980's," Karen said of the Manhattan-based group which celebrated the complex rhythms of Eastern European folk traditions at venues from Lincoln Center and Carnegie Hall to the Kennedy Center in Washington, D.C. "I've always had an affinity for that kind of music and I think it has some influence on how I write my own music as well. I really only started writing music since I met Rick and we write songs collaboratively and individually. Since we have very different influences, the cd has a lot of variety."

Indeed, a pair of traditional European numbers, Bulgarian and Macedonian, sandwich an amusing odyssey about a man haunted by a frisbee on the cd and are followed by the ballad "Kathy" which recalls an early Paul Simon-flavored composition. Among other side dishes, you could slip Pantell's "Summer Is Gone" into a playlist from the 60's folkrock era without raising an eyebrow while Whitman's "Each Night I Gaze Upon My Love" would fit comfortably into a program featuring ballads of an earlier century.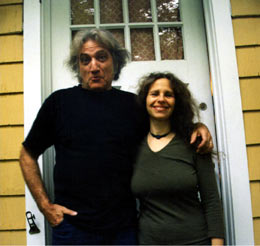 Dreams of ambition spar with the economic ceiling of lower middle class reality in the jointly written "High School Queen" while Pantell's "Of Elves and Edaphosaurs" weaves a playful fantasy wherein a five-foot plus mushroom comes to the door to borrow a cup of manure.
The couple may not drive around with "I Love New York" bumper stickers but the obvious affection they share for the various neighborhoods of New York City sings out from the oil strokes in many of Pantell's whimsical cityscapes and Whitman's exquisitely carved block prints. Both born in the Bronx, Karen was raised on Long Island and gravitated frequently into Manhattan during her formative years while Rick's parents moved upstate to the Ossning area.
"I went to college for a while in Bridgeport, Connecticut and then, for a period, I would change my address about every six months," Pantell recalled. "I spent summers working at a camp for handicapped kids on Martha's Vineyard. I'd be in Boston a while, New Hampshire, Idaho and it was always music or art, art or music- I couldn't make up my mind. Then, while I was playing guitar in a saloon in Idaho- and I mean a REAL saloon with mostly pick-up trucks outside but a few horses, too- you surrendered your pistols when you entered and the only thing they served was beer- even the main street of the town I lived in had tumbleweed blowing down it. It was just like the movies but it was real- the last of the old west. But, in the middle of that, I decided to get back to painting so I came back to New York and enrolled at the Art Students League."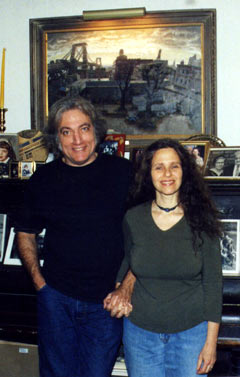 Before hanging up his guitar in 1974, however, Pantell took some of the many songs he had written in that period around the circuit and aroused the interest of someone from Apple Records. Although the would-be sponsor liked Rick's songs and had some interest in publishing them, there was also doubt that the high-end economics of recording at the time would inspire an investor in a Pantell album.
"He also liked my finger-picking and asked if I'd be interested in becoming a studio musician for Apple Records," Pantell reflected. "I said no for a couple of reasons. It hurt to know that I wasn't going to be able to do anything with my own songs but he was offering me a way in and I didn't realize it. I was also drifting toward painting at that point, so it was easy for me to say no. I had one more gig or obligation and that was on the Sloop Clearwater and, after that, I just basically hung up the guitar."
Whitman also had some "odd jobs" beyond the visual arts before meeting Pantell, including a stint as an acrobat for the Big Apple Circus in its second season. When an interest in folk dancing eventually opened the door to her performances with the Balkanizers, a violin found its way into Karen's hands and the ingredients of the Whitman-Pantell collaboration began to align.
They met, in Woodstock of course, at the Woodstock School of Art in 1991, where Pantell was an instructor off and on between 1979 and 1993. (For the past decade he has been teaching at the Art Students League). Rick had come to town in early 1977, lured by a catalog for the summer art classes and stuck fast to the atmosphere: "I made the trip and looked around and said 'This is it' from the moment I got here. I saw the mountain in February and the spell was on me."
Karen, who had gathered a B.F.A. in Printmaking from SUNY Buffalo and studied at the Art Students League and the famous Parsons School of Design as well as the Woodstock School of Art, was at first unaware of Rick's musical proficiencies.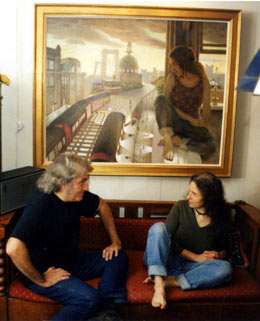 "She told me that she was a folksinger but I didn't mention that I played guitar because everybody played guitar one time or another," Pantell laughed. "Shortly after that she took me to a Balkan music festival and I heard sounds I never heard before- village music from Hungary and all over the Balkan region- scales and rhythms like five beats to the measure; 7, 9, 11. Then I heard Karen sing and went 'whoa!' I had never heard ANYTHING like that!
"So, after that, I went home and pulled the old guitar out of the back of the closet and it took about a month to get my 'chops' back," he smiled.
"Then I told Karen, 'Oh, by the way, I play guitar...' So, then we became a duo and we've been making music ever since."
Whitman and Pantell will be doing just that at the Colony on Sunday where the chuckle-producing theatrics of a tune like "Chicken Fat Pudding"- invisible on the cd- will happily be on display. The cd itself is available from Cdbaby.com or their own website at WhitmanandPantell.com.
For a view of their amazing visual work (which is as magically complimentary as their musical blend when viewed together) can be found at Bearsvillegraphics.com
-Gary Alexander
---
Gary Alexander is an independent journalist and scholar whose focus of interests range through a variety of disciplines. Under various names, he has written (and ghost written) upon history and current event; science and technology, as well as music and the arts in books and for national periodicals. While particularly attentive to the subtle and complex impact upon cultural imagination and contemporary structures of presumption which activity in the above mentioned topics tend to have, Alexander treats his topics with a slightly more than occasional resort to humor.

Posted on Septermber 20, 2006