---
Susan In Motion


Susan Werner at Rosendale Cafe
Thursday, March 14 [2002] at 8pm

with a Belated Note on the Death of Fred Neil

Story by Gary Alexander
Photos by Ray G. Ring IV
---
Maybe you can credit the Pope, at least indirectly, for those spellbinding raptures that acoustic performer and songwriter Susan Werner casts upon audiences coast-to-coast and beyond.
Which Pope? Susan isn't entirely sure because she was only five when her older brother walked into their home on the Iowa plains one day with a guitar. It was sometime after the Vatican II pow wow had decided that nuns can be groovy and one of them had started teaching her brother how to play. The fascinated tyke wasn't overly interested in what she now offhandedly terms a "hippie nun phase" in the cultural environment but she surely was riveted to the sounds her brother was making.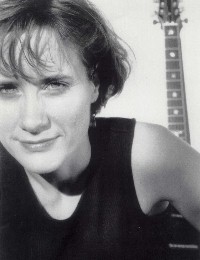 Photo by Lauren Lyons

She said "Can you teach me to do that?" He said "Sure." Now, a long way down the river, she finds herself playing clubs and festivals, touring with Richard Thompson and other musical luminaries or being thrilled when a crowd at the Beacon Theater in New York City, The Big Apple, starts to applaud in recognition at the opening chords of one of her own tunes. It all started with that attentive Franciscan nun.

Along the way, of course, there's been considerable development and refinement, including a Masters in classical voice from Temple University.

"I wrote songs through college but paid no attention to them," said Werner from her current hometown of Chicago. Her sights were set firmly upon recital performance until she came away empty from one of those auditions she had been climbing toward on that ladder and, almost as an afterthought, picked up her guitar and started writing songs again. The response was immediate.

"Everyone said 'wow, where have you been?'- which no one had said in the world of classical music," she recalls.

Werner's latest album, New Non-Fiction, her fifth since 1993, provides ample clues to what spurred the reactions which surprised her back then; the unique and disarming qualities she brings to her own music that would have had scant breathing space in the classical realm. From even a cursory listen to a Werner album, one can clearly picture the amazement these hidden dimensions of talent stirred in those first listeners.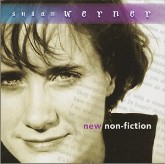 New Non-Fiction

To begin with, Werner retains the zeal for musical form which prompted her five-year-old jaw to slacken at her brother's playing. It's an ardor and respect which attaches noticeably to each composition; a dedicated pursuit of objective. Even at a website posted by a devoted fan to celebrate the lyrics of Werner's tunes, including 60-some-odd unrecorded songs, you will hunt hard to find one which seems just thrown off with a musician's shrug.

Then take a knowing command of an entire spectrum of human emotion and the subtleties of relationship. Werner can glisten the eyes of leather-skinned critics and poke the deeply buried guffaw button behind a crowd's champion of dour.

It takes more than emotional range to hit these spots. It requires pinpoint accuracy - especially when you consider poignancy as a tiny circle in the center of a large maudlin target and recognize that a sense of humor merely makes a dull thump unless it's honed to a point by a rasp of wit. Sensitivity and intelligence are the key ingredients of a Susan Werner performance.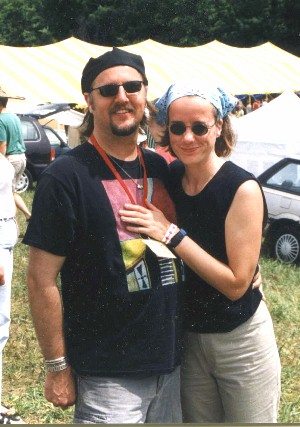 Another element which shines in this artist's repertoire is a grasp of music beyond the conventional boundaries of folk. Including exemplars like Cole Porter, Gershwin or Noel Coward in your guidebook tends to vary your flight plans and Susan can lean jazzward with an astute sense of balance. This knack, she acknowledges, might seem just a touch odd in a native Midwesterner but attributes its acquisition to "a terrific jazz drummer" who had a family to raise and took a high school band director's position as a steady gig.
"He really encouraged me as an improviser- someone who creates their own music rather than reading what's on the page," said Werner gratefully, reciting the typical "sanitized" radio fare of the local Iowan stations...Carpenters, John Denver, Foreigner, Journey...you catch the drift... "This guy saved my life. There were no jazz record marts in rural Iowa. When I was 14 or 15, he was lending me Sarah Vaughan albums, or Ella Fitzgerald. He opened windows to a broader world."
Those windows have opened a keyboard segment in Werner's concerts which features her riveting expeditions into a 21st century version of recreating the great American "standard"style of ballad- which she playfully lavalieres in repartee. A few of these, like an unlisted song on her Time Between Trains cd called "Movie of My Life," will make their way onto albums but most, it seems, are reserved for the artist's "in person" appearances.
In an effort to capture a taste of the zest in her live shows, some of the precious luster of studio recording was left out of the album released in February. Little, if any, effort was made to go back and plug in the usual overdubs of polish and perfection. This lends the flow of song something of the grit and charm of immediacy, approaching a sense of live appearance, at least upon that elementary level.
Sometime Woodstocker Richard Bell contributes few tasty layers of organ here and there and there's a rare cover by Werner of a tune written by a once-upon-a-time Woodstocker; the late Fred Neil.* But the prime focus is Susan's own writing and voice as she emerges with a package of themes with greater definition than you'll likely hear elsewhere these days.
The album title is drawn from a line in "Shade of Grey", a butterflying tune which curdles a wheelbarrel full of advice from others on how to live your life and opens a filing niche on the shelf next to all of those unreadable self-help books.
"The music for 'Shade of Gray' was written first and the words came later," Susan noted. "I found that if I write the musical form first and I'm patient enough to wait for the words to come, I wind up with a more interesting and complex song. More so than if I take the lyrics like a suit off the rack and look for a body to wear it."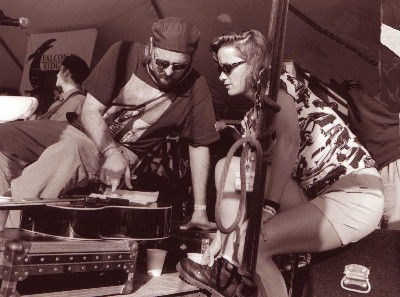 Golden-Throated outlaw Texas songwriter Jimmy LaFave confers
with Susan Werner at Falcon Ridge Folk Festival in August 2001.

An exquisite portrait of the songwriter's plight was painted in Werner's "Courting the Muse" on her Time Between Trains album which touches several times upon 'motion' as a theme. She begins the current disk with "Stationary" and small wonder for someone who plays an average of about 130 shows a year on those parts of the roadmap which never seem to fold back right. Small wonder she sings the praises of Price Line "because you can get 4-star hotels cheap."

Love on the run is the backdrop of "Blue Guitar," another highlight of New Non-Fiction which glimpses romance through a windshield complete with rearview mirror. "Nerfertiti's Dream" is an archeological dig for the enduring components of existence and "Yellow House" rides along as a new century update of pure folk intention with a light harmony from Jon Randall. "Big Car" supplies a touch of light and sly funk.

The restrained rock of "All of the Above" provides a shrewd and amusing take on choices, taste and appetite which perfectly compliments the views of temptation and appearances we find in "Misery and Happiness."

The menfolk still smarting from the feminist sting of "Bring 'Round the Boat" on a previous Werner outing, will find salve in an appreciative retrospect to the silence and solidity of the taken-for-granted "Barbed Wire Boys" who may have puzzled and frustrated a more youthful writer's eye. This stunner links arms with a near-hymn of reverence for the pleasures it was their habit to deny themselves in "Feel Good" and an ode to the presence of 'the present' in "May I Suggest."

All in all, a superb collection of varying flavors and perspectives from an exceptional artist whose talents are daily gaining wider recognition. And it all started when the Pope said it was time to loosen up. I wonder how that sounds in Latin?

-gary alexander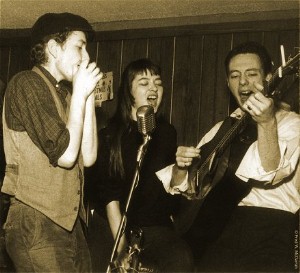 Bob Dylan, Karen Dalton and Fred Neil
at the Cafe Wha? Feb. 1961
Photo by Fred W. McDarrah

* cancer took Fred Neil's life last year and, over the years, many tasteful artists have paid him the tribute of recording his songs. his legacy in the music world is much deeper than realized by the general public but, happily, almost all of his known recordings have been reissued for future generations to discover. (finally, and posthumously, elektra records released a pair of classics from their vault on cd around the time advance copies of New Non-Fiction began to circulate. Capital had clustered their collections unto a couple of disks in 1998).

Since I had the privilege of knowing Freddy during his Woodstock years, I'd like to seize this opportunity to comment briefly on the "mystery"of Fred Neil.

Peter Doggett opens his liner notes for the Elektra reissue with "A layer of mystery cloaks almost every aspect of Fred Neil's life, from his childhood to his seclusion in Florida for the last 25 years. The enigma stretches from the fine details of his early life to the mysterious silence of his creative voice, which flowered on a series of majestic and compelling albums in the 1960s."

Even John Sebastian, also a Woodstocker and a stalwart of the early pre-Lovin' Spoonful days of the Village scene who played with Fred in that rarified era, notes in the Capital release that "Fred was mysterious. His background was sketchy. He'd played around the Memphis scene, played with Buddy Holly, written for Roy Orbison. He'd been performing and writing under pseudonyms, been in gospel groups..."

True. Fred lent a line of authenticity to Bleecker Street nights haunted by college kids with hootnanny guitars and streetlight sunglasses...and it was his own true authenticity as evolved on a half dozen circuits. He, Van Ronk and a few others were the pillars that held up the ceiling a young Bobby Dylan walked under when he took his first steps toward a Greenwich Village stage.

The late Karen Dalton, whose unforgettable crease of a voice was also a feature of those little Village clubs and who also spent quiet years tucked away in Woodstock, was another indelible piece of anyone's life who happened to hear her even once.

There are varied reasons a performer may find it more and more difficult to get it together to play. Some of them the common ones you think of first; some of them unusual and deeply personal. In Fred's case, it never really was that big a mystery. He loved the music, freestyle and rolling, not the discipline and not the spotlight. You could see it when he played, hunkered over his guitar, face toward the floor as if pretending he was alone...as if thinking hard about the lines he was singing...lines about getting away, going home, being free in the salt air and sunshine of his native Florida.

Susan Werner covers "Everybody's Talkin'" on New Non-Fiction with the almost eerie push-pull feel of a changing tide. A place where you're being tugged toward shore and drawn out to sea at the same moment. Fred would have recognized the feeling.

Like any public figure, Susan understands a performer's special premium on privacy. A quiet Capricorn like Fred wasn't keeping any real secrets. All of his secrets were opened in the authenticity of his music. If you want to know his secrets, you should listen to his recordings. You should have them and listen to them anyway. You'll hear what he was saying and doing in every time-frozen song.

-Gary Alexander
---
Gary Alexander is an independent journalist and scholar whose focus of interests range through a variety of disciplines. Under various names, he has written (and ghost written) upon history and current event; science and technology, as well as music and the arts in books and for national periodicals. While particularly attentive to the subtle and complex impact upon cultural imagination and contemporary structures of presumption which activity in the above mentioned topics tend to have, Alexander treats his topics with a slightly more than occasional resort to humor.

Posted on March 10, 2002