The SUMMER FESTS
of the Hudson Valley
by Gary Alexander
...include the second annual Grey Fox Blue Grass Festival featuring Ricky Skaggs, Tim O'Brien and scores of other favorites set in the hills east of the Hudson...
It's a yearly opportunity to break free of that New World Odor seeping out of your radio with a steady aroma of the corporate captive playlist and catch a gathering of some of the finest musical artists in the Northern Hemisphere, many of whom will play in our area only on these occasions.

Singer-songwriter Jean Bratman, on the main stage at Falcon Ridge 2000.
Doug Wray, bass (background).

One of the lasting highlights of last year's Falcon Ridge Folk Festival was the relatively unknown Portland, Oregon-based duo of Dave Carter and Tracy Grammer (See article The Dreamer & the Butterfly: Dave Carter & Tracy Grammer at The Rosendale Cafe). who return this year as featured artists. After capturing the crowd last July with their wise, literate and finely-crafted songs and releasing an album which ranks among the best three folk albums of 2000, they returned to the area in the Fall to light up a fortunate audience at the Rosendale Cafe.

Other artists featured in the gala event, which runs July 27 through 29, include Dar Williams, John Gorka, Jimmy LaFave, Lucy Kaplansky, Susan Werner, Vance Gilbert, Mark Erelli, The Nields and scores of others. Not infrequently, at these events, the most profoundly memorable performances come from musicians you may not have heard of before.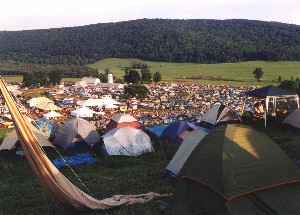 Peaceful good times at Falcon Ridge 2000...
not too big... not too small.

Winterhawk 2000 - Bluegrass and Beyond festival this year is especially strong in singer-songwriters we seldom have opportunity to catch in person, not to mention speak with as they wander the grounds. Greg Brown, Guy Clark, Steve Forbert, Stacy Earle, Dave Alvin and others join a powerhouse line-up of top shelf pickers which includes Commander Cody & His Lost Planet Airmen, Vassar Clements, Tony Trischka & Skyline, The McKrells, Donna the Buffalo, Groovemongers and many more. Runs August 3 through 5.

There are numerous musical peaks for live performance in our area during this all-too-brief outdoor season but this is the high point of summer feast in the Hudson Valley region. Check your calenders....

-Gary Alexander
---
Gary Alexander is an independent journalist and scholar whose focus of interests range through a variety of disciplines. Under various names, he has written (and ghost written) upon history and current event; science and technology, as well as music and the arts in books and for national periodicals. While particularly attentive to the subtle and complex impact upon cultural imagination and contemporary structures of presumption which activity in the above mentioned topics tend to have, Alexander treats his topics with a slightly more than occasional resort to humor.

Posted on July 18, 2001