Chris Smither: Evolution of a
Livelier Than "Live" Songmaster
by Gary Alexander

Preview of Chris Smither's appearance
at the Rosendale Cafe,
8pm, Sunday, March 25.
There's a short list of true masters of acoustic format music who are not quite household names and one of them firmly entrenched on that list makes an appearance Sunday night at the Rosendale Cafe.
It's not a "secret" wisdom that there is currently no more masterful alchemist than Chris Smither when it comes to extracting the purest blend from the musical argots of blues and folk. But it's not precisely mainstream knowledge either and this simple fact tends to enhance Smither's mystique among devotees who recognize his nearly unique position straddling both traditions at the acoustic threshold of rock.
This was not the way he planned it in his native New Orleans when Smither set his course northwards in the mid-1960's to New York and Boston.
"I was 21 and it was sort of the tail end of the folk and acoustic boom that gave rise to Dylan," Smither recalls before tipping his hat to another blues-rooted singer-songwriter. "I had met Eric Von Schmidt in Florida and he gave me a lot of encouragement. He told me 'You should get up to Cambridge, where people will listen to what you're doing' and it was true. New Orleans is a famous music town but nobody was into that kind of music at that time. I was basically doing a whole lot of acoustic blues, listening to Skip James, Mississippi John Hurt, Lightnin' Hopkins, Robert Johnson, stuff like that and in the mid-60's nobody was paying any attention at all to that down there."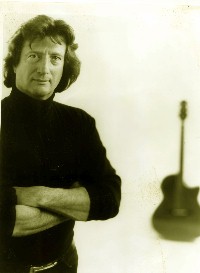 Calculating that he had to set his sails for either California or the Northeast to arrive at where "it was happening" on his frontiers of music, Smither landed in Boston and built a reputation which landed him a contract with a small record company which not only boasted low profile legends like Townes Van Zandt but also carried Lightnin' Hopkins in its catalog. His first album for the Poppy label in 1970, I'M A STRANGER, TOO, was a critical success which contained a Smither-penned song "Love You Like a Man" that Bonnie Raitt regendered into a hit. Michael Cusina, who co-produced it and also worked with Raitt, Garland Jefferys, Eric Kaz and Eric Von Schmidt around that time, soon brought Smither to Bearsville to record his second album, DON'T IT DRAG ON. This not only yielded another hit for Raitt in her cover of "I Feel the Same" and further critical acclaim for Smither but contained one of the first public glimpses of Bob Dylan's then-mysterious "Basement Tape" songs in Smither's own cover of the reclusive icon's "Down In the Flood."
In all, 8 of the 22 songs on Smither's first two albums were covers of other writers' works, a fretless pattern which has persisted in his subsequent releases, averaging 3 or 4 an album.
"I like doing covers," Smither reflects. "Singer-songwriters don't normally do covers these days and I think most of that is really kind of an apprehension on their part...If you do nothing but your own songs nobody can really criticize you by comparison. Whereas, if you do other people's songs, you open yourself up to all sorts of comparisons which may not be flattering."
In an indirect way, this is most likely one of the reasons Smither's own tunes, which have become more polished and precise in latter stages of his career, aren't more widely covered by other artists. Although staunch souls like Peter Mulvey, John Mayall, Rosalie Sorrels and others have cut Smither tunes, the very premise of covering another writer's song, beyond tribute, is the presumption of bringing something new to it or at very least performing it as well as its originator. And there's the rub. Smither's soulful performances of his own songs are so enthralling that would-be song-suitors have to be daunted by the challenge of what their own talents could bring to them. How would you reupholster a classically rendered antique settee? His extraordinary proficiency as an entertainer creates a peculiar circumstance which helps to explain the lethargy of widespread recognition of Smither as a songwriter.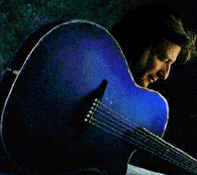 In concert, Smither plunges in to envelop a song with an energy and grasp which can virtually outperform a four-piece band; a disarming business of melodious sound emanating from a single source; embellishing, massaging, injecting and making it all his own. Although you can hear it on his recent live solo cd LIVE AS I'LL EVER BE, it's difficult to fully fathom the intensity of his immersion in the music without seeing him drive his base stake into its center with his stomping foot as he twines subrhythms around it on his famous blue guitar. Thumb and lower fingers vitalize the beat as he picks out its counterpoint heart with the others and hauls its message and melody into place with a back-throated, cushioned growl sporting range-limited but shining syllables like the flash of silver fish in a dark water stream. Split tempo movements of shoulders, elbows and hips adhering to the mixed musical currents blend dazzlingly into a collective vehicle for the song which is so involving that the melodic and lyrical essence of a tune are mere ingredients of the whole. His consummate showmanship is a prime factor in marginally reducing the stature of the pure song and hence the songwriter.
But look again. Smither's creations at their root are subtle and complex while their pace is never forced. They are sometimes Randy Newman-sly and humorous but where Newman insets the breathing space for his lines to sink in, Smither is enrapturing his audience with subrhythms, involving their bodies with a compulsive hunger for movement; a sway, an irresistible tapping of finger and foot.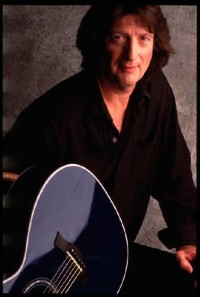 Photo by Marc Norberg
While Smither's distinctive guitar stylings were first planted in delta-land feelings, they have evolved into a sound that's his alone, elastic enough to lean into Tex-mex territory, as he does on "Tell Me Why You Love Me." Here, he reflects upon the prevailing spirit in a San Antonio dance hall to observe "All they seem to care about is how they feel tonight/I've lived that way before/But I can't do it anymore/Just because it isn't wrong don't make it right."
The self-reflection in these lines may very well harken back to hazier days of Smither's own life as the Poppy label fell upon hard times and his contract was picked up by United Artists. He recorded a third album with Cuscuna called HONEYSUCKLE DOG in Bearsville and New York City which remains unreleased to this day.
"United Artists was taken over by TransAtlantic Corporation and basically ceased to exist as a record company," Smither recalls. "Personally, my life was headed down the tubes at that point anyway. I was drinking a whole bunch and basically spent about the next 10 years 'out of it'," He adds with a pained and self-conscious laugh. "I still performed but I didn't really have much in the way of representation and I wasn't recording."
Smither will not allow the notion that having his new album locked in a can was a principal contributor to his slide.
"No," he insists, speaking of a decade during which he kept ends together as a mason and carpenter who played out occasionally. "I mean it was a convenient excuse but I was a pretty confused, sick individual. In the beginning I felt like 'Well, one of these days I'll just get myself together and everything will be okay.' Then gradually, as time went on, I started feeling like 'Well, the pace has changed and no matter how good I am, nobody's going to listen to me anymore anyhow...' But that wasn't a very realistic appraisal. I mean here you're looking at a really muddled self-justification of a drunk who's looking for any answer as to why he's not a success other than looking at himself...
"About 1985 I got sick and tired of the kind of life I was leading and started to clean up my act. I just suddenly woke up and realized I wasn't doing what I was supposed to be doing to make myself happy. As I started to get healthier, I was in a period which happened to coincide with a reawakening of interest in acoustic music and songwriters in general. So, I found some representation and started working on tunes again and discovered that I still had something of a reputation left. At least I was a known factor. .."
Taking himself as a "known factor" with all of the ramifications of that perception from his earlier career, Smither applied fresh degrees of realization and maturity in forging new authority into his presentation. Without real determination and genuine talent, this might have been a shaky proposition for any artist but Smither made it a turning point he had resolved to pirouette in his favor and the rest of the story is a happy one in the annals of contemporary music.
Smither retrieved a few of the songs on the "lost" album for his 1984 release on Adelphi, IT AIN'T EASY; a performance oriented album with only three original songs. His writing chops were back in shape when he returned to Boston to record 1991's ANOTHER WAY TO FIND YOU and 1993's HAPPIER BLUE on Flying Fish, the latter of which won the NAIRDIndie Award for best folk recording of the year.
"Flying Fish was an independent label when I signed with it," Smither recalls. "I didn't actually sign with them. Essentially, I paid for (the sessions) and they leased (the albums) from me. Before the leases ran out, Bruce Kaplan- who was the head man at Flying Fish- died very suddenly after a very brief illness and the company was taken over by Rounder in the subsequent shake out and is now one of the Rounder family of labels."

Smither's ownership of the albums enabled him to decline renewal of the leases at Rounder when he found himself uncomfortable at the label and re-lease them to the Hightone label, with whom he's recorded ever since. Each succeeding release from Hightone has brought widening acclaim to the artist- UP ON THE LOWDOWN in 1995; SMALL REVELATIONS in 1997 and 1999's DRIVE YOU HOME AGAIN, each produced by Stephen Burton and recorded at the Hit Shack studio of Austin, Texas. Last year's solo wonder, LIVE AS I'LL EVER BE, was captured in concert at various venues in Ireland and around the United States. His song "Slow Surprise" was covered by Emmy Lou Harris for the soundtrack of Robert Redford's HORSE WHISPERER movie, a film Smither understandably finds less interesting than its soundtrack album. The presence of one of his tunes is another notch of recognition of his songwriting abilities.
"There's a certain amount of confusion, in my case, between people who think of me as a songwriter primarily and those who think of me as a 'blues guy' because I did so much blues in the beginning and my earlier songs were very blues oriented," Smither notes. "Not to say that there isn't a touch of that currently but, for some reason, it just took a long time for people to think of me as a songwriter. Primarily, it wasn't the first thing that would spring into their minds."
During Smither's "missing years" a British 12-string wizard named Michael Chapman recorded a memorable series of albums, most of which were never released in the United States, that were somewhat reminiscent of Smither's style but without quite Smither's rhythmic roots injection. Notably absent from Chapman's repertoire were cover songs and Smither feels that such avoidance may be partly traced to a perceived negative tone to the word "derivative."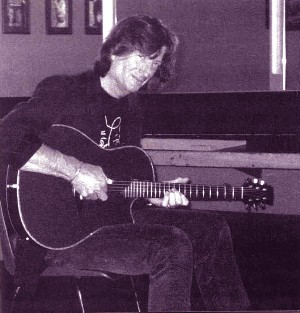 "I think most, especially young songwriters, are wary of giving any kind of hint of what their origins are; who they listen to," he observes. "I remember thinking that myself as a young songwriter...It's really amazing that people want you to think that they sort of sprang out of a tree as a full blown bird, that there are no origins there. It's just a theory but I can't think of why people are so reluctant to do covers."
Looking back on his first two albums, which were rather starkly blues derivative and focused on the raw simplicity of the language of blues, Smither can trace his stages of development.
"I didn't think it at the time but those were young man's records," he laughs. "I'm an older man now. I've learned a lot and actually become a much more disciplined writer than I was. The songs are just more tightly focused. I come up with things to say and I say them without wasting a whole lot of time in generalities. I think I've got a better idea of what I'm doing, plus I'm not plagued with this sort of amorphous, nebulous notion of becoming a 'star'- which I wanted to be when I was a kid. That was before I realized that you don't have to be a star to make a quite respectable living in the music business.
"As a consequence everything has just improved and there's an obvious change. In a way, it's sort of a tautology. You have to keep changing in order to keep doing it. You can't keep repeating yourself," Smither reflects, noting that, although he had covered a Mick Jagger tune early on, he finds the Rolling Stones more recent releases, "as good a band as they are," cluttered with "rehashes of every Rolling Stones riff or idea that I've ever heard. If you don't change, then you basically die as an artist."
Conversely, since his comeback, Smither has continued to grow progressively in creative directions and in fan appreciation. Over the past decade, Smither has found enthusiastic audiences all over North America, the British Isles and Australia. Making ever wider circles of appearances has elongated the regularity of his visits to the HudsonValley area. That's reason enough to circle March 25th on your calendar.
-Gary Alexander
---
Gary Alexander is an independent journalist and scholar whose focus of interests range through a variety of disciplines. Under various names, he has written (and ghost written) upon history and current event; science and technology, as well as music and the arts in books and for national periodicals. While particularly attentive to the subtle and complex impact upon cultural imagination and contemporary structures of presumption which activity in the above mentioned topics tend to have, Alexander treats his topics with a slightly more than occasional resort to humor.

Posted on March 7, 2001