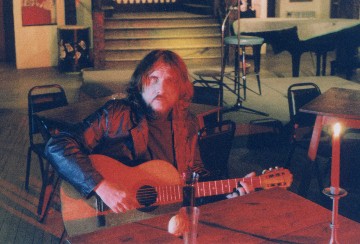 Reviving Folk Tradition
Tom Pacheco at The Colony, May 25

Story by Gary Alexander
Photos by Ray G. Ring IV
Pete Seeger was eating a bowl of breakfast cereal in the kitchen of his home outside of Beacon last week when Tom Pacheco arrived with a crew of two to record the legendary folksinger's contribution to Tom's forthcoming album.
At 83, Seeger was bright, alert and filled with stories to share as the album's producer, Scott Petito, and studio organizer Beth Reineke set up digital recording equipment in Pete's living room. The pair's target was the capture of that fabled Seeger banjo on two of the album's tracks; "Indian Prayer"- an older Pacheco song covered by Richie Havens on his Mixed Bag 2 album but never before recorded by Tom and "What We Left Behind"- an uptempo alert on the cultural state of the nation which will likely be heard at The Colony in Woodstock when Tom plays there Saturday night.
Recently returned from a tour of England and Scotland comprised of 14 shows and a benefit for a mountain rescue foundation in Northwest Britain, Pacheco settled into a breakfast nook with the always active Seeger, his wife Toshi, and fellow performer Roland Mousaa. Over the kitchen table, Seeger spoke of his early days with The Weavers; of his first meeting with Woody Guthrie at age 20; of the initial emergence of "This Land Is Your Land" as a classic-to-be in surprising venues like children's books; of the pre-McCarthy Era blacklist in the late 1940's; of music and politics; of kings and cabbages...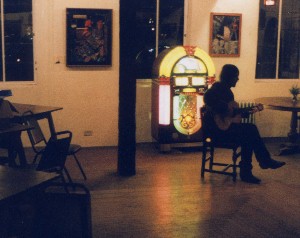 Seeger aired his opinions about the unprecedented powers of the Bush administration and George Dubya's role as "frontman for huge international corporations." He saw today's right-wing powers as meticulously organized and well-financed in comparison to opposition on the left- which he described as splintered and squabbling. He bemoaned portents as disturbing as anything you might read on emperorsclothes.com or thatsonofabush.com. As well-read, insightful and intelligent an observer of world event as in days of youth, Pete Seeger continues to maintain a vigorous interest in current affairs.
When conversation turned to Tom's father, Tony Pacheco, a painter and visual artist as well as a musician who played with Django Reinhardt in his heyday, Seeger reached for his banjo and smiled; "Here's one your father might like..."
Seeger then preceded into a lively version of the 40's standard "Blue Skies," playing chords and melody simultaneously and demonstrating that, although the years may have taken a bit of a toll on his singing voice, his musicianship was still at top notch.
"He was right. My father would have loved it. He played that tune himself," Pacheco reflected with glee. It was a pinch-me moment for Tom. Here was the man who wrote the chords to the first folk song he ever played on guitar, preparing to add his charismatic expertise to Tom's own songs. He found Seeger's enthusiasm for what he had written gratifying and humbling.
An incredibly prolific songwriter, Pacheco gathered sixty songs from his more recent notebooks to consider for inclusion on the new album. After paring selections down to about 25 possibilities, he brought them to producer Scott Petito at NRS Recording Studio in Catskill to deliberate on their compatibility. Petito, a multi-instrumentalist whose reputation as an album producer has been on an upward spiral in the past decade, offered his input and ideas and, after several sessions, the list was down to 16 and, finally, 12.
Among musicians recruited to the project include Jay Unger, The Band's Richard Bell and Jimmy Weider, Leslie Ritter, Kevin Maul and, of course, on a wide variety of instruments- Scott Petito.
Tom, with the models who helped create a sense of gaiety in times past for the perspective back cover of There Was A Time.
A key song in the collection, beyond the breath-taking title track "There was a Time," concerns the plight of lower-tier employees of a large corporation which went bankrupt after upper management had urged underlings to invest heavily in company stock. Featuring some of the most dazzlingly brilliant percussive work we've heard in years by Jerry Marotta- a West Shokan drummer known internationally for his work with Indigo Girls and a number of other high-profile acts- the song, "What About Us," is of course a fantasy which couldn't happen in the real world. Rest easy, folks.
Another stand-out track tells the story of Julia "Butterfly" Hill, who climbed high into a California redwood and stayed there stubbornly in an effort to save it from an "old-growth" lumbering company. Riding on a melody that stays with you long after the song is done, Pacheco's salute to the "counterculture" heroine nonetheless carries a message which undoubtedly would have caused record executives at mega-corporations some hesitation about releasing it. That factor is another part of this story.
In an age when diversity of opinion, once prized as essential to democratic principles, has become an increasingly endangered option in the face of corporate mega-media, today's singer-songwriters must confront a "chill factor" which doesn't even have to be spoken. If it were voiced aloud, it would sound like "When you sing, try not to say anything meaningful or critical... Take my advice, kid, keep it to the birds and bees... Otherwise, it's not going to get played."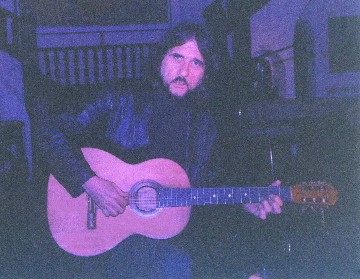 With a handful of companies, often interlocked in partnerships, owning and controlling music labels, radio stations, movie studios, magazines, book companies, television and cable networks, Internet companies, newspapers and other sources of information and entertainment worldwide, there are ever fewer outlets for artists not signed into the combine. Program lists at radio stations are the rule and, when the company's interests are logged into promoting their own properties and standards, competing viewpoints need not apply.
Tom Pacheco's last American album, Woodstock Winter, was released on the Mercury label in 1997. Although he has recorded in Europe since then, (including two double-CDs in England and a fine joint effort with Norway's celebrated Steinar Albrigtsen), since the Mercury release- critically attributed with a near "classic" status since its appearance- U.S. companies have not exactly beaten a path to his door. Between the time it was recorded and its release date, Mercury was acquired by the Polygram Corporation and, although it may be difficult to prove conclusively, many involved in the album feel they have cause to suspect that higher executives at Polygram felt its songs had too much to say and "privished" it.
As Kristina Borjesson defines "privishing" in her recent and vital book "Into the Buzzsaw: Leading Journalists Expose the Myth of a Free Press," it is a way of suppressing a work without appearing to by installing publication limitations to insure curtailed exposure. Such practices give lip service to concepts of free speech. Fortunately, a small, independent but internationally distributed label, Appleseed, will be releasing There Once Was A Time in August. The label, which also carries albums by Tom Paxton, former Woodstocker Eric Andersen, John Stewart, Dick Gaughan and other songwriters of high regard, demonstrates the courage of its convictions by continuing to air views which might furrow the standard corporate brow.
The Pacheco playlist contains tunes which address the human situation with tenderness and humor. They are typically thoughtful, imaginative and moving. Do they contain dangerous ideas? Ask yourself "dangerous to whom?" and don't wait until August to hear examples of this powerful new collection. Be at The Colony on Saturday night...
-Gary Alexander
---
Gary Alexander is an independent journalist and scholar whose focus of interests range through a variety of disciplines. Under various names, he has written (and ghost written) upon history and current event; science and technology, as well as music and the arts in books and for national periodicals. While particularly attentive to the subtle and complex impact upon cultural imagination and contemporary structures of presumption which activity in the above mentioned topics tend to have, Alexander treats his topics with a slightly more than occasional resort to humor.

Posted on May 23, 2002