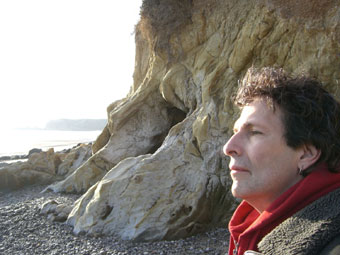 Charles Lyonhart
The "Back From the Dead" Concert
Charles Lyonhart at the Colony Cafe
Saturday, March 31

Story by Gary Alexander
Photography by Eeo Stubblefield
The skull that frowned back from the mirror seemed to have leaked away all of its animating hope...It was over. He could see it in the shadows cast across his face by an nearby window. It was done.
"I looked in the mirror every morning and saw myself dying more and more," singer-songwriter Charles Lyonhart recalls. "I was a ghost. After a while I just saw a skeleton standing there because my face started to sink in and I was getting jaundiced. I wore a lot of make-up just to go out because I was embarrassed at how bad I looked."
Going out was an occasion which occurred infrequently in those months of twilight existence as Lyonhart fought for scraps of energy. He describes awakening after a night's sleep and becoming overwhelmed by a need to return to bed after struggling to shower and dress. But the performer will be out and about on Saturday, March 31st when he brings a revitalized presence to The Colony stage in Woodstock with his first full performance since a life-saving surgery renewed his energies and his outlook.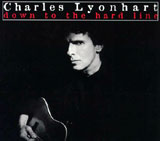 Having managed to complete an album called Down to the Hard Line with his waning, nearly depleted energies in 2005, Lyonhart expresses a deep resource of gratitude for the friends who had seen him through the project, including stellar guitarist Larry Campbell, who contributed luminous lines of notes to highlight the singer's melodies between his travels as part of Bob Dylan's touring band. Also instrumental in the album's construction, if you'll forgive the pun, was ace keyboard player Lincoln Scheifer, who'll be on hand for the "Back From the Dead" concert along with Julie Last and Brian Hollander, famed fiddler Fooch, Jeff Streichert and Mimi Paturel.

"Hard Line" had followed two solid collections of Lyonhart tunes- Exception To the Rule and Leap of Faith which featured rousing rockers like "Senorita, Dance" and haunting ballads like "Arms of Sweet Helena," which chillingly harkens back to a decade and a half of addiction to heroin and methadone, an obstacle which forestalled his musical career until he managed to slip out of those seductive "arms" in the 1990's.

The legacy of those lost years were not through with him, however, and the dehabilitating effects of a Hepatitis "C"viral infection increasingly sapped his strength that year as he suffered the loss of his close friends and fellow singer-songwriters Mindy Jostyn to cancer and, months later, John Herald, whose suicide in July of 2005 jolted the music world. Lyonhart, who traveled to Woodstock each week as part of the "Tuesday Night Committee" which organized a grand tribute to John at the Bearsville Theater, felt himself fading fast and became convinced by the unwritten "Law of Threes" that he was next on the funeral list.

In October of 2005, Charles had the medical tests which confirmed his fears by revealing that he had liver cancer.

"That was a death sentence," Lyonhart said. "They told me, in essence, that they could give me blood pressure medication to help keep me from bleeding to death internally but, other than having a transplant, I was going to die...And I made peace with that. After all those years of living on the edge as I did, I believed that was the price I had to pay for the life I had lived during those decades. As sad as I was, I came to terms with it. I had done this to myself and there was no one else to blame. I had my will made up and said goodbye to all my friends."
When Lyonhart broke the news to his friend Larry Campbell, showing him the x-rays, he was stunned when the guitarist smiled.
"This is liver cancer, Larry, what are you smiling for?" Lyonhart asked incredulously. "But he had known about transplants because he had worked with (former Grateful Dead musician) Phil Lesh, who had a liver transplant and his good friend Butch Denner, who managed The Band, also had one. So, he said this was absolutely a good thing because if I had cancer, I would go to the top of the (organ recipient) list and, if everything went right, I'd be 'swinging by Spring'."
"I thought he was out of his mind at the time but he was right about the donor list," Lyonhart conceded. Put on the UNOS (United Network of Organ Sharing) list in November, he received a call on Christmas day to report to the hospital immediately because they had just received an organ for him. He later learned that the tumors would have killed him by January or February if the liver had not been removed.
Infecting an estimated 150 to 200 million people worldwide, Hepatitis C is spread by intravenous drug use, tattoos, "unsafe" sex and other means. Not uncommonly it leads to cirrhosis and/or liver cancer. Lyonhart didn't learn that the survival rates for transplants of the body's largest solid organ were only 50 to 60% until the last moment but, by then his mind had been made up during a meeting with Phil Lesh (who now has a Hepatitis C page at his website).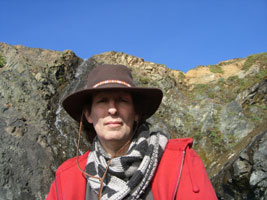 Any lingering doubts were dispelled when Lesh told him that he had lived to see his kids grow up because of the operation and asked Lyonhart if he also wanted to see his kids grow up. When Charles responded "Of course," Lesh, looking in the prime of health, said "Then don't even think about it- get the transplant!"
"What choice was there?" Lyonhart pondered, reflecting on the pre-surgical eternity he laid on his couch day after day, rising only for brief trips to the bathroom or kitchen. "When you have liver disease, you can't do anything. You have no energy, no ambition. You're just frozen in suspension, waiting to die, wanting it, watching the world go on around you."
Lyonhart was out of the hospital by New Year's Eve but it would be a long time before he could even hold a guitar much less play one and sing. Singing would take months of recovery to achieve. Deep breathing was painful enough between gulps of painkillers, steroids, the essential anti-rejection drug Prograf and other medications he was required to consume.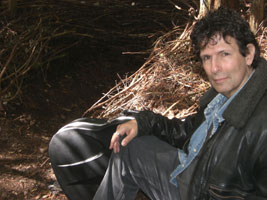 "The irony is that, having fought for so many years to get off junk so that I wouldn't have to take something every day just to stay straight, now I have to take this stuff daily to fight off rejection," he sighed, acknowledging himself fortunate to have had the medical insurance to help pay for the vastly expensive surgery and continuing pharmaceutical therapy. He laments the loss of another friend last year to liver disease simply because he lacked the insurance he needed for a chance to stay alive. Lyonhart also found his previous experience in kicking drugs helpful to ease off of the painkillers once they were no longer needed. And, he is quick to add, he was fortunate to have the music to keep him going through darker moments.
When you look at Charles Lyonhart today, you can see traces of the medical miracle glowing from his edges. He appears healthier than at any time in recent memory and seems to stay happily busy morning to night, speaking with a trace of awe about difficult-to-define changes he has noticed in himself.
"I'm not the same person I was in some ways," he notes. "With a transplant, you're not just getting a functioning liver, you're getting a lot of DNA and the liver controls so much of what else goes on in the body. I know I've changed a lot in the way I view things. I'm not saying that in a bad way but the way I view time and spend it with people is different. Coming that close to death brings realizations about the things that are really important in life- your friends, your family. Everything else is bullshit. You can't buy back your daughter if she goes over to Baghdad and gets killed. All of this has refreshed my value system."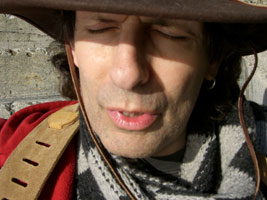 Although he has "sat in" as a guest on a few gigs recently, Saturday night's show will be Lyonhart's first opportunity to fully display the enhanced guitar playing ability he developed during his recovery period and to air new songs written for an upcoming album called Maverick Road in honor of John Herald, who lived and died in his little cabin on Maverick Road. One of the songs, "Outside, Looking In," reflects on the tragedies of that year of upheaval in his life and contains the refrain "They say the road goes on forever but they're wrong." But, in Lyonhart's case, it goes on for now with fewer clouds overhead.
-Gary Alexander
---
Gary Alexander is an independent journalist and scholar whose focus of interests range through a variety of disciplines. Under various names, he has written (and ghost written) upon history and current event; science and technology, as well as music and the arts in books and for national periodicals. While particularly attentive to the subtle and complex impact upon cultural imagination and contemporary structures of presumption which activity in the above mentioned topics tend to have, Alexander treats his topics with a slightly more than occasional resort to humor.

Posted on March 31, 2007