This article was originally published in the Woodstock Times, May 2000.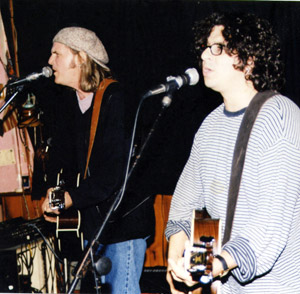 Lowen & Navarro In The Hudson Valley Area
Story by Gary Alexander
Photos by Ray G. Ring IV
Sure it was a squeeze venue on their tour- Woodstock sandwiched between the South Main Cafe in Blacksburg, Virginia and The Bottom Line in New York- and it was a tuesday night, but even so the crowd at Tinker Street Cafe, although suitably impressed, was disconcertingly sparse for an act the caliber of Lowen and Navarro. Why was that? The young lady next to me, having traveled a hundred miles to record their set on her mini-disk system wanted to know.
Let's start with duos. Many acts are duo-based but they supplement themselves with a rhythm section and call themselves a band. I could list a page of duos here most of you will not have heard of and some that are familiar...Dillard & Clark, Hall & Oates, Richard & Mimi Farina, Ian & Silvia, Sonny & Cher, Levitt & McClure and so many others with '&' as a middle name.
Simon and Garfunkel, of course, the most popular duo act of relatively recent recall, was an unbalanced match that hinged most pertinently upon Paul Simon's poignant lyricism and acute sensitivity to the percussional environment of a song. But they came in before corporate mass marketeering rains washed away the folktrails and when Lowen and Navarro entered the scene, they did so upon the mucky floodplains between Country Lane and Rock Boulevard. The enclosure to their irrepressible 1993 Broken Moon album on the Parachute/Mercury label included an extra mail-in leaf desperate to identify the audience. With a confused, slightly embarrassed, almost apologetic tone, it starts;
"I'm an adult now- and I still love music! If you answer yes to the above statement- let's talk. Parachute is a label geared to the progressive adult listener who may have tuned out to most current popular music." Limbo.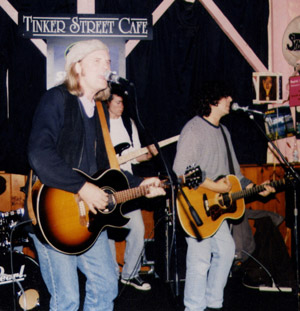 Then there's the age factor- these guys may not look it but they're in their 40's; "We've always lied because people don't like that," admits Eric Lowen, a tall, laidback Nick Nolte kinda lug with a veiled but astute intensity. "They don't like to hear that we're 'old guys', I don't know why. It's a young person's market I guess and we certainly meet a lot of (industry) resistance from that."
How often do you get record club come-ons in the mail? They always ask you to check a category, right? Here's your choices- courtesy of the Columbia mega-group- HARD ROCK (Eric Clapton, Third Eye Blind); SOFT ROCK (Mariah Carey, Elton John); ALTERNATIVE (Beck, Tori Amos); HARD MUSIC (Ozzy Osbourne, Kiss); RAP/HIP HOP (Will Smith, Puff Daddy); COUNTRY (Garth Brooks, Trisha Yearwood); CONTEMPORARY CHRISTIAN (Amy Grant, Michael W. Smith); DANCE/POP (Savage Garden, Backstreet Boys); GOSPEL (God's Property, Shirley Caesar); R&B (Brian McKnight, Erykah Badu); LIGHT SOUNDS (Barbara Streisand, Enya); EASY LISTENING (Ray Conniff, Frank Sinatra); CLASSICAL (Placido Domingo, Yo-Yo Ma); JAZZ (Kenny G, Miles Davis); LATIN (Rick Martin, Ana Gabriel, Victor Manuelle). That's it, folks. Study that list. Are you covered? Acoustic singer-songwriter isn't even an option on a mass-market scale. It's enough to cause Lowen & Navarro fans some hopeless eye-rolling.
Simply the best duet on the national pop scene today, Lowen and Navarro do things with harmonies not even approached by other performers. That instinct and sophistication is what locked them as a pair a decade ago when they were working together as waiters in Los Angeles.
"I couldn't stand him," comments Dan Navarro, joining the table late after a chat with the late Richard Manuel's ex, an old friend. Shaggy, a trifle pudgy and remarkably articulate, Navarro seems the very antithesis of his partner.
"No, we didn't get along that well," shrugs Lowen.
What broke the ice? "We sang together," they said together. Navarro picked it up and detailed a bit of how he had accumulated his vocal expertise over years of working with and around other voices when he wasn't playing solo gigs. "I was accustomed to supplying something to improve the sound of anyone I sang with, countering how they deal with the vagaries of their own approaches and this was the first guy I ever met who could not only keep up with me but surpass me. So, I would try to outdo him and, from the first time we ever sang together, it was literally 'look and go, man! How'd you ever think of that?'"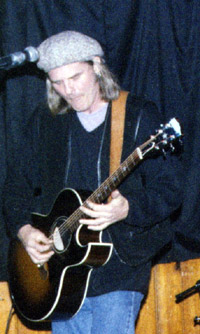 Lowen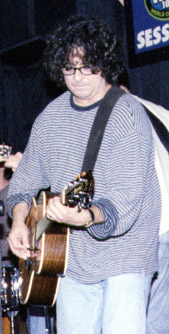 Navarro

L.A.-born Navarro grew up near a bordertown featured on a flipside by The Diamonds way back- Calexico, California. He was already songwriter when the pair first met.

"Dan, definitely, is a very facile lyricist. He can 'come up' with a song," observes Lowen, a Saratoga Springs native who grew up in Ridgefield Park, New Jersey before heading west with singer-songwriter (and one-time Woodstocker) Bert Sommer. "With me it's when inspiration strikes and, a lot of times, he's the arbiter and polisher of that."

The flavorful dynamics of their harmonies, strongly in evidence on their fifth and newest album Scratch At the Door (Intersound Records) inherently avoid the common prettified pitfalls of such endeavor by staying tough, vital and elastic while pulling, counterpointing, weaving or reinforcing an intricate interplay of tonalities. But it's the songwriting, the music itself, that makes that vibrant viability almost inevitable. Their Tinker Street set was drawn mostly from the new material and backed solidly by Uma bassist Robbie Harrington (who's featured on the album) and a tasteful drummer whose name I lost. Sorry.

Known largely as authors of exquisite, damn near flowery, songs of romance covered by acts from Dave Edmunds to Pat Benatar, The Bangles to The Four Tops and The Temptations, the tunes they offer on their self-produced Scratch At the Door are grittier takes on life both musically and lyrically. Stepping away from dewy but artful love themes, they take provocative, biting jabs at eye-avoidance areas in an age of delusion and turmoil. Tube voices tell you everything's cool and that's what your glow-eyed neighbors want to hear but this pair has their ear to a less diluted wind. The slanting tone of the songs addresses effect more explicitly than cause with a side-order of honest apprehension and dawning disillusionment and distrust reflective of the shifting times. Their individual voices ring out more prominently in these collaborations, identifying more clearly the epicenter of inspiration.

"I don't need no spin doctor/To tell me how to behave/Don't need no electric shock/To save me from being saved" they sing on "My Own Way of Doing Things" as if they mean it. And they do. The sincerity is part of their description.

"(Our) early bands, before we started Lowen & Navarro in '88, would try to be something and it didn't ring true," said Navarro. "We started just figuring we're going to tell our truths and not worry about whether it's soppy or morbid or cheery or anything. Just do it- talking about ourselves or people around us. That's when things started working for us...We make sure we're telling the truth, whatever the truth is. We don't sit there and say 'okay, we need a happy song' or whatever. The words come out of an honest place." And from a very similar perspective, to judge by the new co-writes; a double perspective that changed in tune with each other without deliberate premeditation.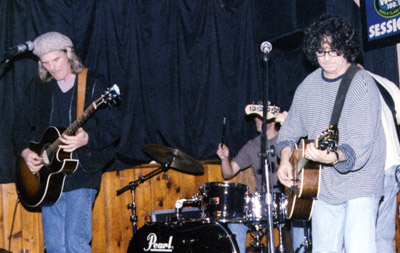 You'll hear some Band-like chords on "When the Lights Go Down" and "Long Way" just screams for a Rick Danko cover but musical comparisons stop short of being striking after that even if their usual producer, Jim Scott- who mixed this batch, did produce Robbie Robertson's first solo effort. The currents here are darker and socially deeper than past albums and Scott suggested that, if asked why, they simply say they've had a tough year.
"Around when Pendulum came out (in 1995) Dan's mother died. Dan met a woman; got married. I was already married but I had twins. Dan had a baby. I got divorced," recited Lowen. Getting dropped by Mercury was an unexpected jolt.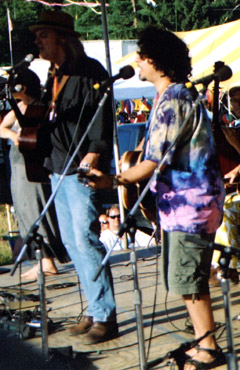 "There's been a lot of hardship and change in our lives recently," added Navarro. "Except, to be honest. I'm real, real happy. I've got a lot of wonderful things in my personal life, so where all of these things about alienation, fear of middle age and all came from I have no idea. Except it came from a real place."
"Somebody came to our show the other night and said 'I brought the prozac'," Lowen chipped in.
But no one needed any at the Tinker Street show. The performance had a lively, stirring beauty of fresh songs (seven of them written at studio showtime) by a top-notch duo who never danced it so close to the edge. The place should have been packed.
-Gary Alexander
---
Gary Alexander is an independent journalist and scholar whose focus of interests range through a variety of disciplines. Under various names, he has written (and ghost written) upon history and current event; science and technology, as well as music and the arts in books and for national periodicals. While particularly attentive to the subtle and complex impact upon cultural imagination and contemporary structures of presumption which activity in the above mentioned topics tend to have, Alexander treats his topics with a slightly more than occasional resort to humor.

Posted on November 18, 2004