Through An Unlocked Portal
John Hammond at Rosendale Cafe
Thursday, June 19, 8pm

Story by Gary Alexander
He rode in on a wave.
It was an irresistible course at the time and a pulsing, slapping, pounding rhythm propelled the way with a boot stomp, a harp lick, a glistening bottleneck and a syncopated strum...
The lure of the "country blues" style which emerged from the deep South in earlier decades of the 20th century- only to be smothered on the nation's airwaves by the swing and pop of mid-century- revived in force during the folk boom of the late 50's to mid-60's. Many folk performers were including old rural blues numbers in their repertoire and reintroducing the form to younger audiences. Inevitably, the bold guitar and vocal dynamics of the genre attracted a swell of hardcore devotees to carry the banner to a new generation... Dave Van Ronk, Hoyt Axton, Freddy Neil, Dave Ray and others dusted off the music from those old vinyl 78's and brought a new breath of life to almost forgotten artists of the past and to those still performing. Even Bob Dylan, in a pivot at the beginning of his career, seemed as if he was about to sign on to the new blues movement.
No one of that era brought more passion to the task of resurrecting the haunting sounds of the Mississippi Delta and other stretches of blues-spawning territory than an unlikely youngster named John Hammond.
Unlikely, first, because of his tender years and the energized sophistication of his handling of the genre seemed too good to be true. Secondly, his appearance on the scene seemed unlikely to some simply because he happened to be the son of a well-known personality in the musical world and it was easy to suspect that a hefty boost from behind the curtain could vault him over questions of genuine talent. After all, his father, called John Hammond, Sr. by later blues fans to avoid confusion with John Hammond the Younger, had discovered and developed a startling array of musical talent which ranged from Billie Holiday, Count Basie, Duke Ellington, Bessie Smith to Pete Seeger, Bob Dylan, Aretha Franklin, Leonard Cohen, Donovan, Bruce Springsteen and others. He even made an attempt to bring blues great Robert Johnson to New York before that artist's early death.
Skeptical doubts of nepotic influence, however, were swiftly erased by young John's crowd-electrifying performance at an early 60's Newport Festival- a burning, eye-opening set which won him admirers even among old blues hands.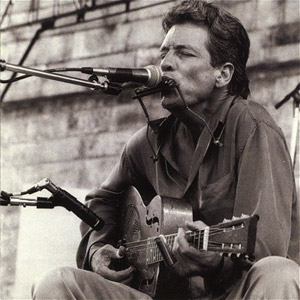 From liner notes of Got Love if You Want It. Photo by David Gahr. Scan courtesy of Stefan Wirz's John Hammond Discography

The husky voice, boundless energy and a surprising grasp of varied guitar styles opened doors in the industry which John Sr. might have puffed open with ease but didn't. The fact is that Hammond plowed his own trail into the music world without his father's influence and most likely against his wishes. [Actually, John Sr. was at least third in a line of John Henry Hammonds who named his son John Paul Hammond, which the family shortened to "Jeep" when he was a boy but, in a very real sense, John Paul made his own name in music the hard way.]

"Jeep left (college) to work as a handyman in Boca Grande, Florida," the elder Hammond would later write with some chagrin. "He bought a pair of blindman's glasses and a tin cup, and took to the streets to play and sing the blues. He felt that only by disguising himself would he be allowed to enter black taverns where he could learn more about singing the blues. Although I didn't realize it, my son had decided on a career and set for himself a very difficult goal. For a white boy raised in New York City to sing with honesty and persuasiveness the music of the Southern poor black, uncommercial music mostly unknown to his own contemporaries, was quite a feat."

Although John Henry could take a little bow for helping make an almost coincidental connection further along in John Paul's career which led to his composition and performance of the soundtrack for Arthur Penn's motion-picture Little Big Man, his participation in his son's career was conspicuous in its absence.

"I didn't grow up with my dad," Hammond recalls. "My parents were split up when I was five and I saw my dad on the occasional weekend. Summers, my brother Jason and I would go up to his place and, usually, we spent about a week there before we were sent off to camp or something. I never had a close relationship with him; it was sort of the 'punishment/reward element' of my youth."

Perhaps not so oddly, the music-drenched father had difficulty accepting the music coming out of his own son. One can easily imagine a tinge of guilt from fatherly absence working to interpret his son's preoccupation with blues as a cry for contact- effectively enough, it would seem, to blind the great recognizer of talent to musical brilliance too close to home. In retrospect, writing in his 1977 autobiography, John Hammond On Record, the older Hammond acknowledged his son's abilities by noting "(h)e was born with perfect pitch, a gift which helped him to be a far more natural musician than I ever was." But even at this late date, one can sense a reluctance to embrace his son's accomplishments and a wistfulness in his recollections of the boy's skills at painting and sculpture, making sure to mention the youngster's art studies at Antioch College and a scholarship to a Colorado art school. (John Paul's first appearance on an album, in fact, was not on vinyl but on the jacket of a reissue of recordings by blues greats Leroy Carr and Scrapper Blackwell where his pen and ink artwork was featured). However, in recounting "Jeep's" musical adventures there is also a note of self-reflection in John Henry's line: "Jeep, who, I am sure, cared not at all for our opinions, seemed on his way to being another wayward Hammond."

John Henry's own earlier ventures into "show biz" had hiked eyebrows in the crustier branches of the family. Undoubtedly, these reactions played a role in his uncomfortable attitude toward his son's musical interests.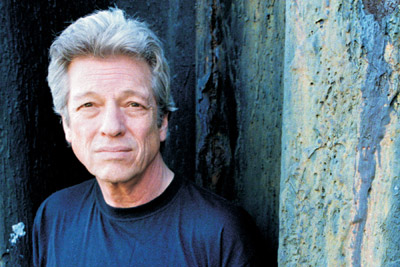 "I admired him because he was a very dynamic man- in heroic proportions, I guess," John says of his father. "I found out a whole lot more about him once I was grown up and playing music. But he was an intimidating figure in my life in a lot of ways and, when I went to California and began playing shows, he offered to me that this was the biggest mistake I had ever made... I always felt somehow that he never really understood where or who I was. I know he cared about me and he cared about my brother but it seemed like everything I did was met with some kind of 'critical analysis.' But I already knew who I was and what I wanted to do and just went for it...I had to make my own way but I guess everybody does. I just did the best I could.
"It took a while before he actually began to hear me for who I was but he definitely had an influence on my life," the bluesman said. "There were moments when he shared his enthusiasm with my brother and I about what he did and the musicians he worked with and the artists he developed. He was a heavy duty guy- a really larger than life person."
From the beginning, Hammond relished delivering his explosive live performances as a solo acoustic artist and worked constantly to improve his throbbing, infectious sound. He met Levon and the Hawks while on tour in Toronto in 1962, long before they became The Band and, as their friendship developed, they played up a storm on John's still sought after So Many Roads album which was recorded for Vanguard a few years later.
"They had a kind of insight that I didn't know about," Hammond recalls of the band that would become The Band. "I had not ever worked with a band before, so this was new territory for me but they were always so generous and kind with me that I just thought the world of them."
Along the way John also shared showbills with every blues great still clutching a pick and moaning over the beat; Muddy Waters, Howlin' Wolf, John Lee Hooker, you-name-'em. Forty-one years and twenty-nine albums later, he's a Grammy winner and a four time nominee. He's also picked up a number of W.C. Handy awards while notching himself firmly into the ranks of true contemporary blues masters.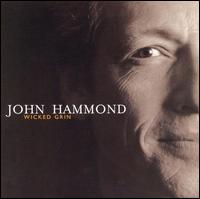 More recently, though, Hammond has unlocked a new door, almost on his own. Actually, it was originally an idea of his wife Marla's to record a full album of Tom Waits songs. That delicious dark and bounding recording, Wicked Grin, which bubbles with Hammond's windings around Waits' eccentric, poignant and amusing songs, produced by the composer himself, has brought him to the attention of a whole new audience.
"I've known Tom for 26 years or so but when he wrote a song for me in 1992, which I recorded on my first PointBlank (label) album, it sort of re-established our friendship," Hammond said. "He then asked me to record on his "Mule Variations" project and, during that time, Marla asked Tom's wife, Kathleen, what she thought of Tom producing an album for me. 'He could be home every night and take care of the kids and it wouldn't be stressful in any way,' (she said.) This was all unbeknownst to me. Next thing I knew, Tom said 'yes' and we were recording together.
"I can't tell you how much Marla, over the last 14 years, has helped, influenced and did the kind of inspired work that makes things easy."
One thing that remarkable album did was to stretch Hammond's horizons beyond the blues into vibrant new territory which he continues to explore on his latest release, Ready For Love.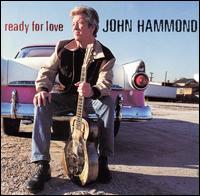 "It's been liberating in a lot of ways," Hammond mused, mentioning as example Waits' ballad "Fannin Street" from Wicked Grin as the type of tune you'd never imagine him taking on just a few years ago. "It gave me this freedom to do stuff out of the genre of blues and kind of opened me up... I don't know how logical it is but it was a progression that seemed easy."
Without losing any of the steam generated by his full-on performance mode, Hammond now breathes new life into a wider range of tasty shuffles and rambling songs, even touching upon country flavors.
"I always admired George Jones, Hank Williams, Jimmie Rodgers- the classic country artists that have that blues element in them," Hammond continued. "It's freed me up in a lot of ways to tackle other kinds of tunes."
And when John Hammond tackles them, they stay down. They've been nailed by a master stylist with a simple motto: "I love to play. It's in me."
-Gary Alexander
---
Gary Alexander is an independent journalist and scholar whose focus of interests range through a variety of disciplines. Under various names, he has written (and ghost written) upon history and current event; science and technology, as well as music and the arts in books and for national periodicals. While particularly attentive to the subtle and complex impact upon cultural imagination and contemporary structures of presumption which activity in the above mentioned topics tend to have, Alexander treats his topics with a slightly more than occasional resort to humor.

Posted on June 3, 2003