This article was first published in May, 1999 after Guy Davis had appeared at the Rosendale Cafe. Guy appeared there again last month.

Guy-wired Show
Award-Winning Bluesman Guy Davis at the Rosendale Cafe
by Gary Alexander

You probably think that there are only 3 certainties in life...Death, taxes and the indubitableness of the 20-mph-under-the-speed-limit-cruise of that car which pulls out just before you reach its driveway on a narrow country road with only 12 minutes left to make the post office with your urgent mailings. Ah, the virtues of patience...But, actually, there is another certainty...Guy Davis, who played the Rosendale Cafe on Friday will win a national award for Best Blues.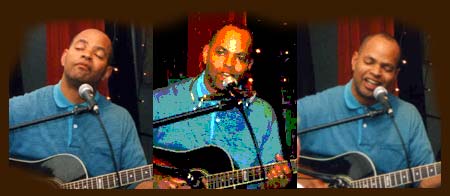 There is, of course, a why attached to that particular observation and Davis's performance explained it in detail to a packed house of appreciative and curiously polite fans. The fan characterization is courtesy of a hangover or holdover (but no longer applicable) image of blues and boogie fans as joyous, dancin' rowdies. If you've got a mailbox on a pole outside your house, you've been well instructed on the limits of liquid enjoyment. Smoke-hazed rooms are history. The currently slimmed and sanitized club scene would allow little of such untoward behavior at respectable venues like the Rosendale Cafe and after he tested the crowd early with an audience chorus response on Rev. Gary Davis's "Candy Man" (reactive but mannered- just picture hootin' & hollerin' with moderating restraint and civil dignity) the notion was dropped. This was not a roll-up-your-sleeves group.
Davis opened with "Georgia Jellyroll" on a Harmony 12-string he picked up for a steal in Flagstaff last year, proving there's still gold in the West, and riveted the room with deeply shaded, slightly raspy vocal tones telling the story like he heard it first hand. He parked his right wrist firmly on the guitar bridge for solid purchase and finger-picked with a clean strength that had you looking for the power chord in his sleeve.
With a sprinkling of standards like Robert Johnson's "Dust My Broom" and "Judgment Day"; a Willie McTell and one or two others, he held court for two lengthy and delectable sets of derivative originals with his own wings attached; risque and humorous; poignant and ballady; mournful and nasty. His connective folktales and stories captured the spirit of the form as a finely-tuned and literate sense of drama mingled almost paradoxically with downhome delta grit in mesmerizing progression.
A feature of the first set was Davis's own "Georgia Flood," which is from a play he's been writing and serves well as a tantalizer for the rest of it. It's a piece which would hold its own with any of the best entries from the Blues Immortals. If that seems a rash statement, listen to it on his third Red House album, You Don't Know my Mind and tell me I'm wrong. Davis writes almost all of the selections on his CDS and what he doesn't, he makes his own. He has found the source roots of the blues and planted his own seeds there.
Blues historian Paul Oliver found the origin of blues "(b)uried deep in the fertile ground of the Revival hymns, the spirituals, the minstrel songs, the banjo and guitar rags, the mountain 'ballits,' the folk ballads, the work songs and the field hollers...which began to take form at some indeterminate time in the late nineteenth century." When it grew its own legs as a genre, it became so entangled with the core of American music that it's now inexorably seated in our collective subconscious perceptions. I defy you to read this line without "hearing" the music; "Woman I loved, stole from my best friend/ but the sucker got stupid, stole her back again."
You see? Blues is intrinsic to our psyche. It's just there. But Guy Davis marks the difference between being able to PLAY the blues and being able to DO the blues. Once you've got the latter, you can take it where you will and he takes it for a new ride- not on the authenticity of the tradition but on his own authenticity.
First of all, acoustic blues are upon one level raw and basic, the wellsprings of rock, but they also come in a variety of stylistic flavors. Much of the genre you'll hear on the airwaves these days are the standard cuts of the classic artists or imitative covers by more recent devotees. What we've heard less of, until the arrival of artists such as Davis, Keb Mo, Paul Geremia and a few others, are vital extrapolations and developments of originality in the blues, an item which more often boils down to adaptations of fitting material from a vast body of recorded work to a player's strength or, more ambitiously, 'what can I bring to this lick?'
In the case of Guy Davis, who was born into a sophisticated and successful theatrical family, (son of Ossie davis and Ruby Dee), acoustic blues, with its primitive, rough-edged and urgent appeal (smothered for some decades in the black community by the slickness of soul), would seem an unlikely pursuit. But, to his credit and our gain, Davis studied the stylings to a point of mastery and, more importantly, absorbed the impetus of their original dynamics. Then he became more than the actor who well knew his part. He became that which his part was about. He took his grip on those building blocks and sensibilities and used it in the application of his own flights of intelligent creativity.
The crown jewel of the evening was an amalgam of song and story spun around an old songster in Mississippi named Juno passing on the tradition to a youngster and the passing down of tradition in general. A colorful stunner not yet recorded in this form, it would have filled a full side on vinyl LP without a slackening of focus. Perhaps blues has become a taken-for-granted idiom in the latter decades of the century because of "been there-heard that" repetition of many artists yet to realize the form as not only a tradition but a launch site. Albert Murray put it succinctly, if more than a bit academically, in a series of lectures in 1972 collected as The Hero and The Blues the following year:
"Essentially, questions about experimentation in the arts are also questions about the relevance of tradition. They are questions, that is to say, about the practical application of traditional elements to contemporary problem situations," Murray said. "Hence they are also questions about change and continuity. Indeed, they are specifically concerned with the requirements for continuation, which is to say endurance, which is also to say survival. Implicitly, experimentation is also an action taken to insure that nothing endures which is not workable; as such, far from being anti-traditional, as is often assumed, it actually serves the best interests of tradition, which, after all, is that which continues in the first place. The traditional element is precisely the one which has endured or survived from situation to situation from generation to generation. To refer to the blues idiom is to refer to an established mode, an existing context or frame of reference.
"But then not only is tradition that which continues, it is also the medium by which and through which continuation occurs. It is, or so it seems in the arts at any rate, precisely that in terms of which the objectives of experimentation are defined, and against which experimental achievements are evaluated." Cool, Albert, you'd 'a dug Guy.
Okay, confession time. The absolute bet-the-farm certainty which opens this review is based on the fact that Davis has already won the W.C. Handy Keeping the Blues Alive Award and, at the 20th Annual W.C. Handy Blues Awards and Festival and Beale Street Parade this weekend in Memphis, he's nominated for 3 more- including Best Blues Album for You Don't Know my Mind. It's a stirringly exceptional work that no serious blues collection can overlook. Now, if I was bettin' man...
---
Gary Alexander is an independent journalist and scholar whose focus of interests range through a variety of disciplines. Under various names, he has written (and ghost written) upon history and current event; science and technology, as well as music and the arts in books and for national periodicals. While particularly attentive to the subtle and complex impact upon cultural imagination and contemporary structures of presumption which activity in the above mentioned topics tend to have, Alexander treats his topics with a slightly more than occasional resort to humor.

Posted on December 1, 2000