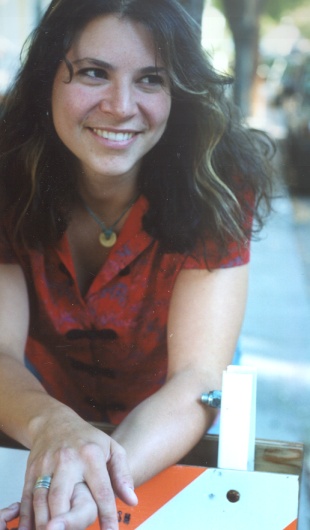 Small is Big

Kris Delmhorst at Rosendale Cafe
9 pm April 26

Story by Gary Alexander
Photos courtesy of www.KrisDelmhorst.com
It used to be that a recording contract with a major record label was, for a fledgling musician, the first place to aim. That's where the prestige of the profession resided and anything less was a consolation prize.
Increasingly of late, however, new musicians like Kris Delmhorst- who will make her first area appearance at Rosendale Cafe tonight [Friday, April 26, 2002] - take a dimmer view of the give-and-take involved in signing with today's huge conglomerate labels.
"It's pretty much a common attitude among people doing what I do," Delmhorst said when reached at her Boston apartment. "The music industry has changed radically- some would say not radically enough- in recent years. I feel that, unless you're someone who wants to sell millions of records and live in a tour bus for the rest of your life and be really famous, there's no reason to even try to get a major label deal."
Delmhorst feels, like many of today's rising musical artists, that the current corporate approach in the field has led into the stagnant shadow of a creatively stifling formula more dependent upon hype than content. The big labels still rule in terms of overall sales and distribution but, with digital technology enabling independent labels to match the giants in technical quality, it is smaller labels that are pulling ahead in critical acclaim. More and more musicians are discovering that they can succeed in their profession without limousine service and being recognized for their achievements.
"Myself? I just want to build a sustainable career as a musician," Delmhorst observed. "Sadly, most of the labels- especially the larger labels- are just not working toward that end. So, I certainly stand ready to be swayed on this at any point but I've never seen any reason why that would look even remotely appealing to me."

Five Stories

Nominated for 6 Boston Music Awards over the past 3 years (including, this year alone, Best Female Singer-songwriter, Best Female Vocalist in the "Indie" [independent] category and Best Singer-songwriter Album for her second studio release Five Stories, which she co-produced with Morphine's Billy Conway), Delmhorst had written exactly 2 songs when she arrived in town in 1995.

A career in music wasn't even on the horizon for Kris as she grew up in Brooklyn and graduated Williamstown College with majors in studio art and photography and a minor in environmental studies. Although she had studied cello and classical violin along the way, a desire to "explore uncharted territory" led her to a job on a family farm in Maine after graduation.

"I was a city kid interested in trying a different lifestyle and I found one," she chuckled. "Growing organic vegetables, milking the cow, working with bees and various livestock. When I moved to Boston, I worked on a vegetable farm outside the city. I always lived in the city but worked on farms in the suburbs. That was my day job until I quit it."

While still in Maine, Delmhorst fell in with a group of people who played traditional music and traded violin chords for fiddle licks as she learned guitar. Although I wasn't something she had set out to do, when Delmhorst started writing songs, things clicked.

"It just felt right and it's kind of taken off on me," Kris reflected as she recalled the early solo gigs and tours of Ireland during her few years as part of the Vinal Street String Band.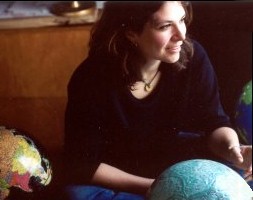 Now, having toured much of the U.S. on her own, including both coasts and a large sector of the Midwest, Delmhorst can already look back on numerous evenings of sharing the stage with many artists from the elite ranks of American musicians. She's also been recruited to play on albums by such notables as Lori McKenna, Peter Mulvey, Catie Curtis, Mary Gauthier, Tim Hanson and others. She's entertained a crowd of 10 or 11 thousand fans at the Telluride Canyon Festival in Colorado after winning the festival's troubadour competition.
In just 6 years, Kris Delmhorst has gone from utterly unknown to inclusion on top ten playlists in scores of markets around the country. She's made Performing Songwriter Magazine's top independent releases of the year and the top 25 best-seller chart at Tower Records in Cambridge. Not bad for an Indie artist still in the early stages of a career.
Delmhorst credits the friends whose performance on Five Stories gives it such a diverse musical posture, an impressive collection of fine talents from the wide-ranging Boston musical community, and the small North Hampton label, Signature Sounds, for getting the word out. (And, of course, we credit Rosendale Cafe for bringing it here).
"I can still make my records independently and they (Signature) get them in stores across the country," Delmhorst acknowledged. "I feel grateful to them for being so open to new ideas. They're one of the few labels that's accepted that things are changing and they're going to have to roll with the times..."
-Gary Alexander
---
Gary Alexander is an independent journalist and scholar whose focus of interests range through a variety of disciplines. Under various names, he has written (and ghost written) upon history and current event; science and technology, as well as music and the arts in books and for national periodicals. While particularly attentive to the subtle and complex impact upon cultural imagination and contemporary structures of presumption which activity in the above mentioned topics tend to have, Alexander treats his topics with a slightly more than occasional resort to humor.

Posted on April 22, 2002